Weather can be very unpredictable these days. Imagine a sudden shower during winters, or an unexpected rise in the mercury before you are leaving for office? With such erratic weather conditions these days, anything is possible. Therefore, staying updated in advance is not just a requirement, but a necessity.
There are plenty of weather apps offered by Windows 10 that offer basic and detailed forecasts. While some just present you with the basic conditions, others would offer a more detailed view of the situation in an attractive manner.
However, it can be challenging to select anyone out of it and hence, we have created a master list of some of the best weather forecast apps. These apps will not just allow you to stay updated with the weather conditions in advance, but will also help you with accurate forecasts.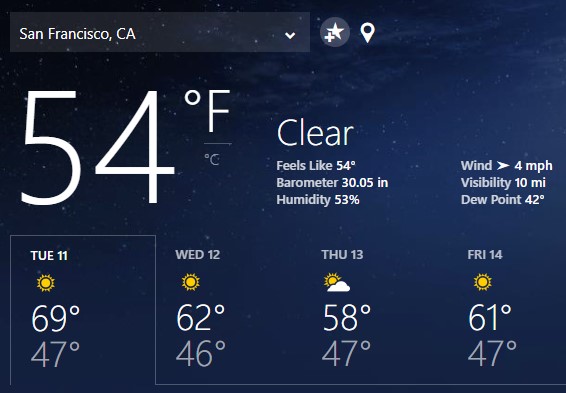 It's one of the leading weather forecast websites that's designed to offer in-depth information based on short or long-term predictions. It offers exact forecasts for up to 10 days and even hourly forecasts.
Features:
Sports an attractive interface with some splendid themes.
It helps you to read data clearly despite the area you are in.
Equally good looking and elegantly designed live tile, lock screen, and the graphics.
It offers detailed weather information, while the accuracy depends mostly on the location.
Moreover, it also provides weather details like humidity, wind, temperature per hour, and the possibility of precipitation.
Price: Free.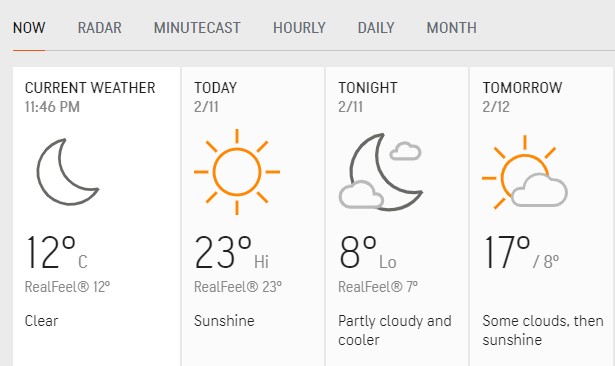 This is hands down, one of the well-known weather website known in the current times. This is an advanced app that provides weather predictions for every minute, radar maps, current weather conditions in your area and in the surroundings, daily predictions for precipitation, satellite maps, and warnings for extreme weather conditions.
Features:
Organizes weather conditions by context and possible effect for any of your saved locations.
Offers detailed forecasts for cities/counties, for instance, as soon as you tap the temperature, it opens up offering forecasts for the next 72 hours along with weather conditions for the last six hours.
It allows you to pin your location on the Radar.
Displays the possibility of precipitation by the hour.
Enables you to personalize the app by re-organizing the data sections depending on your choices with a quick swipe.
It allows you to hide details like humidity in case you don't want to see it.
The best part is, you can also save different cities and places which are then pinned at the top of the app, which can prove handy while you are traveling. Moreover, users in specific locations now also view content from its TV affiliates in regional markets.
Price: Free version available; Pricing starts from $25/month.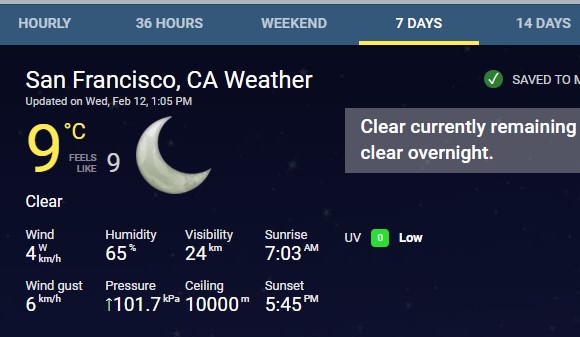 It's a lightweight and dynamic website allows you to view weather conditions from all across the world. It tracks your current location to offer precise details in a matter of seconds.
Features:
Sports a responsive and clean interface that offers a peek of the weather conditions in the short term and long term.
It sends notifications and warnings during extreme weather.
Monitors the storm using the radar maps and offers details from all aspects related to the storm through news articles.
Displays temperature first, followed by humidity, wind, and air pressure.
It allows you to track as many cities you like.
Access to satellite view by scrolling sideways with current location as a default setting, and an integrated news feed that displays the current headlines with the option to check them in one click, are among its other major features.
Price: Free
YrWeather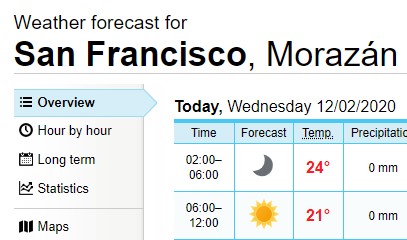 It's an extremely simple weather forecast website that displays the current temperature of the major cities by-default on the main page, as soon as it is launched.
Features:
Sports a search bar where you can type the location.
It allows you to mark your favorite cities or the frequently visited cities as My Places.
Below that, there's a red box alerting you of extreme weather conditions.
Thee advanced search option at the top of the page takes you to a new page where it allows you search for all counties in Norway, for more than 7, 000, 000 locations across the world, and also allows you to search for articles and other pages.
Moreover, it mentions all the regions towards the bottom of the page, news articles to read, check out places, topics of interest, past weather, free data, and more.
Price: Free.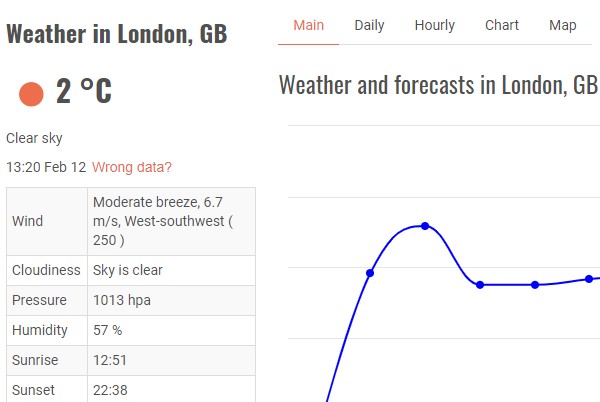 This is another great weather forecast website in the list that allows you to check the current weather effortlessly on the API. If it does not show your current location by default, you can enter your current city in the search box and get the current weather details.
Features:
Displays a summary of weather-related information, on a daily basis, and also for every 60 minutes.
It also shows the details in the form of a chart and map for the weather condition in real-time.
It offers important data, presents them in an image form, and offers details for the past few days in the form of charts.
It also displays details related to cloud, winds, pressure, or precipitation around your location.
Apart from weather information it also provides satellite images and agricultural solutions depending on the location, allows you to check and read news articles based on location, offers a new satellite image every 2 to 4 days, previously archived satellite data, and more.
Price: Free.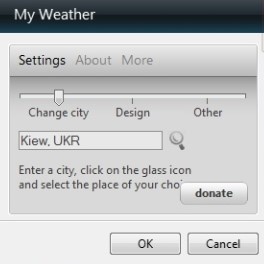 It's a weather gadget that sits on the center of your desktop and gives a quick glimpse of the daily temperature. Best of all, it offers important updates related to our safety, while we continue with our daily chores.
Features:
It offers location-based weather forecasts and is available in a transparent style.
Displays the current temperature along with the location and the average high and low temperature.
Offers the option to expand the gadget to display the forecast for up to 5 days.
Displays the long-term weather forecast in a vertical position.
Shows many other details like humidity, current temperature, location, and wind speed.
In addition, it comes with a wide range of customization options that allows you to change settings, change design, and more.
Price: Free.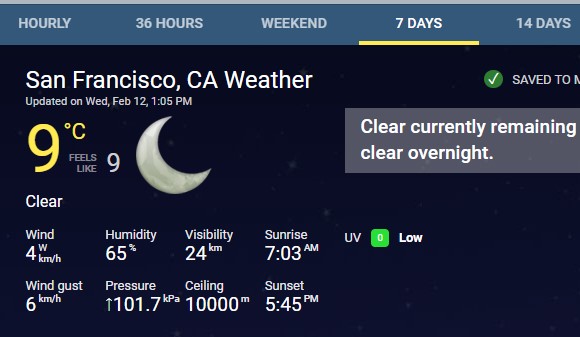 This is another great weather forecast app that produces its own forecasts. It offers intricate and exact local weather data easily and quickly in comparison.
Features:
It allows you to access color themes by finishing the in-app Achievements to take more advantage of the app features.
It changes color by-default as the temperature changes.
Sends you warnings and notifications for extreme weather conditions for the next few hours or for the coming days.
Provides an animated map for world forecasts displaying the weather updates for the forthcoming days.
Lets you view the current weather conditions and also the predictions for the next 14 days.
Among its other major features are the option to view hourly updates in detail such as wind speed, temperature, air pressure, precipitation, etc., option to personalize the desktop with advanced widgets, option to share weather updates with friends, and family, and more.
Price: Free.
If you are looking for an easy to use weather forecast app, then this could well be the one. It lends its fun angle by changing the color of the title bar on your computer based on your background shades, your current theme, or based on an app's symbol.
Features:
It does not need to be installed, thus allowing you to start working right after the archive has finished decompressing and working on the executable code.
It allows you to save it in a portable external device that you can carry it anywhere with you.
Lets you pick your favorite color source and choose from Wallpaper, Screen, etc.
It also enables you to change the color of your Window's border based on the weather condition, the battery level, or the current temperature.
Moreover, it offers colors that can be configured allowing you to fix the color of your window when your battery is on the verge of discharge or it's cloudy weather outside.
Price: Free.
It's an advanced weather forecast gadget that's fast, dynamic, smooth, and yet straightforward. It displays the weather details on the home screen and also displays hourly and daily forecasts.
Features:
Equipped with an exclusive and responsive user interface that displays the weather forecast for up to 7 days in advance in an easy to understand language.
It also offers you the weather details in the form of numbers and charts.
It also sports a wide range of options for live tile and lock screens.
Offers information related extreme weather conditions like sudden rain prediction, or severe snowstorm by warning you through alerts and notifications.
It allows you to access themes (dark and light) and offers the option to add an unlimited number of locations.
It strives to offer the most accurate weather forecast as possible for any destination across the globe, along with forecasts for each minute of the next hour while it's raining in the countries like the US, UK, or Ireland.
Price: Free trial available; Priced at $3.99.
This is the single radar app that's available in the Microsoft Store and is especially used for checking the weather conditions in the US, UK or in the Eastern Caribbean regions.
Features:
Displays the weather in animated form and sports functions like cloud overlays, watch boxes, etc.
It displays storm data that indicates the travel route, and symbols signifying the location, how big the hail is, and more.
Shows high-resolution images with base reflectivity from different scan angles, improved echo tops, precipitation totals for one hour, and much more.
It allows you to select the frame rate for your radar animation, speed of the animation, and the frame gaps.
Best of all, you are allowed to cover the animated radar on top of the satellite images, check temperature for different locations across the world, or check the sea level pressure with isobars for different locations throughout the globe.
Price: Pricing starts at $2.49.
As you would guess from the name, this weather app measures the quantity of liquid precipitation collected over a fixed time frame.
Features:
Shows the amount of rain on daily basis.
Displays daily weather forecasts till midnight.
Comes with live tiles and an extensive summary.
It's neatly designed weather app that features a dark blue theme and a weightless theme as disparity. Best of all, it allows you to configure the amount of rain which then sends the notification, along with the set frequency.
Price: Free.
Conclusion
While Windows 10 offers a range of weather forecast apps in its store, it can be baffling to choose the right one. This article with its comprehensive list makes it easier for you to decide and stay updated with weather conditions at all times. So, whether you are planning for a trip to a destination with a fickle climate, or you just want to know if you can attend a wedding tomorrow without your woollies on, these are the apps you would need for your rescue.