What Is Beta Testing And How To Be A Beta Tester For Android Apps:- Beta testing is also known as user testing. As the name suggests, it is the testing that is performed by the end users. Considering the life cycle of a software, the beta testing phase can be considered equally important as any other software lifecyle phase. A software, at the end of the day, is supposed to satisfy its user; that alone is its ultimate job. So by giving the users a chance to check for an app's functionality, reliability, usability and compatibility, the developers are giving themselves a self assurance that the app is going to be a success. By signing up as a beta tester through Google Play Store, you can also take part in this wonderful development phase. Dive into the article to learn how to be a beta tester of your favourite Android application.
Note: A beta version of an application will have features that the normal versions do not have. These features could still be under development and thus the application could be in an unstable state. The job of a beta tester would be to use the application in a normal manner and to find out if it's giving any undesired outputs for any of the desired inputs. Not every application in the Play Store support the beta tesing feature.
How To Be A Beta Tester
STEP 1
Launch Play Store and search for the app that you want to be a beta tester of. In the screenshot given below, I have searched for one of the most popular chatting applications, Whatsapp Messenger. Once you find the app, scroll down and check whether there is a section named Become a beta tester. Click on the I'M IN button to be a beta tester for this app. If there is no such section, then it means that the app that you have chosen doesn't support beta testing.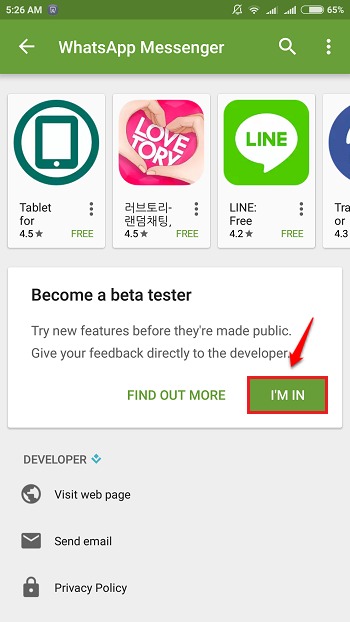 STEP 2
When asked for confirmation, click on the JOIN button.