Having some problems uninstalling a particular file/application named Altruistic from your computer? The native uninstaller of Windows does have a limited capacity and may not be able to uninstall some files. Usually, these files are malicious and you should remove the Altruistic ones as soon as possible. The altruistic file is malware that is capable of hijacking your browser like Google Chrome, Edge, or Firefox and capturing all the information from there.
Fix 1 – Use Windows Security
You can use Windows Security to scan the folder containing Altruistic and Windows Security will automatically eliminate it from your system.
Usually, Altruistic is located in the C drive or the Windows drive on your computer. Scanning that driver quarantine it.
Step 1 – Launch Windows Security.
Step 2 – Then, open "Virus & threat protection" to open that.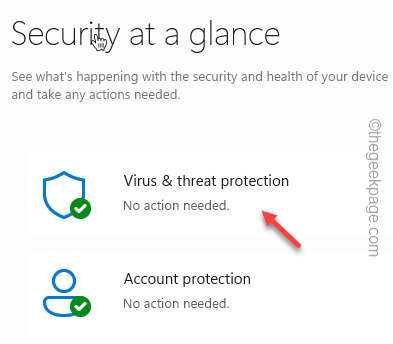 Step 3 – Now, click "Scan options" to open all the scanning options.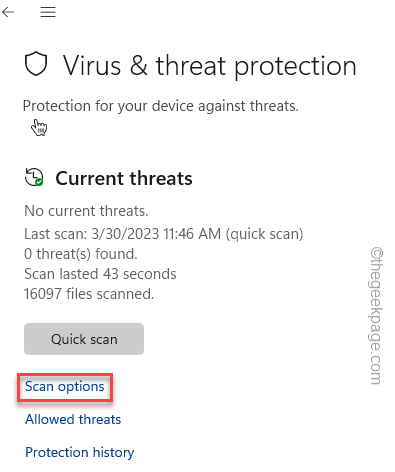 Step 4 – Here, choose the "Custom scan" option and click "Scan now" to run a scan.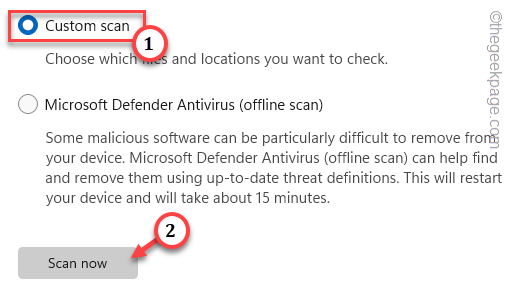 Step 5 – Select the entire "Local Drive (C:)". [If you know the exact location of the Altruistic file, you can select that folder as well. This will reduce the scanning time considerably.]
Step 6 – Then, click "Select folder" to start scanning the drive.

Wait until Windows Security scans the complete folder. Windows Security will automatically recognize Altruistic as a PUP and quarantine it.
You may have to restart the system to complete the process. Windows Security will ask you to restart the system. Follow that prompt and reboot your PC.
Altruistic should be gone for good now.
Fix 2 – Reset the browser
As we have mentioned, Altruistic.exe attacks your browser and hijacks information from it. So, it will be better to reset and clean up the browser.
We have shown the steps on Google Chrome.
Step 1 – Open Google Chrome. Next, click the ⋮ icon and click "Settings".

Step 2 – On the left pane, you shall find the "Reset settings" option and select that.

Step 3 – Now, on the opposite side, click "Restore settings to their original defaults".

Step 4 – When Reset settings dialog box appears, tap "Reset settings" to reset Chrome to the default setting.
All the extensions will be disabled, and cookie and site data cleared in this resetting process.

Altruistic will be removed in this process.
Fix 3 – Uninstall any corresponding app
These malware files get into your system along with unofficial, third-party softwares. So, if you have installed any modded or duplicate software from an untrusted source, Altruistics have barged into through that app. Uninstall that software and you should be able to remove Altruistics.
Step 1 – Press ⊞ Win+X keys at once. Then, tap "Installed apps".

Step 2 – Find the app which you have installed from an unsafe source. Then, tap ⋮ beside the app and click "Uninstall" to uninstall the app from your system.

Follow the on-screen steps and uninstall that app. A system restart is mandatory when the uninstallation process is complete.
Check now if you can remove Altruistics or not.