You may sometimes come across an error message – Error 0x80070141: The device is unreachable, when you are trying to transfer photos and videos from an iOS device to your computer. This error not only prevents you from copying photo or video files from iOS devices, but also from pen drives to your computer. This is a known issue, and the good news is, this can be fixed. Let's see how.
Method 1: By Running the Hardware and Device Troubleshooter
Step 1: Go to Start menu and type cmd in the Windows search bar.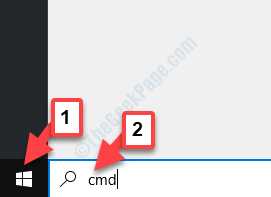 Step 2: Now, right-click on the result and select Run as administrator to open Command Prompt in elevated mode.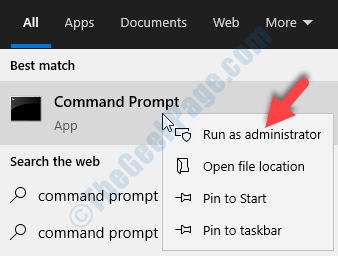 Step 3: In the Command Prompt (Admin), type the below command and hit Enter:
msdt.exe -id DeviceDiagnostic

Step 4: It opens the Hardware and Devices (troubleshooter) window. Click Next to proceed to run the troubleshooter.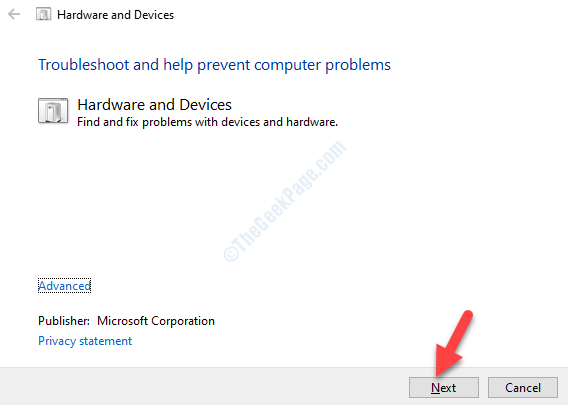 Follow the on-screen instructions to the complete the troubleshooting process.
Method 2: By Running ChkDsk Command using CMD
Step 1: Right-click on Start and select Run to open the Run command.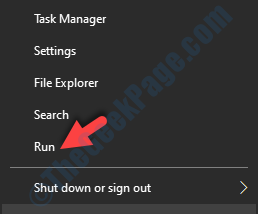 Step 2: Type cmd in the Run command and press Ctrl + Shift + Enter keys together on your keyboard to open the Command Prompt with with admin rights.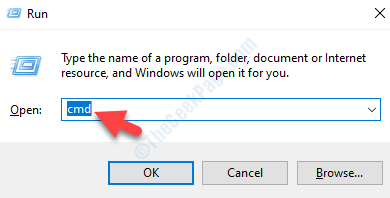 Step 3: In the Command Prompt (admin) window, type the below command and hit Enter:
chkdsk /f E:
*Note – Here letter E signifies the USB or the external drive in our case. It can be any other drive for you. So, replace the letter (drive) with the one in your case and press Enter.


Once completed, restart your PC and the error should be gone now.
Method 3: By Reinstalling your USB Device
Step 1: Press Win + X keys together on your keyboard and select Device Manager.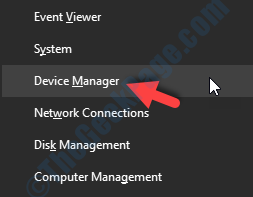 Step 2: In the Device Manager window, navigate to the Universal Serial Bus controllers section and expand it.
Now, right-click on the USB Mass Storage Device and select Uninstall.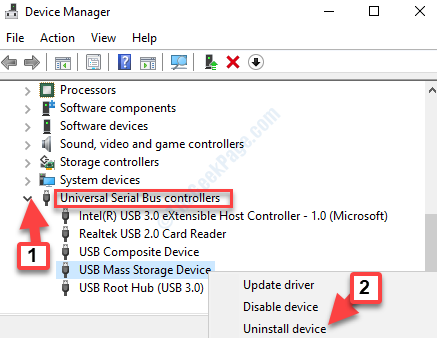 Step 3: Once it's uninstalled, restart your PC, insert the USB drive again and wait for the driver to install.
Step 4: Next, go to the Actions tab and select Scan for hardware changes to find your phone.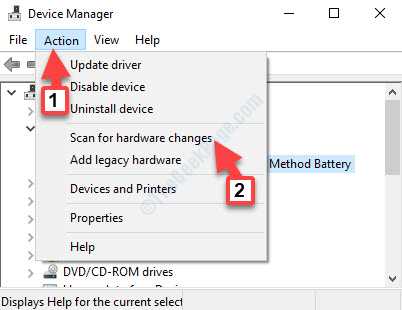 Now, reboot your PC again and you should be able to transfer files from your phone or iOS device to PC.
Moreover, the Error 0x80070141 also arises when you try to transfer files from Camera in PTP format. In such cases, you should select Media Device or MTP format to transfer files between your iOS device and PC, as MTP supports a wider range of file variants than PTP.
Alternatively, you can also try using a different USB because it may be possible that the USB you are using currently is incompatible. You can try using a USB 2.0 port instead of a USB 3.0 port because the USB 2.0 port works with most of the devices.