Windows 11 is coming with many elementary changes in its UI and aesthetics. One of simply placing the cursor on your taskbar, without going anywhere. But, you can do it by tweaking your registry manually. Just follow the steps mentioned in this article to make your taskbar bigger or smaller simply by modifying a single key on your computer.
How to make your Taskbar bigger or smaller in Windows 11
You can adjust the Taskbar at your will simply by enacting these steps on your machine.
1. At first, you have to press the Windows key+R keys together.
2. Once the Run terminal appears, write "regedit" and hit Enter.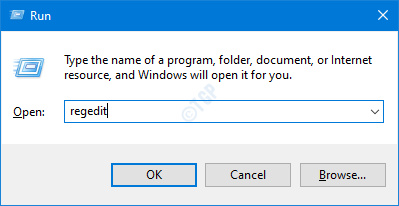 WARNING–
If you change the registry without knowing what you are doing, it can permanently brick your machine. So, we suggest you create a backup every time you make some changes in the registry.
a. After opening the Registry Editor, just click on the "File" and then tap on "Export" from the menu bar.
b. Just save this backup in a secure, protected location.

If anything goes wrong, you can easily restore the registry to its original state.
3. Now, on the left-hand pane, go here –
Computer\HKEY_CURRENT_USER\Software\Microsoft\Windows\CurrentVersion\Explorer\Advanced\ "TaskbarSi"
4. Then, on the right-hand side, right-click on the space and click on "New>".
5. After that, click on "DWORD (32-bit) Value".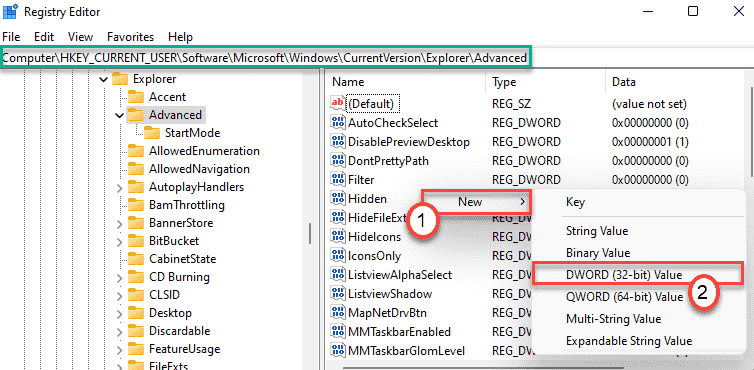 6. Once you have created this new key, name the key as "TaskbarSi".
7. Now, you can double-click on this new key.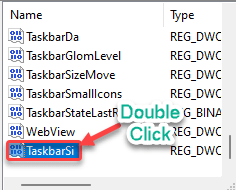 Here, there are three distinct size options you can choose.
Small => 0

Medium => 1 

Large => 2
You can choose the value of any size you want.
8. Next, choose the 'Hexadecimal' base system.
9. Write the value associated with the size we have given above in the 'Value data:' box and click on "OK".
(Example- If you want to have the 'Medium' size taskbar, you have to write "1". )
10. Finally, click on "OK" to save this change.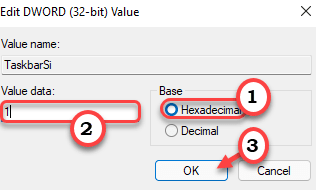 Once you have done this, just close the Registry Editor and restart your computer once.
This way, you can take control of the taskbar on your screen.