SSD (solid-state drive) have recently hit the markets as better high-end alternatives to Hard disk drives (HDD). SSD is sometimes also referred as a solid-state disk. SSD is very fast in comparison to Hard disk drives at various parameters and offers a greater performance. But, the cost of SSD is quite higher relatively. For all the users who are worrying about the costs, can settle for a midway and take a Hybrid drive home. The integration of both of these drives is called Hybrid drive. This drive has some features from both the drives.
SSDs are known to be performance boosters for your machine, but the question is that whether SSD is completely reliable as HDD are. In that case, even HDD cannot be completely relied on. At the end of the day, we know that both of them are just devices. But, the onus of keeping them in good health is on us and preventive action is always recommended. So we will discuss what all measures can be taken in order to keep SSD in good state and secure its longevity and protect our important data.
Also see: – 12 Best Low cost Single Board Mini PCs
There are certain tools available in the market that can help us keep SSD in a sound state and prevent it from crashing and also enhance the performance and endurance.
We will discuss these tools one by one:-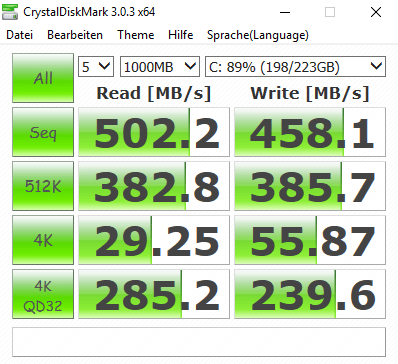 CrystalDiskMark (CDM) is one of the best tools available in the market to check the status of the SSD on your machine. Various parameters are taken into consideration by CDM while measuring the performance. Basic read and write speed can be calculated by CDM. The read and write speed could be either 'Sequential' or 'Random' ones. The numbers obtained will allow you to benchmark. The speeds are calculated by the unit 'Megabytes per Second.' It will also tell you about disk operations.
CrystalDiskMark (CDM) comes free and can let you check speed in regards to write and read with other disks. Generally, CDM is software used to benchmark a variety of other hardware as well, like memory cards, hard drives (mechanical), RAM disks and USB drives. So the tool has got a lot of flexibility with various drives available. There is range available for size with CDM to run the check. It is between 50 MB and 4 GB. You have the freedom to choose the number of passes you want to accommodate in between the check. Generally, if accuracy were analyzed, then test with more passes produced more accuracy than the tests with less passes. You are allowed to select the number of runs and it is preferable to keep the number at three.
So you can either take tests singularly or take a complete full test at one go. The user has also got another freedom of choice to be made while using CDM, he can either choose the data in a binary form of 1's and 0's or choose to arbitrarily feed the data. The input will tend to affect the output on hardware compression. Installer and portable versions of CDM can be easily obtained.
Following are the types of tests are available:-
All

Sequential -You can expect higher results from this test.

512k Test

4K Tests – If the file sizes are large, this test is preferable.

4k QD –Known as Queue Depth. Known to use full capacity to run the test.
It is to be noted that CDM is only available with Microsoft Windows operating system.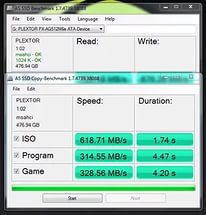 AS SSD Benchmark is one of the top-ranked tools to check the status of your disk. The speed of your disk is very crucial and you need to take all the available care to ensure that your disk delivers what you require, at all the times. You can test Random 'read and write' performance and also sequential 'read and write' performance. Both of these tests, Random and Sequential can be performed without the use of the cache.
AS-SSD Benchmark will run the tests and find the access time required for SSD. 1 or 64 threads can be used by the software to run the test. The drive's behaviors can also be checked by some additional test with AS SSD Benchmark. You don't need to install this software on your machine; you can very well run the software without having to install the machine. The software will also tell you how many SSDs are there in your machine, without you having to manually feed the data regarding the same.
Once the AS-SSD Benchmark tells you the number of SSDs available on your computer, you can proceed further for testing. You can select the SSD that you desire to be tested and command the software to run the tests.
There are three types of tests that can be run using the software. SEQ is one test that can be undertaken to determine the length of time consumed to read and write a file of 1GB. To measure the speed of 4K blocks, you can use 4K Test. If you want to find out the speed of 64 threads, then you can go with 4K-64Thrd. And if the user were to determine the access time taken, then that would also be possible. Access-time generally tells the read speed of whole SSD capacity. So the results are categorically for read and write and also as the combination.
User would typically get a score for read and write speed along with a score called as the global score. A Greater score indicates better shape of your SSD. There is feature called as 'Copy Benchmark'. This feature allows the user to place the files of greater size in the folders made. The entire speed of operations for read and write can be calculated.