If you ask me which application I use the most, I would say it is the Settings application. And I'm sure the answer would be the same for most Android users. So when suddenly the Settings application goes missing from your app drawer, it definitely is going to throw in some panic. So, is there a way to bring back your Settings application that suddenly went missing in your Android? There definitely is!
In most cases, the app might have been hidden accidentally. So let's try to unhide the application if that is the case. If you still cannot find the Settings application under the hidden apps, let's explore a quick workaround using which you can launch your Settings app easily. So, what are you waiting for? Without further ado, let's jump in straight away, shall we?
Solution 1: Unhide the Settings Application if it's Hidden
Step 1: Let's get to the app drawer first. For that, click on the app drawer icon from the home screen of your Android device. Alternatively, you can simply swipe up from the bottom of your screen. Most devices support this swipe action to open the app drawer.
Note: If the app drawer icon is missing for you, you can refer to our article here to find out how you can bring it back.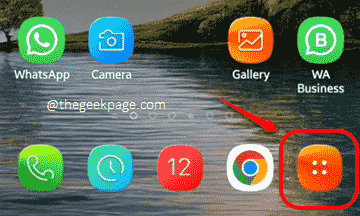 Step 2: At the top part of the app drawer, hit the search bar and search for the Settings application. You will now be able to see the Settings application in the search results. Long press on it.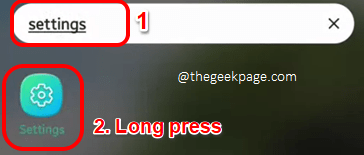 Step 3: As next, hit the Locate app option to locate the Settings application on your device.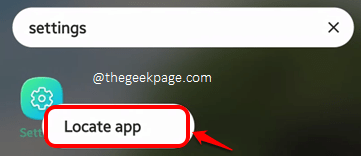 Step 4: You will now be able to see the Settings application listed under the Hidden apps section. Click on the Minus icon associated with it to unhide it and hit the Done button at the bottom once you are all set.

Solution 2: Launch the Settings Application from the Quick Settings Menu
If for some reason the above method did not do the trick for you, you can pull down your notifications panel and click on the Gear icon to launch the Settings application instantly. This method is a workaround, however, this method is quite useful if you are unable to unhide the application by following the above solution.

Note: We have used a Samsung Galaxy device to explain the steps in this article. Even if the OS version is the same, the steps and the images could greatly vary based on your phone's manufacturer. So, try to find out the correct settings in your device, and do let us know if you're facing any troubles with the same, we would be happy to help.
Please tell us in the comments section whether you could successfully bring back your Settings application from its hiding place or not. Stay tuned for more and more amazing technical tricks, tips, how-tos, hacks, and solutions!