With Google and Apple spoiling us with the app options in their stores, the demand for apps has been rising with each day. The apps are a perfect way to do a lot many things that the basic operating system won't allow you to. From listening to music with enhanced sound effects or playing the most unique games to reading books or advanced editing of photos, there are a plethora of things to explore.
Due to the competition, even Microsoft is growing its range of apps in its store that help you to get more of your Windows OS. While it may not be at par with the Google Play or App Store yet, but it is definitely growing at a commendable pace. Here's a list of some of the best Microsoft Store apps to perk your Windows PC. It consists of a blend of both paid and free apps to choose from.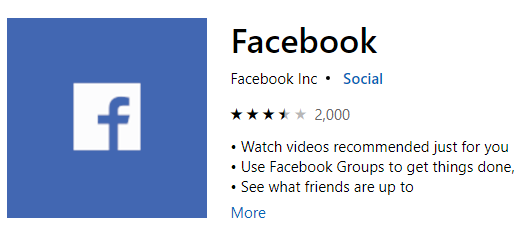 Needless to mention how popular is this app and what significance it has in today's social media inclined crowd. From creating a post or uploading photos/videos to sending messages, viewing News Feeds, commenting, liking, sharing, etc., it allows you to do all that you would on the mobile app.
Best of all, it sends notifications for any like or comments on your posts and also allows you to run a live video.
Price: Free.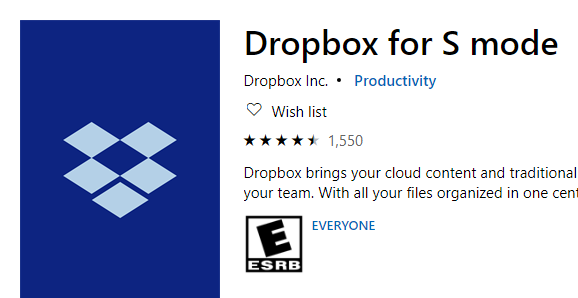 With an unlimited number of documents being created and saved on a daily basis, storage space is a major concern these days. Hence, having cloud storage is important these days. This is one of the most popular apps in recent times that allows you to save your content in its cloud space.
It enables you to view your photos or videos in a grid, or documents in a list form. It gets all al your content and the files in a single place along with your favorite tools. It basically helps you to stay centered, structured, and unified with your team. From here you can securely sync all your files with any devices and use them from any location, any time.
Price: Free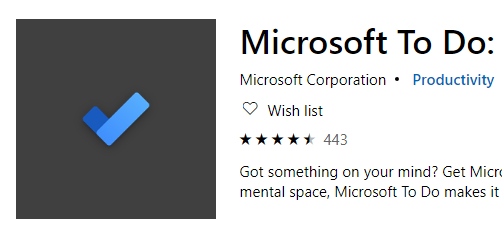 For a professional, planning, collaborating, and creating lists for the daily chores are three most important things. This app helps you with just that. Improving your productivity by lowering your anxiety, it helps you to stay at the top of your tasks on a daily basis.
Offers personalized recommendations to keep your regular to-do list updated, allows you to collect and recover your lists swiftly throughout all devices, helps you stay connected using shared lists, and splits tasks into easy steps, allows you to insert, due dates, and more.
Price: Free.
We all know how popular this media player is among movie enthusiasts. This free and open-source app works across all platforms and plays media seamlessly. It plays videos, music, manages audios, supports MKV and FLAC playback codecs, and shows and downloads subtitles.
It also supports TagLib, offers plenty of customization choices for videos, and can play any video file extracted from a common source.
Price: Free.
Those of you who love to check out recipes online for a new dish at home, this app proves handy to them. It's an easy to use app that organizes your favorite recipes, shopping lists and also plans meals all on one platform. Best of all, it also works across all devices.
It allows you to add your own recipes effortlessly, import recipes from your most visited websites, create meal plans for each week and month, get a scanned copy from handwritten or printed recipes, add ingredients to the shopping lists, getting a print of the recipes, and more.
Price: Free.
Whether you are planning to travel abroad for a short trip or handling a foreign client, this app makes learning languages gets easier and faster. From English, Spanish, or French to German, Italian or Danish, it helps you learn a lot many languages in a fun manner. This app offers mini-lessons to complete, take quizzes, and monitor your progress by earning rewards.
It comes with no ads and offers college-level high-quality languages learning for free.
Price: Free
This app makes life easier for especially those working remotely and wants to collaborate with the team from home or any other location apart from the office. It helps you to share your desktop remotely, control the desktop on the other end, arrange online meetings & conferences, and even transfer files, seamlessly.
The Windows app makes it convenient for you to do all this while on the go and can connect with any computer in a jiffy. It offers a highly secured connection, allows you to watch the online status of your associate, connect to them quickly, offers easy access to remote desktops surpassing the firewalls, and more.
Price: Free.
Everyone needs a photo editing app these days. While Windows offers some basic editing functions, you do need advanced options like adding visual effects, creating a collage, adding frames, enhancing images, and more.
It helps you enhance your photos with powerful editing features, allows you to add effects and borders, offers 1-Tap enhance, add text in different fonts and styles, tilt-shift the photos, and provides raw converter.
Price: Free
Online communication is extremely important these days and this is one of the most popular chat clients for years. This app is especially useful for people who want to connect to friends and family who live abroad, and even for professional reasons, like an interview, or to talk to teammates in the office situated in a foreign country.
This app helps you to send an instant message, or make voice or video calls on all devices, for free. You can also arrange for a group voice or video call for 25 people at a time, call mobile phones or landlines at cheaper rates, and also share photos, documents, screenshots, and emojis.
Price: Free.
This one is especially for music lovers. While there are other music players like Vevo or Musixmatch doing a good job, this app is definitely a notch above. You can stream your favorite music without delay, search through the charts, and launch pre-made playlists in all categories.
It allows you to play any song of your choice, playlists, lets you search through already curated playlists, stay updated on the fresh charts, allows you to play radio, have fun listening to podcasts, and much more.
Price: Free.
This is another great photo editor by one of the top brands, that spices up your photos on your Windows platform. It's a fun editor that helps you to edit your photos quickly and easily in a single touch.
It comes equipped with a complete set of tools and effects, helps you to personalize your images by adding stickers, enables you to improve color gradients, makes collages, creates memes, and more. In addition, it also allows you to fix broken images, rectify deformed camera shots, smoothens the grains in the images, fine-tune the color, blends the backgrounds, and so on.
Price: Free.
This app is for those in love with radio content. With this, you can enjoy live content like in the category of sports, news, radio, and more from all across the globe. It allows you to tune into thousands of radio stations from across the world.
As you begin exploring the app, you get different customization options for which you can access from the My Profile section and personalize your experience. You can Pin to launch your favorite stations, include more stations and shows of your choice, even run your programs in the backdrop and still keep using other apps.
Price: Free
It adopts a completely unique method of editing images. It features an easy to use user interface from where you can see larger previews of photos and quicker collaborative photo editing. This makes viewing and editing larger photos much easier.
It supports metadata and even lets you import or substitute it, works with a wide range of file formats, offers a set of editing tools like color correction, resize, rotate, crop, etc., filters grains, allows you take actions like Undo, Redo, Pinching for Zoom, and Drag and Drop support.
Moreover, it also provides attractive personalized presets, multiple personalized adjustable styles, adjustable frames and more.
Price: Free.
Creating notes can be a fun experience as well with this app. While the regular Notepad is a great help for those quick notes, it's limited in terms of features. Using this app, you are not just able to create notes, but also ink the notes, insert pictures, include text formats, stick the notes to the desktop or shift from one place to another.
You can also add the notes to the list, sync them with other devices and apps like Outlook, OneNote, etc., create reminders on Cortana, and convert the notes into dark mode. Best of all, it can even identify emails, addresses, and phone numbers.
Price: Free.
This app helps you to unleash your creativity by allowing you to paint images or even retouch them. This attractive looking painting app an be used comfortably even by the beginners, and yet offers some advanced features for all. It offers a realistic look at your drawings with a feeling that you are drawing on a physical canvas and not on an app.
It helps you to mix colors to create new shades of your choice, and also lets you choose from different editing options ensuring that your idea comes across exactly as planned on the online canvas. Whether you want to create an authentic artwork or select an activity pack, it allows you to create amazing paintings with ease.
Price: Free.
This is a Facebook chat app that helps you to connect with your friends on social media straight from your desktop. This is a casual app from a third-party developer that works as a social messaging platform even when the social media website is not open in your browser. It gets launched as soon the app is installed and all you need to do now is log in using your Facebook login details.
It features all the functionalities of its mobile phone version and so, if you are already familiar with the app, it gets easier for you to use the desktop version. It allows you to chat, share photos, videos, audio clips, add emojis, make a voice or a video call, create a messaging group, do secret chats, get notifications, and share your live location, just like you would do on the mobile phone app.
Price: Free.
This one of the most popular streaming services and the largest subscription services in the world that streams TV shows and movies online. It allows its members to watch unlimited content on your desktop, TV, or mobile devices as soon as they are subscribed to it.
The application is easy to use and displays three of your recently viewed content on the home screen. It shows recommended videos as you swipe to the left, while the videos are sorted by genre. Offers conveniently sized controls that are easy to use, save your place as you pause or shut down the application, lets you pin the app on the other end of the screen, and more.
Price: Free trial available; Subscription available for $8.99/month.
Conclusion
While the latest version of Windows does come with a few built-in apps, they may not suffice the modern technological needs. Therefore, downloading dedicated apps for the desired task is essential these days. For instance, the Windows way of protecting your passwords may not be enough, and you may need additional protection, or you may want to add a social media app to the desktop if you are a regular user. There's an ocean full of possibilities these days, so simply download the best Microsoft Store apps and give your Windows PC that added edge.