Recently, it has been noticed that several windows users experienced an unusual thing with the edge browser while closing it. When the users attempted to close the edge browser, it threw a warning message on the screen that says –
"Microsoft Edge is being used for sharing. If you close Microsoft Edge, some items might not be shared."
Although you can close it and move on. However, it is quite irritating that it appears every time you try to exit the edge browser application on the windows system.
So we have dug into this matter and got a few solutions that might help stop this warning message from appearing on the screen while closing the edge browser on the system.
Solution 1 – Disable the Share Button feature in the Edge browser
This is the prominent reason you might be getting the warning message mentioned above in this post since the share button feature is enabled on the edge browser application. So we recommend our users to check once if this setting is disabled or not. If not, please disable this feature using the steps explained below.
Step 1: Open the Edge browser on the system by pressing the Windows key and typing Microsoft edge.
Step 2: Press the Enter key, which opens the edge browser.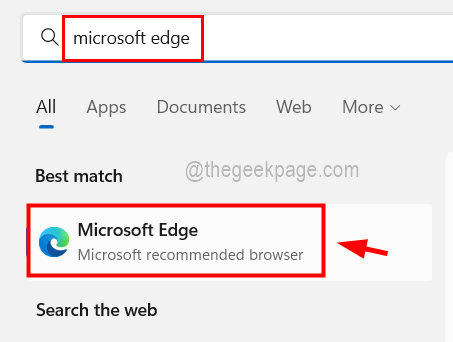 Step 3: After the edge browser window opens, open a new tab and type edge://settings/appearance in the address bar and press Enter key.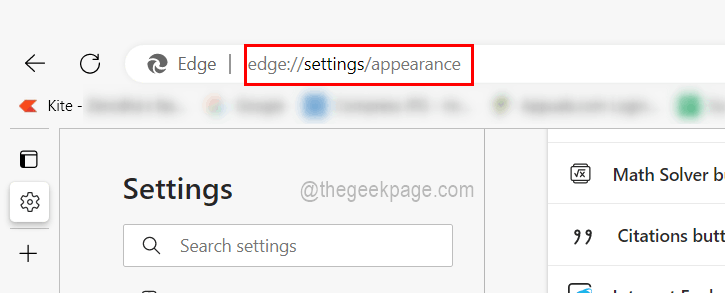 Step 4: This opens the Appearance page.
Step 5: Now scroll down to the Share button option, which has a toggle button.
Step 6: Please click on the toggle button of the Share button feature to make sure it is disabled.

Step 7: Once you are done doing the changes, close the Appearance page.
Solution 2 – Close Edge browser using Task Manager
If any user is not able to close the edge browser manually by closing the warning message window, this solution can be helpful in terminating the application using the task manager on the system. Please follow the steps given below.
Step 1: Press the CTRL + SHIFT + ESC keys together on the keyboard.
Step 2: This opens the Task Manager window.
Step 3: Make sure you are on the processes tab and locate the Microsoft Edge browser on the list of applications that are under the processes tab.
Step 4: Now right-click on the Microsoft Edge browser and from the context menu, click End task as shown in the image below.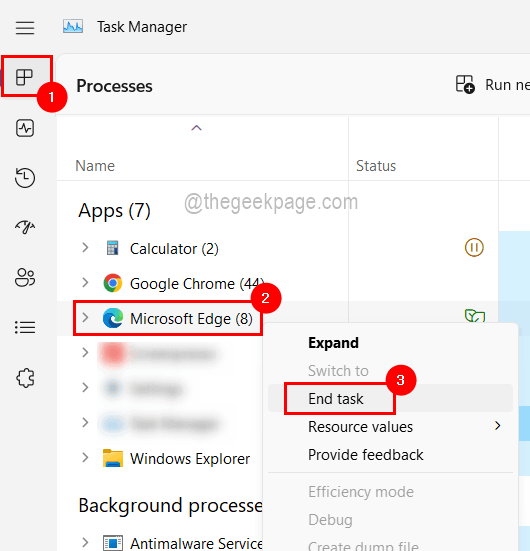 Step 5: Now the edge browser will get terminated on the system.
Step 6: Once done, close the task manager window.
Solution 3 – Keep Windows Updated
Sometimes, when windows OS is outdated on any device, it creates many problems. So we suggest our users maintain the windows system up to date using the steps below.
Step 1: Press the Win+R keys together to open the Run command box.
Step 2: Type ms-settings:windowsupdate in it and press Enter key.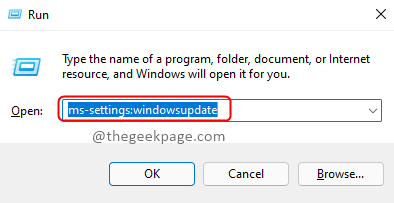 Step 3: Now click the Check for updates button which is present at the top right corner of the window as shown below.


Step 4: If there are any updates available, please download and install them all.
Step 5: Once done, restart the system.