Are you facing 'Invalid value for registry' error when you are trying to open an image in Windows 10? You may encounter the similar error message trying to open photos, pdf, music or any other kind of file. If you are receiving this error when you are trying to open an image, simply resetting the Photos application will solve this issue on your computer. Follow these steps to do so-
Fix 1 – Reset Photos App
1. Press Windows key+I to open Settings window.
2. Click on "Apps".

3. Now, on the left pane of the Settings window, click on "Apps & features".
4. Then on the right hand side, click on the Search box and type "Photos".
5. Click on the "Photos" from the search result and then click on "Advanced options".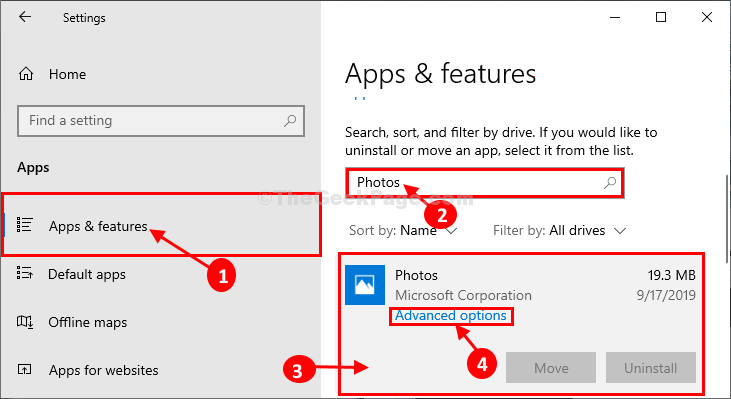 6. Now, Click on Repair to repair it.

Now, try again , if it still does not work, then try to reset it.
6. Now, scroll down through the Photos settings and click on the "Reset" to reset the application to default state.
7. Again, click on "Reset" to confirm the resetting process.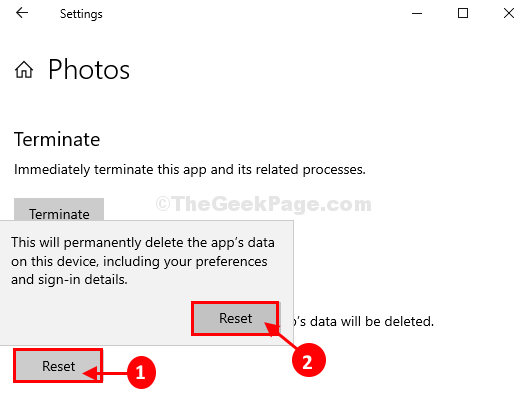 Reboot your computer.
Once Photos application is reset, try to open the image again on your computer. This time you will be able to see the image.
Fix 2 – Using registry editor
1. Press Windows key + R key together to open run.
2. Type regedit in it and click OK to open the registry editor.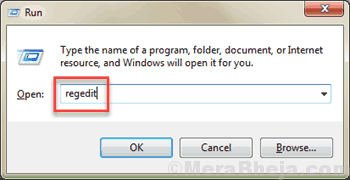 3. Now, before doing anything with the registry editor, just Click on File > Export to take a backup and then proceed with next step.
4. Go to the following path in the registry editor.
HKEY_CURRENT_USER\SOFTWARE\Classes\Local Settings\Software\Microsoft\Windows\CurrentVersion\AppModel\Repository\Families\Microsoft.Windows.Photos_8wekyb3d8bbwe
5. Now, delete every keys present in the form of Microsoft.Windows.Photos …. from the expanded list.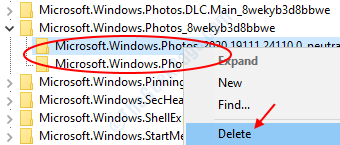 Do not worry about the keys as they will again appear there once you close the registry editor and restart your PC. So, after that just Reboot your Computer.
Your problem should be fixed.
Fix 2 – Using SFC / SCANNOW
1. Search CMD in windows 10 search box and right click and choose run as administrator.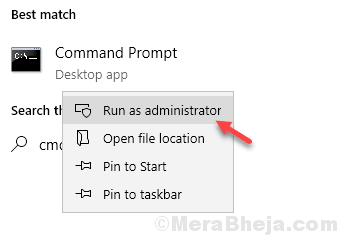 2. Now, type SFC / SCANNOW and hit Enter key.
3. Wait for the command to get executed fully.
4. Close the CMD window.

Sambit is a Mechanical Engineer By qualification who loves to write about Windows 10 and solutions to weirdest possible problems.