Microsoft Edge is an efficient browser with various functionalities. And it is been the default browser for Windows 10 onwards. This was developed in place of Internet Explorer to have better speed and features. It is the best browser for using legacy applications. Features like organizing the tabs, capturing and marking the screenshots, good reading experience, etc make it even more attractive to the user. Edge provides tools to secure and control your data. Browsing mode for kids is also available. Now Microsoft has announced adding a new feature to the Edge browser that is called Microsoft Edge Secure Network which is a VPN service. It is a service provided in partnership with Cloudflare. It is in the testing phase and will be released for public use sooner. So let us discuss the advantages of Microsoft Edge Secure Network Service and how to use it.
Advantages of Microsoft Edge Secure Network
1.  It provides the encryption of your connection which means your data is safe from hackers though you are using a non-secure URL, your data is routed and protected in such a way that it makes it difficult to be hacked.
2.  It hides your actual geolocation. The best way to encrypt the data is by using VPN a Virtual Private Network. As the name suggests Microsoft Edge Secure Network gets your actual IP address masked and lets you use a virtual IP. Also, your actual geo location will be hidden and it will be replaced by a virtual IP address so that it is difficult for a hacker to track the details.
3.  Online tracking is a practice by which operators of websites and other third parties collect your browsing behavior information like most visited websites, what you purchase on the sites, how long you are viewing the same site etc. So to prevent web tracking, the web traffic is encrypted in the first place directly by Microsoft Edge.
4.  It is a free service, but at the same time, it also has some limitations. To use the VPN you need to sign in to the Microsoft account. The data use is limited to 1 GB per month. The support and diagnostic information will be collected and it will be deleted at the end of the required service window.
Use Microsoft Edge Secure Network
Now that we know the advantages of Microsoft Edge Secure Network, let us see how to enable and use it.
Step 1: Open the Microsoft Edge browser. Now click on More which is at the top right corner of the browser where you can see 3 dots. Click on it and in the list click on Settings.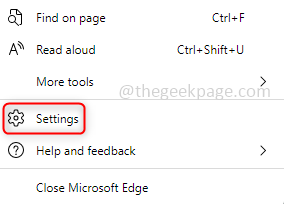 Step 2: Under Settings, you will see the Secure Network option. Click on it.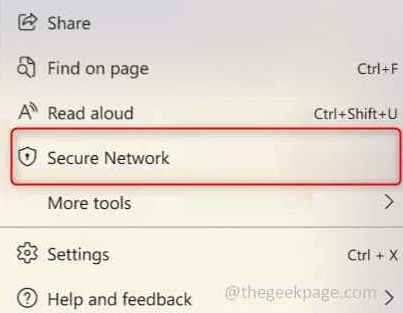 Step 3: It will prompt you to sign in to your Microsoft Account. If you do not have one, it will ask you to create an account.
Step 4: To make sure that your browsing traffic is protected, you can see a shield symbol at the top right of the browser.

Step 5: If you would like to use this feature, then every time when you open the browser you will need to turn on the Secure Network feature because once the browser is closed the feature turns off. You can also monitor the usage of data by clicking on the shield icon. As your limit increases you can also observe the changes on the shield.
At the initial stage of data usage, you can see it as green.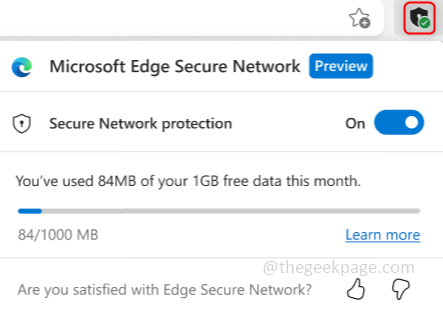 Once it is closer to 1 GB the color changes to orange.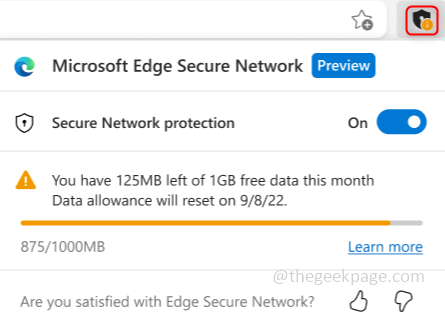 When you have reached the maximum limit the color changes to red.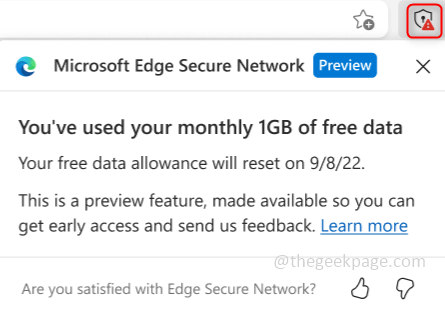 That's it! Hope this article is helpful. Do try this when the feature is out for public use and share your thoughts. Thank you! Happy Reading!!