Whether you need to create a presentation for your office or for your academic, PowerPoint offers a professional yet interesting way to present your ideas through. Microsoft incorporates some really good features to it that helps you create presentations that appeals to the audience and attracts their attention, like with the option to add images, videos, GIFs, and more.
While the videos would play just fine on your PC, they may not play at all when connected to a projector or another computer. The videos not playing in PowerPoint is an issue being reported by some users and can be quite discomforting. This majorly happens due to the fact that the PowerPoint is not optimized for media compatibility. However, that can be done quite easily and once optimized, it will apply to all of your previous and future presentation. Let's see how.
Solution 1 – Download and install K-lite codec pack
1 – Download K-lite codec from here
2 – Now, install the downloaded file
3 – Select Advanced and click Next
4 – Now, select Something else in preferred video player and preferred audio player from dropdown and click on next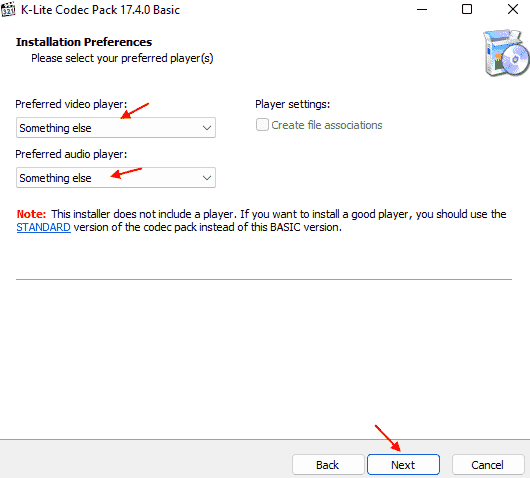 5 – Now, Leave every other settings which comes in further screen as it is and keep clicking next button untill Finish button appears. Finally click on finish.
Now, try playing the video again.
Solution 2: Check Optimize Media Option
Step 1: Open the PowerPoint presentation with which you are facing the issue and go to the File tab on the upper left.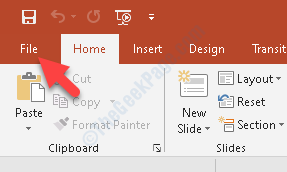 Step 2: Now, select Info from the File menu.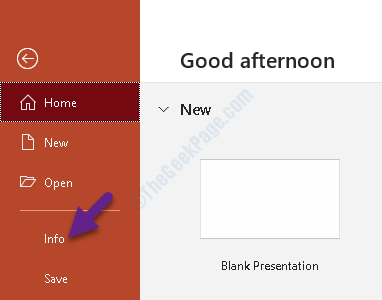 Step 3: You will now see some options on the right side with the Optimize Media Compatibility on the top.
This means that there's a media format of your presentation that is not compatible with other devices. So, click the Optimize Media Compatibility icon and once you confirm, it will open the progress window.
*Note – You will see the Optimize Media Compatibility option only when your presentation is not optimized for compatibility for certain media formats. If it doesn't appear, then it means that the presentation is compatible and that the videos should play.
Solution 3: Check Video Playback settings
1 – In Powerpoint just select the video once
2 -Now,Click on Playback tab from top menu
3 – Now, select the desired option in Start from dropdown.

Now, try again to play the video.
Solution 4: Try embedding the video in youtube
1 – First of all upload the video in youtube
2 – Now, Click on Insert from top Tab
3 -Now, Click on Media
4 – Now, click on Video
5 – Select Online Videos

6 – Now, copy and paste the Youtube video URL and click Next

Solution 5: Convert the video format
May be the Video is not in an acceptable format. So, first of all convert the video using online tools.  in an acceptable and Popular format like mp4 or avi and then try insertin that video again and then try to play the video.
Wait for the optimization process to complete and let it fix any compatibility issue. Once completed, you can restart your presentation and the videos in the PowerPoint should not play.