Gmail is the most popular web-based email server introduced by Google and it has many great features that are helpful while browsing, editing and sending emails. One of such features is the auto-complete list which allows users to see the list of email addresses saved as a contact before finishing typing the full address.
This feature is really beneficial but sometimes it can be not so good approach because there can be a few email addresses that are not valid anymore or might have been deleted by the user. For example, someone who has left an organization can't access the corporate email address anymore. But there is a way to delete those email addresses from getting highlighted in the auto-complete list in Gmail.
If you are also looking to delete an email address from Gmail Auto-Complete list, this post will guide you better and clearly.
How to Delete Email Addresses from Gmail Auto-Complete
Step 1: First, open your Gmail account by clicking here.
Step 2: The Gmail web page will open in a new tab.
Step 3: Please sign in with your Google account if there are no google account credentials saved in your browser.
Step 4: Once you are logged in using your Google account, please click the Google apps icon ( 9 dots cube-shaped).
Step 5: This will show all the google apps in a dropdown section.
Step 6: Look for the Google app called Contacts and click on it.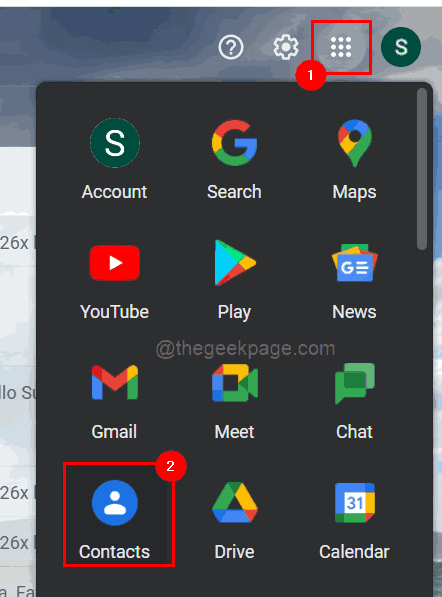 Step 7: A Google Contacts page will get open in a new tab now.
Step 8: Search for the email address that you want to delete by typing it in the search bar as shown below.
Step 9: Now select the email address from the suggestions by clicking on it as shown in the below screenshot.

Step 10: Once the email address contact page opens, you will find the three vertical dots ( more options icon ) on the right side as shown below.
Step 11: Please click on it to see the options.
Step 12: Select Delete from the list.

Step 13: Then, click Delete from the prompt called Delete this contact?.

Step 14: Upon clicking delete, this email address will no longer be on your Gmail account contacts and will not be suggested in the auto-complete feature.
Step 15: Repeat the same steps for deleting other email addresses as well.
Step 16: After it is done, close the Google Contacts page.