Outlook is by far the most used and reliable tool used by users for surfing emails. By default, when you click on an email, the email is marked as read by outlook. Also, if you click on space, the selected email will be marked as read.
This might be a problem, because, you might have quickly gone through the emails without actually reading them. If you come back at a later point, since the emails are already marked as read, it is hard to keep track of what you've actually read.
Well ! the good news is that you can change this default behavior. You can set the behavior to mark the email as read, only when you double-click on the email to open and read it.
If you are looking forward to changing the default settings in your outlook, just try out the below steps.
Steps to be followed to change the option for making an email as read
1. Open the Outlook application.
2. Click on the File from the top menu options.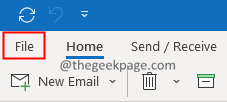 3. Click on Options.

4. The Outlook Options window opens. From the left-hand side, click on Mail.
5. Scroll down and locate the Outlook panes section. Click on the Reading pane button.

6. Untick the option Mark item as read when selection changes.
7. Untick the option Single key reading using the space bar.
8. Click on the Ok button on the Reading Pane window.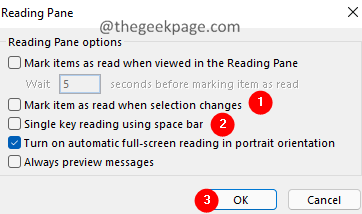 9. In the Outlook Options window, click on the OK button.
Once this is done, the emails will be marked as read-only once you double-click on the email to open and read it.
That's all.
We hope this short article has been informative. Kindly comment and let us know if this helped.
Thanks for reading.