Windows 10 has grabbed the popularity pretty fast due to its responsive interface. While it does come with a lot of advanced and useful features to rely on, it does come with its set of drawbacks. It reportedly slows down a lot of times, stops working all of a sudden, or show up the blue screen of death as it crashes, and many such faults.
The majority of these issues are due to faulty hardware that can cause serious harm to your PC health if not diagnosed on time. Having the right set of tools ensures that you have help whenever you need to fix the hardware issues. We have shortlisted some of the best diagnostic tools to detect the problem in your Windows PC and fix it right away.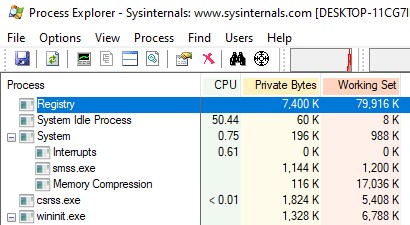 When you realize your system is slowing down, you usually tend to check the Process tab in the Task Manager. That's where it shows which applications are currently running, also in the background and if these applications are taking up the CPU time. However, it only displays the primary processes and not all. That's when you need this tool.
This diagnostic tool helps you to check if there's any memory loss from the system or if there's an issue with the CPU consumption. It generates detailed reports in the form of charts for CPU, GPU, and memory usage in real-time. Color codes the ongoing processes generate a report containing the process related properties, and also allows you to configure the load for multiprocessor CPU and set process preferences.
Price: Free.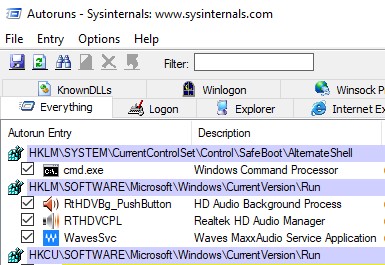 This troubleshooting tool is gathered into one chain of tools that includes separate tools for each issue along with guides. It helps you to diagnose and fix any issues with Windows programs and services.
Features:
It comes with seventy different tools that help you to fix issues related to networking and security concerns, details related to process and system, or management of files and disk.
It allows you to manage startup applications.
Lets you track the currently running processes and generates memory-related details.
Offers live file system and monitoring of registry processes.
Moreover, the different tools show TCP and UDP destinations, identifies kernel-mode rootkits, controls your applications on a multi-desktop platform, checks if the images have e-signatures and more.
Price: Free.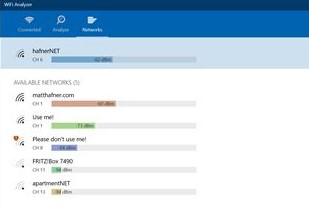 As the name suggests, this diagnostic tool is here to diagnose the problems related to your Wi-Fi connection. It looks up for the finest medium or the finest location for your Wi-Fi router by transforming your PC, laptop, or mobile device into a Wi-Fi explorer.
Features:
Checks all the networks in the surroundings that could obstruct your connection.
Reveals detailed info regarding your Wi-Fi router.
Analyzes the link-frequency and performance of the router.
It allows you to filter detected networks.
It helps your Wi-Fi to sync effortlessly from within the app.
Moreover, it also provides support for live-tile, offers a beeper to indicate the signal strength, displays all networks in similar color, and offers an option for dark & light themes.
Price: Free.
Performance Monitor
This is a Windows built-in utility that helps you view your computer performance in real-time. It automatically picks up the %Processor Time. However, you have the option to customize the display and add a few other tabs of your own choice. This helps you to keep a track of any tabs of your choice, in real-time.
Features:
It captures the performance indicators even from previous times.
It allows you to measure the performances over a period of time helping you to keep a check on the trends.
Price: Free.
To open it, Just search Performance Monitor in windows 10 search box.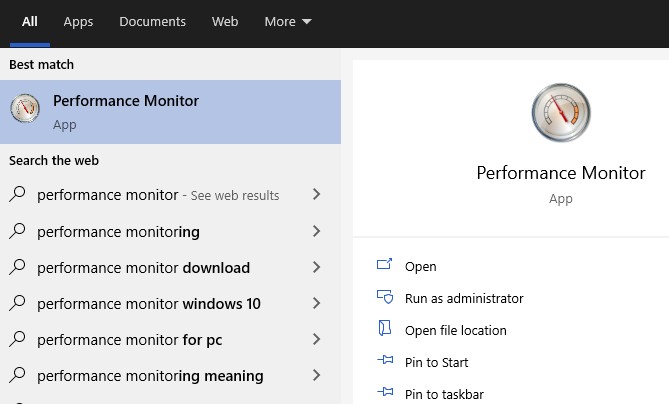 Reliability Monitor
This is another great in-built hardware diagnostic tool or a troubleshooting tool that's found in Windows Vista and above versions. It offers detailed statistics related to your system's stability history.
Features:
It allows you to detect the past alerts along with previous important and helpful circumstances.
The interface is graded into columns based on days and weeks, and as you click on the columns, you can see more information related to the specified date.
Displays the stability of your system between a scale of 1 to 10.
Shows the events at the lower part of the screen.
Allowing you to check for a solution using the dedicated option at the bottom and viewing the insights for each update to help you find out more about the updates, are among its other significant features.
Price: Free.
To open just search view reliability history in windows 10 search box.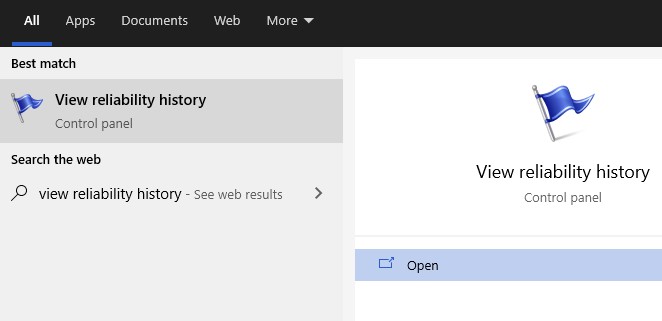 Resource Monitor
This is another very useful Windows tool that comes embedded in the Windows Vista OS and above versions. It shows detailed statistics related to the hardware and software of your system in real-time.
Features:
Provides in-depth details regarding processes and services that are otherwise not provided by the Task Manager.
It offers a summary of the memory, disk, CPU, and network along with all other running processes.
Displays graphical statistics on the sidebar over one minute.
It provides the option to cover the graphs.
Moreover, it also enables you to pick one or more than one CPU processes, disk usage, memory consumption, and network-related details in real-time.
Price: Free.
To Open it, Just search Resource Monitor in windows 10 search box.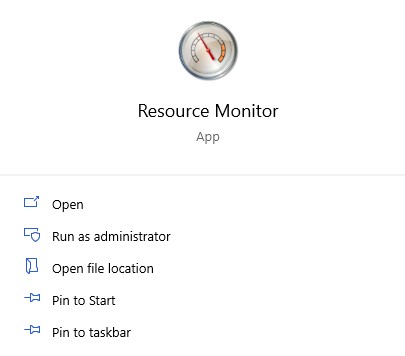 Windows System Trouble-shooter
The integrated trouble-shooter by Windows is usually the first step to diagnose and repair any software or hardware related issues of your system. When that can't help, you move on with other options. These are developed to address individual concerns related to your PC and are usually found under Control Panel or under Settings – Update & Security.
Features:
It helps you to fix the problems of the most common setting faced by Windows users that include issues with the internet connectivity, faults in hardware devices, errors in Windows updates, Blue Screen deaths, and issues relate to network adapters and Bluetooth connectivity.
It can find the problem and repair it with no action required anymore.
It can find the issue and recommend an action for you to perform and repair the problem on your own.
If it can't detect the problem, it may recommend added steps.
Price: Free.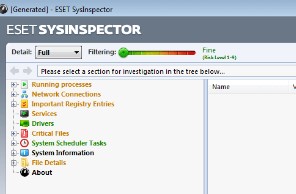 This is one of the most user-friendly third-party diagnostic tools in the category that help you diagnose and repair a range of PC related issues. This application is also available through its three other products – antivirus, online security, and an upgraded version of its security app.
Features:
Monitors the harmful codes and tracks any issues with open processes.
Runs a check on the old and inoperative drivers.
Detects and fixes any dubious files with missing signature.
Analyses the operating system if it's patched or not, find software issues and fixes them, and if there are any damaged registry entries.
Checking whether the hardware is compatible or not, or finding if there's any doubtful network connection available, are among its other important features.
Price: Free.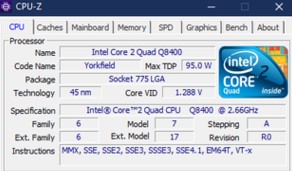 This free tool is especially useful to troubleshoot PC problems and also when you want to detect the current OS version. It presents you with all the details related to the current operating system.
Features:
Displays all the relevant details in the form of tables.
It highlights the CPU type, its processing capacity, the designs, clock frequency, and more.
Also, show the available RAM.
Among its other important features are, presents the details in a highly unified interface making it easy to access, shows the battery levels, and PC temperature.
Price: Free.
This Windows diagnostic tool is just what you need to check the hardware performance of your system's hard disk, and to check if it may stop working in the near future.
Features:
It offers complete details regarding your system performance along with its current temperature and condition.
Easy to use user interface where you can find an extensive list of updated system data.
It helps you find and prevent any possible errors in the time ahead.
It allows you to set email or audio alerts when one of the drives is malfunctioning.
This is a perfect hardware checking tool if you have fair computer skills and want to stay updated about your PC. Best of all, it does not slow down your PC and does not use much of your system resources.
Price: Free.
If you are serious about PC health, then using this performance testing software may be a good idea. It authenticates the performance of all its cores, looks up for its genuineness, checks how fast is the processor, and analyzes some of its features.
Features:
Automatically launches the analyzing process.
Displays a lot of information regarding the processor, for instance, CPU speed, temperature analysis, start and end time of the scan, memory size, and so on.
Best of all, it's a lightweight application that does not weigh down the system, while keeping the system performance super smooth.
Price: Free.
It collects all the details regarding the hardware and the software of your system, and also offers detailed reports and measures. It basically checks the hardware and software settings capacity of your system, and also sets benchmarks.
Features:
It's portable and hence, does not need to be set up.
It does not create any fresh listings in the Windows registry.
It comes with a responsive user interface that offers detailed information related to memory usage, network adaptability, motherboard, drives, and more.
It allows you to copy data and save in a report form in different readable formats.
Moreover, it offers a summary of the sensors, CPU usage details, temperatures, allows you to customize the program settings, and more.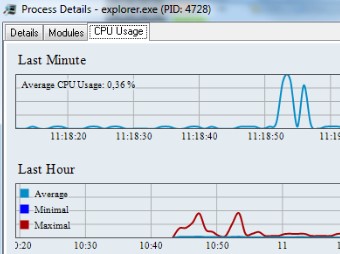 This is another free diagnostic tool for Windows that allows you to discover and manage your computer parts. It comes with a range of handy tools that manage your system effortlessly.
Features:
It offers quick access to the file directory to be able to detect any threats.
Attractive and responsive interface with tabs placed at the top of the primary window.
Easy to use user interface making it easier to access for both amateurs and professionals.
Provides in-depth info related to processes, drives, Windows, tasks, services, etc.
Monitors dubious files and checks process-related activities any system modifications.
Generates graphs for the usage of system resources.
Offers details related to computer and battery levels.
Among its other major features are, allowing you to customize the tab bar to show the details you want, lets you run a security check on the currently running processes, offers a settings window with choices related to the app's appearance, and more.
Price: Free.
This is a famous security tool that helps clean your system from Malware and speeds up your internet browsing time and your system. It also quarantines your system by removing viruses and contaminated files.
Features:
Deploys the latest technology to kill any harmful elements threatening your system's security.
Blocks hackers, malware, and also disinfects the system.
It blocks all the routes and methods through which hackers and spammers make way to the websites and then to your system and eventually damaging your system with harmful links.
Price: Free download available; Premium version starts from $39.99/Yr.
This app meets your hardware diagnostic requirements just perfectly, and for free. As the name suggests, it targets the unwanted programs, removes them as well as any of the junk that's occupying most of your computer space.
Features:
Detects and eliminates unwanted adware that may be slowing down your PC, messages popping up out of the blue, or any unexpected changes in the browser homepage that you are not aware of.
Targets and cleans up harmful browser toolbars sneaking in and packaged toolbars that make way for spyware.
Moreover, it runs a quick scan on your computer and cleans up the system in a short time, and also does not consume much of your system space. It does not even need to be installed.
Price: Free download available; Pricing starts from $39.99/Yr.
Conclusion
Whether you are an IT analyst or a regular PC user, staying at the top of your PC health is extremely important. While you can seek help from computer repair services to troubleshoot the issue, you can even do without them when you have these diagnostic tools handy. So, you really don't need to hire someone unless you have used them all and still could not get it resolved. There are many such Windows diagnostic tools out there to check the health of your Windows PC, but the above list is definitely the best among all. So, pick one from the list and secure your PC's health today!