If you are an avid gamer or someone who loves to watch videos, you would know how crucial is Frames Per Second (FPS) for a smooth experience. It's the number of frames that come up on the screen per second while playing a Video or a Game. So, if your video playback is choppy or if the game stutters/lags, it means that the content is playing on a lower frame rate.
Increasing the frame rate in this case and adding a better graphics card in this case, is the only solution. This will help boost the FPS number in your game/video and make it run smoothly. While some Graphics Card does come with the FPS counter feature, not all of them do. In such cases, you can use an FPS Counter Software to know the original FPS. There are many such programs available online, of which we have handpicked the best FPS Counter Software for you.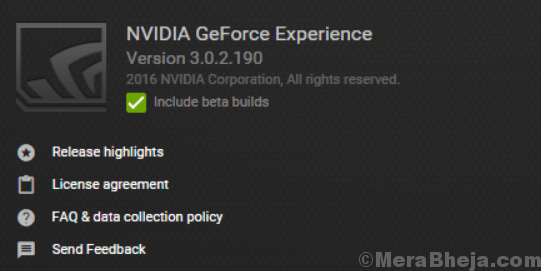 You need to add the NVIDIA GeForce Graphics Card in your computer to access the GeForce Experience software. The program allows you to record and share videos, take screenshots, and live stream videos with friends. It helps you to keep your drivers updated while keeping the game settings enhanced.
Talking of sharing, you can now share your content on all the major social media platforms like on YouTube, Facebook, and Twitch. It allows you to broadcast with minimum performance on the top while ensuring that your games run perfectly smooth. The in-game overlay of the program makes it swift and convenient.
Best of all, NVIDIA makes sure that they offer updated drivers for each game release. They work closely with the developers to ensure that any bugs are fixed, performance is enhanced, and optimizes the overall game experience. The freestyle game filters, on the other hand, let you add post-processing filters to your games during your game session.
You can even modify the look and mood of your game with changes in color or saturation, and more. Moreover, the software also simplifies the PC gaming configuration process by changing the game settings on their end.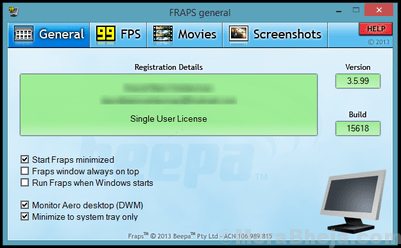 If you are looking for the best FPS counter software, the Fraps is certainly one of them. This comprehensive program is perfect for games that use DirectX or OpenGL graphics technology. It also works as a benchmarking software that displays the number of FPS on one end of the screen. It helps you to carry out custom benchmarks, evaluate the frame rate between two points, store the statistics to the disk and then employ them for reviews.
It also offers other programs that help capture screenshots in just a single press of a key. Real-time video capture software is another program offered by Fraps that helps you record video while you are playing your favorite game. Moreover, the software can record audio and video up to 7680×4800. It can also record custom frame rates from 1 to 120 frames per second! Best of all, the software is completely free for Windows users.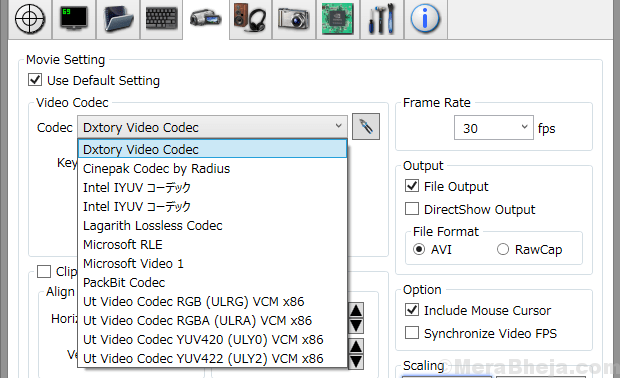 DXTory is a movie recording program for those using DirectX and OpenGL applications. Thanks to the data that is directly collected from a surface memory buffer object, the program works super fast and with minimum load. Moreover, it's codec has the capability of capturing the actual pixel data in just the same way. It allows you to achieve superior quality with the lossless video source.
What's interesting is, it can improve the writing speed using the high-bitrates capture function (in an environment including two or more storage). All you need to do is to create different sections of the folder that stores the data and it's ready once the speed setting is complete. So, there's no need to use a special file system. What's more? It can even record two or more audio sources at the same time.
In addition, it supports VFW codecs helping you to choose your favorite video codec. Further, the recorded data can be used as a DirectShow interface video source. Best of all, you can even save screenshots in different formats.
MSI Afterburner is known as the world's most popular graphics card overclocking tool that offers you complete control on your graphics card. It covers an amazingly comprehensive overview of the hardware you are using along with some added features like configuring the fan profiles, creating yardsticks, and recording videos. The best part is, it's completely free of cost and can be used along with any graphics card.
The program makes it easier to surpass limits of your graphics card much easier, using the overclocking tools. These utilities offer effortless and accurate access to the settings of your graphics card. You can raise the clock frequency and voltage of the GPU and during this, the fan speed control allows you to attain an ideal balance between the performance and the temperature.
OC Scanner is another feature specially designed for the RTX 20 series graphic cards that help you find the supreme settings for a stable overclock. In addition, due to the higher FPS, you get that much-needed boost to you in-game experience and all for free! What's more? The hardware screen displays all the important details in real-time that includes, clock-speed, voltage, usage, ad temperature.
It also enables you to completely customize a pre-set fan speed curve that helps you find out the cooling performance the entire day. On-screen display, option to customize the user skins, kombustor benchmarking to test stability and thermal performance of the graphics card, and the option to share your recordings in different formats are some of its other major features.
Razer Cortex is one of the best FPS counter software that boosts your PC performance through efficient management and killing those apps and processes that are simply not required while you are playing your favorite game. This helps clear the clutter and frees up the useful resources and the RAM space. This not just helps fit in more games, but also lead to increased frames per second and a seamless gaming experience.
The software automatically launches as soon as you star with your game, irrespective of whether it's from Steam, Origin, or from your own machine. What's interesting is, when you are done playing the game, the program automatically restores your PC as it was earlier. With CPU Core, you can even maximize your frames per second by micro-managing your Windows platform.
It also includes other mundane applications with two core modes such as deactivating the sleep mode for the CPU for maximum performance and activating the CPU Core to focus on the gaming. Best of all, you can even review your game performance with the discreetly functioning FPS counter that keeps tracking your system's frames per second in the background.
If you are an avid gamer, you should be already familiar with this widely-known online gaming marketplace, Steam. It's also a management software that used by gamers across the world. Show FPS is one of its major features among tons of others. You can easily take advantage of the Frame Rate Counter functionality if you have bought the game from their store. he best part is, all the games that you buy from Steam store display the FPS tracker.
What's good about the in-game overlay of Steam is that it's a built-in utility and so, it does not use the system resources as it shows the frame rate on the monitor. If you are already using steam, you can find the frame rate on your screen while playing your favorite game, and best of all, it does not affect the game performance.
This is another great software that was originally designed as a small program for guidance on how to use the RivaTuner graphics card. Over the years, the RivaTuner Statistics Server became the default FPS tracking service provider. It also offered services for On-Screen Display and high-performance video recorder for other graphic card tools.
It offers services for framerate and frametime monitoring for different clients, while the statistics for the same is gathered for programs based on DirectX and OpenGL. In addition, it offers 3D speed usage data to the client software. With this, the client programs can check if any 3D programs are running at present and based on which they can add different hardware profiles.
With the On-Screen Display support, clients can show any text details on the display. What's more? It can also be used as a standalone FPS monitoring software that can display its own framerate statistics in the On-Screen Display. Support for desktop and in-game screen capture, or superior-performance and real-time desktop and in-game video recording, are some of its other major features.
FPS Monitor is another great software that keeps a check on the condition of your PC's hardware while it shows the details as in-game overlay. The best part is, it does not require you to change to desktop or connect a second display anymore to manage your PC's hardware condition. The FPS display shows all the useful details in-game.
It's one of the very first FPS counter tools that not just shows the FPS numbers as good as the Fraps, but also shows a lot of other benchmarks. This in turn, offers a clear synopsis of the overall performance of your hardware while your game is on. The software evaluates nearly all the hardware that influences your view of a game.
It displays all the info, as in, if the load is more on the CPU or GPU while gaming. It also allows you to customize size, fonts, color, styles, etc. for each sensor value. In short, it allows you to create your own overlay. It can also gather the statistics for hardware usage and write it to save for further evaluation.
It's a professional application that helps gather system details and diagnostics. It carries out detailed hardware evaluation along with monitoring and reporting for Windows OS and DOS.
It performs an in-depth analysis of the hardware components, while keeps it technologies and standards updated at all times. Moreover, it offers real-time monitoring of your system while gaming. Not just that, it also does precise monitoring of all system components for real prediction of status and any collapse. Best of all, it comes with a customizable interface that features a wide range of options. Also, it offers extensive reporting with different types of reports. Status logging and interfacing with other utilities or add-ons are also few of its other features.
RadeonPro or Radeon Profile Tool is easy to use program built to uncover the power of its graphic card. As you launch the game, the software implements user defined profiles. All you need to do is to simply define the preferred 3D settings for each game and then get all those settings implemented automatically, each time you play.
The program can even fine tune your games using the 3D controls available on Catalyst Control Center along with the unique controls like the state-of-the-art V-Sync control and post processing. This process offers a great look to the game and also makes it improved and seamless as you play. Also, if you are a Crossfire user, it helps you to apply the use of multi-GPU in games that are not supported by the driver thereby, enhancing the game performance in just a couple of clicks.
OSD functions is another feature supported by the program that makes it possible to keep a check on your computer with the GPU details being shown on the right of your screen as you are playing your favorite game. Best of all, it also allows you to take screenshots or record games in a single click. This helps store your gaming moments, create yardsticks of your game, implement post-processing effects (SweetFX, FXAA, Ambient Occlusion, and SMAA).
Conclusion
As you noticed, higher the frame rates per second, better and smoother is the gaming experience. So, if your game is facing any lags or if it stutters, it's time you check its FPS and look for solutions. While there are quite a few ways to check the FPS numbers, these software programs can make it easier and faster for you. So, save time and have a smooth gaming experience with the best FPS counter software.