Are you getting a Win32AppBackgroundContext message in your Windows 10 PC  with a white background? It's a common issue that many Windows 10 users have been facing and is quite frustrating.
Since the introduction of Windows 10, life has become a lot easier for Windows users due to its wide range of features and functionalities. Thanks to Microsoft, the regular updates bring new improvements to the features and the functions of Windows 10 at regular intervals,
However, the operating system is also prone to random errors, bugs and crashes at unexpected times. One such error is the Win32AppBackgroundContext message that may come up out of nowhere while you are working on your PC. Along with the error, comes up a blank white screen that seems to come back even after you cross out the message, thus preventing you to work on your PC. However, this issue seems to arise due to a strange reason and hence, can be resoled. Let's see how.
Solution: By Uninstalling the EasyMail for Gmail
EasyMail is a standalone app that brings your Gmail right on your desktop. Overall, it uncomplicates the process of using Gmail in the browser by offering easy access to your emails, calendars and notes in a single app. It also allows you to change from one account to another in a single click. However, this app can also interfere with your System functions and lead to the Win32AppBackgroundContext message with white background. Fortunately, this can be fixed. Let's see how:
Step 1: Go to Start and type EasyMail in the Windows search bar.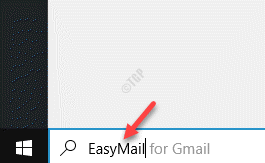 Step 2: Right-click on the result (EasyMail for Gmail) and select Uninstall from the right-click context menu.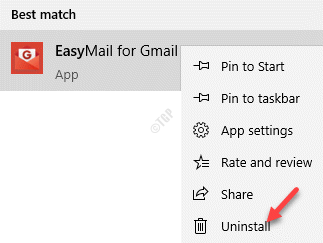 Wait for the EasyMail app to be uninstalled and once done, restart your PC.
Now, the Win32AppBackgroundContext message issue should be gone and you should not see any white background either.