Some Windows 10 users are complaining about a problem regarding the sudden disappearance of WiFi from their system just after their computer received a Windows Update. According to them, when they are trying to find the cause of the problem, they are discovering that 'Intel Wireless Ac-9560' driver is showing 'Error code-10' in Device Manager. If you are facing something similar, no need to worry. In this article, we are going to discuss some solutions to this problem. Just follow them and the problem will be fixed in no time. But, before going ahead for the bigger solutions, you should attempt these initial workarounds first on your computer to try out some simpler solutions for the problem.
Workarounds-
1. If this is the first time you are facing the problem on your computer, reboot your computer. After rebooting your computer check if you are still facing the problem or not.
2. Try a 'hard shutdown'-Follow these steps to do a hard shutdown of your system-
a. Press the 'Power key' of your laptop/desktop until your computer shuts down completely. Now, remove ac power adapter and battery from laptop / PC.
After few minutes, connect the power supply, insert battery again and turn on the PC.
Or,
b. Pull out the power cable to instantly shut down your pc.
If any of these workarounds didn't work out for you, go for these fixes on your computer-
Fix-1 Uninstall and reinstall Intel AC-9560 driver-
Uninstalling and reinstalling Intel AC-9560 drivers on your computer may solve this issue on your computer.
1. At first, press 'Windows key+X'.
2. Then, from the list of utilities, click on the "Device Manager".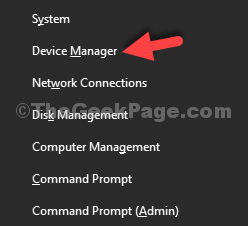 3.Once the Device Manager window opens up, expand "Network adapters".
4. Simply, right-click on the 'Intel Wireless-AC 9650" driver and click on "Uninstall device".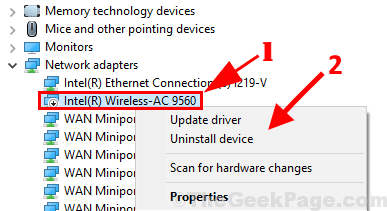 5. Now, connect your router with an Ethernet cable to your computer.
6. After connecting, open the Device Manager window again.
7. In Device Manager window, on the menu bar, click on "Action" and then click on "Scan for hardware changes".
Device Manager will reinstall the driver on your computer.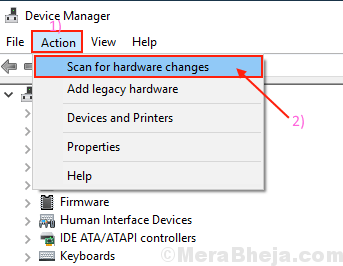 8. Now, unplug the Ethernet cable from your computer.
Reboot your computer. After rebooting, you should be able to discover the WiFi again on your computer.
Fix-2 Reset to factory defaults-
Resetting your computer to factory defaults will help you out for sure.
1. Reboot your computer. Upon reboot, continuously press the "F2" key to enter the BIOS settings.
ADVERTISEMENT



2. Now, go to wireless and set the first value to factory defaults
3. Now press "Esc" to exit the BIOS settings on your computer.
4. Your computer will be rebooted automatically. Check if you can discover WiFi on your computer or not.
5. If rebooting didn't solve the problem on your computer, shut down the computer completely. Wait for a minute. Then, reboot your computer again and upon rebooting, you should be able to discover WiFi again.
Your problem should be solved.

Sambit is a Mechanical Engineer By qualification who loves to write about Windows 10 and solutions to weirdest possible problems.