Are you unable to hear any sound in Google Chrome? In case if you are facing this issue and you are thinking about what to do, you are just in the right place. Follow these fixes on your computer and you will be hearing sounds soon in Chrome window. But before going ahead, you should try these workarounds first-
Workarounds–
1.  Try relaunching Google Chrome. After relaunching it, check if there is any sound or not.
2. Check if you are not getting sound in a specific site or on every website.
3. Check if any update is pending for Google Chrome or not. If it is, install the update on your computer.
If any of these workarounds didn't do the trick, check out these solutions-
Fix-1 Enable Sound settings for all website-
Enabling Sound settings in Google Chrome settings will help you out.
1. At first, you need to open Google Chrome.
2. In the Google Chrome window, copy-paste this in the address bar and then hit Enter.
chrome://settings/content/sound
Sound settings will be opened.
3. In the Settings-Sound window, make sure "Allow sites to play sound (recommended)" settings are toggled to "ON" (on the right side).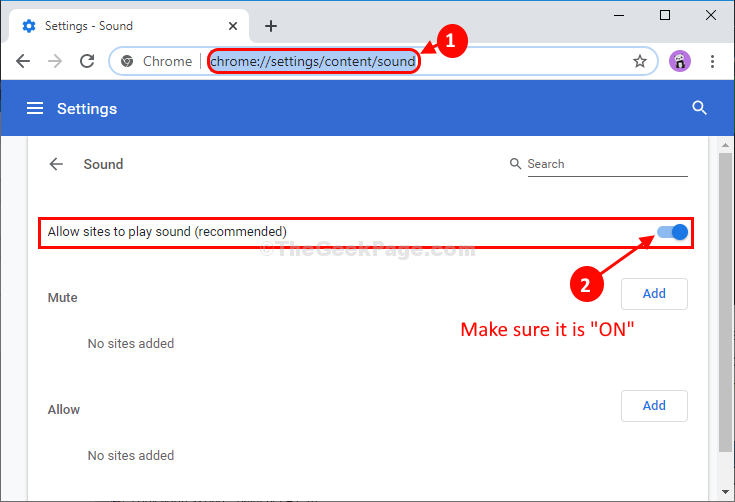 Close the Chrome window and then relaunch it to let the changes take effect.
Try to open any website and play sound. If you here any sound then the problem is solved. Otherwise, go for the next fix.
Fix-2 Check the sound settings of a specific site-
If the sound is not coming from a specific website ion Google Chrome ( Like- YouTube, Spotify), follow the steps to fix the issue.
1. Launch Google Chrome on your computer.
2. In Google Chrome, open the website in which you are facing the trouble of no-sound.
3. You will notice a cross mark on the speaker sign-in the address bar. Click on it.
4. Click on "Always allow sound on https:// www.youtube.com" to select the option.
5. Finally, click on "Done" to save the changes.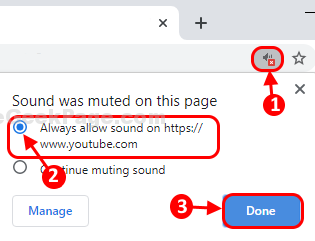 You should be hearing sound in Google Chrome. Repeat the same thing for every other website where you are having this same trouble.
If still if you are hearing any sound, go for the next fix.
Fix-3 Adjust Volume Mixer settings-
Adjusting volume mixer settings will solve this issue on your computer.
1. Right-click on the 'speaker' icon on the bottom-right corner of Taskbar.
2. Click on "Open Volume mixer" to open volume mixer settings on your computer.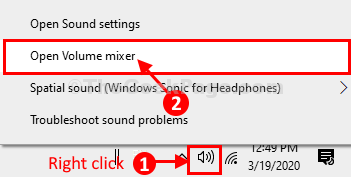 3. In Volume Mixer settings, under 'Google Chrome' settings, make sure there is no cross mark on the speaker icon.
4. In case if you see a cross mark on the speaker icon, click on it to enable sounds in Google Chrome.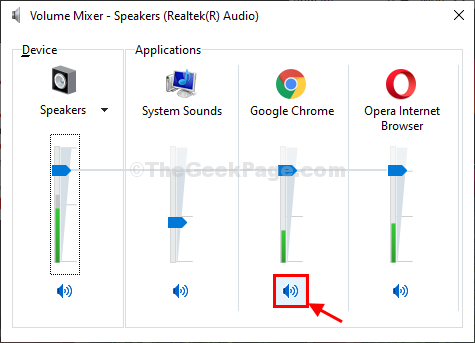 Now, check if you can listen to music from Google Chrome or not. Your problem should be solved.
Fix-4 Make sure the website tab is not muted
1 -Just right click on website tab.

2 – Now, If you can see an option Unmute site, then click on it to unmute the current tab.
Also Read: Fix No Sound on Windows Laptop Problem