Top 12 Facebook Alternatives : – Facebook is the largest social networking application. But, if you are using it since too long, then chances are that you might have got bored, and are searching for a new alternative. So here are few alternatives that might just excite you!
Also read: – 17 best alternatives to Linkedin for professional networking
Nextdoor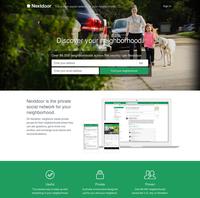 Nextdoor is a social networking platform to connect with people in your neighborhood. This platform service is specifically designed to connect people within geographic neighborhoods, particularly in the United States. You can join this service so as to discuss on different subjects with different communities and build an amicable bond with them.
Today is the age when you might just want to know what's happening in the whole world, whereas Nextdoor makes you inculcate a sense of belonging to your own place. Nextdoor offers you the platform to share your views on your neighbor's posts and comments, and also expand your business in the neighborhood with a classifieds section for buying and selling things. So, if you have got a business to care of in the neighborhood, Nextdoor is a pretty much apt platform for you.
This social networking service helps you to connect with different social service communities that you are completely unaware of, and displays important notifications and related messages.
When you opt to join this social networking service, you will be asked for your home address. You will be accordingly placed into a neighborhood, where you will find people living in your nearby localities. Then, you will be able to view posts and feeds from your neighbors, and also the latest happenings in your area.
Nextdoor helps you to share quick information about a theft in the neighborhood, thus alarming everyone in the nearby places. You can even set up a Neighborhood Watch Group, so as to keep a check on unlawful events and happenings. This service enables you to spread awareness about the health and safety issues.
With the help of this social networking website, you can also search for helping hands for your everyday chores like painting, babysitting, pet watch and care, parties at home and also fix errands for you. You can also put up your very own garage sale, and invite people from the neighborhood.
Nextdoor verifies person's name and address before admitting them into a particular community. You will have to sign in with your real name and address, whilst Nextdoor promises to keep your information safe from third-party advertisers.
This service empowers you to build your neighborhood into a better place to live in. Nextdoor inspires every community and neighborhood to follow highest standard behavior, and use the platform for the benefit of everyone.
Path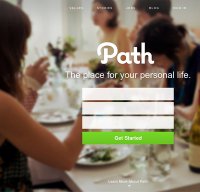 Path is an extremely private and simple to use mobile-only social networking platform as compared to others in its league. You need to have an iPhone or Android phone to utilize this amazing social networking platform.
Want to keep the friend list short? This is certainly for you. You can add up to maximum of 150 friends in your Path account. Whenever you add a friend to your account, Path first advises you to double check whether that friend of yours is one of yours from the close friend circle. This restriction on the number of friends has been levied so that you get to share your views freely, and maintain great relationships with your near and dear ones.
You can share pictures and videos through your smartphone. Path also allows you to share your current location. Do you happen to be a fan of music? Then you will be able to share the music of your choice as well. This social networking platform comes with an excellent layout, and provides you with an amazing socializing experience.
Path actually helps you to shrink your social network connections, and thus personalize your account the way you want to. It enables you to keep a track of different moments of your friends and comment on them.
You can also share the posts, images and moments of your friends on to other social networking websites like Facebook, Twitter, Tumblr, Foursquare and WordPress. Path also provides you with the freedom to choose that friends can tag you in their posts.
Twitter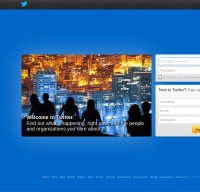 Twitter is one of the most popular and loved networking platforms worldwide. The most appealing feature of Twitter is that it updates you in a matter of just few minutes about the latest news and happenings, which are generally mentioned as "Trending Topics" across the globe.
Even though, Twitter is inclined towards more of news updates and less networking, but it still stands out high as compared to other social networking platforms. You can post short messages, generally referred to as "Tweets" on your homepage. Twitter offers you the freedom to follow your favorite celebrities, and get access to their tweets. You can even re-tweet and share your thoughts whenever you feel doing so.
The main conceptual fact about Twitter is "following" mechanism. You can opt to follow any entity of your choice on Twitter. You can also group certain similar tweets by using hashtags, which are generally phrases or words with a "#" sign as a prefix.
Twitter offers you choices for privacy of your account; you can either keep it private, so that the tweets are visible to selected people or you can set your profile to public mode, where your tweets can be read by anyone.
The only restriction imposed by Twitter is that you can type a 140-word tweet at a time and not more than that. This strikes an interesting feature, because people would have to make their point in 140 characters. So people don't have to beat around bushes, and get to the point.
Also, you need to have a Twitter account for being able to comment on tweets, which are otherwise publicly visible. Twitter provides you the flexibility to update your Twitter account via mobile devices either by sending a text message or from application mode available on various smartphones stores.
Google+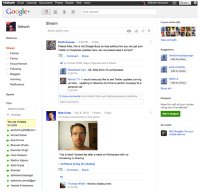 Google+ is one of the fastest growing social networking platforms with exceptional service offering and quality contents at your disposal. It offers excellent service both on mobile and web platforms, thus making it a strong contender of Facebook. With this networking platform, you can remain connected to your near and dear ones in complete privacy.
You can easily group your friends in Circles and share your posts with them. Google+ also provides you with the facility to organize your friend list in different categories like friends, family and acquaintances to name a few. You have the freedom to share specific content according to the categories in your Circles. The "Stream" function lets you access the posts from people in your Circles, and you can even filter the posts that you want to see.
This social networking platform from Google offers Hangouts, where you can easily chat, communicate and also make video calls to your friends. Hangouts also provide you with the facility of free video conferencing calls with a maximum of 10 people.
The most attractive feature of Google+ is Hangouts on-air, which lets you create webcasts over Google+, and then live-stream it to your connected YouTube channel. You can also easily access and recommend YouTube videos, websites and other posts with the help of +1 button. Google+ also offers you excellent features like Creative Kit, Auto Awesome and Auto Enhance to edit your pictures. Google+ is slowly adding more firepower to its arsenal, and raising the standards.
MySpace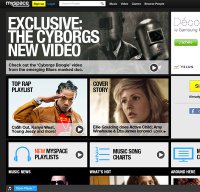 MySpace is one of the most interactive social networking platforms till date. It is actually a hub where you can share different posts, games, music, videos and latest news with ease.
MySpace offers you a board termed as "Bulletin board" to post and share stuff with your friends in the network. These bulletins are of short term and are deleted after ten days' time period. You can also embed videos from YouTube, and share on your bulletin board. MySpace also has a tie-up with online streaming service platforms like Hulu, which share their content with MySpace users.
If you want to connect other platforms with this account, then that could be done with few clicks. You can also update your status on other social media sites with status update feature of MySpace. The social networking platform also allows you to create playlists of their favorite music and share it with others in their network with the help of MySpace Music service. This service also suggests you different genre of sings based on the songs you are currently listening.
MySpace Music feature is one of the most unique features of the social networking platform, which actually differentiates it from others. MySpace uses the recommendation engine to suggest you games that are new, along with music and videos based on your search history.
Tagged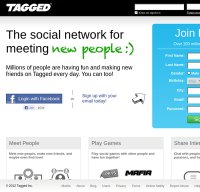 Tagged stands out as one of the strong contenders as an alternative to Facebook with its exceptional social networking features and a huge base of more than 300 million users. You can share tags and virtual gifts with other members on the Tagged community.
Tagged allows you to personalize your profile page, play variety of games, connect with your friends and share photos with latest information. It also provides you the facility to view the information of users who have viewed your public profile on Tagged recently. The concept of Virtual gifts is actually very interesting. You can gift your friends various items virtually. The gifts can be bought with the help of "gold", made available after you shell out actual money or by completing special offers or tasks.
Tagged also comes with the flexibility to indulge in real-time chats with new people in your age group. You can also rate other people's photos, and increase the attractiveness of their profile. This feature is mostly used for making new relationships and dating purposes. Tagged users can send and receive notifications with the help of rating engines like "Luv", "Winks" and "Meet Me".
Pair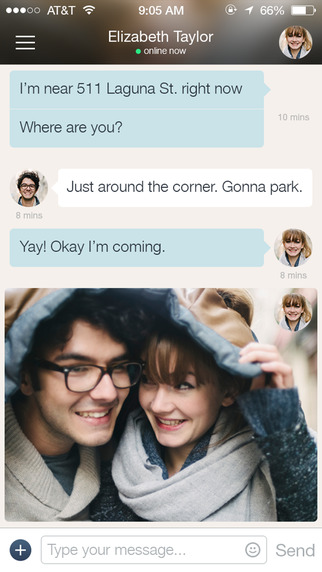 Pair is a unique mobile social networking platform, where you can have just one single connection in your network. This service is exclusively made available for couples, with privacy as the topmost priority. Pair is for those couples who love to stay connected all the time, without interference from others
If you are too fond of your partner, and want a special treatment, then this platform will meet your expectations. Pair provides you a timeline where you and your partner can share messages, pictures and videos, which will be visible to only two of you.
One of the most attractive features of this service is its "Thumbprint" feature, where you can virtually press thumb together with your partner, also referred to as "Thumb kiss". Pair has gone even a step further by providing you with the freedom to share your location and to-do lists. You can also play games and draw real-time sketches.
Tumblr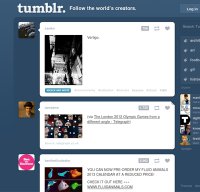 Tumblr is a unique microblogging and social network platform where sharing posts and other information can be done very easily. This service allows you to share content in the form of short-blog.
Tumblr enables you to create blogs and includes information of your choice like stories, photos, websites links, music, videos and art stuff. You have the option of following your friend's blogs and comment on them.
Once you opt to follow some other blog, Tumblr instantly updates it on your dashboard. This social networking platform also enables others to comment and share your blog post with people in their network. Tumblr provides with the option of keeping your blog totally hidden with its excellent privacy features.
Tumblr also allows you to link your blogs on the dashboard on their Twitter and Facebook accounts, such that whenever you update anything on your dashboard, it will be reflected automatically as a tweet or status update. You can even set time limits to your posts over a period of days or hours. This means that you have the power to control when a particular update will reflect on your dashboard.
This service also allows you to tag your friends in your blogs so that the posts pop up even on their dashboards. You can also message friends privately or even chat with other Tumblr's users anonymously.
Tumblr also provides an excellent service in connection with your search history. The keywords you type will lead you to related blogs and make your social networking experience even richer. You can follow your favorite musicians, artists, designers, celebrities and many more and receive direct updates from them on your dashboard. Tumblr is for people who would generally want to read more stuff, and subsequently keep sharing it.
Instagram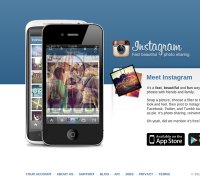 For people who are crazy about uploading their images on the social networking website, and also share them simultaneously, Instagram is a perfect platform. According to some statistics, Instagram has around 400 million users using the application each month.
The application is although acquired by the Major social networking giant Facebook, it continues to run independently. Thousands of images are being uploaded each minute. This shows the popularity of the application. The application allows connecting with other social networking platforms like Tumblr, Twitter and Facebook.
Instagram can be referred to as a Facebook oh photo-sharing. Users can fill in some basic information and get going by creating an account. If you were thinking of going one step ahead of photo-sharing, then the application will offer you to even share videos. But, there is a cap on the time of the videos, which is 15 seconds.
People are absolutely crazy over the range of filters that Instagram offers them. There are around 20-25, each of those are distinguished, and changes the appearance of your image. Hudson, Inkwell and 1977 are one of the popular filters amongst those. People can connect with others by searching them. You can customize settings for your profile and take care of privacy.
Instagram will let you follow people and in return get followed by people. So if you are looking for social networking platform that is similar to Facebook, minus all the noise of joke, memes and news, then Instagram is waiting for you.
Pinterest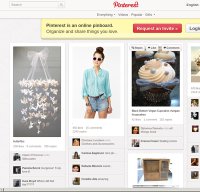 Pinterest is currently third most popular social networking platform to share your photos and comments on your personalized boards.
Pinterest allows you to create a free account to access its services. It also allows you to share popular videos. It helps you to share your interests and the things you love on the online platform.
The image sharing social platform allows you to save individual pins using the "Pin it" button. This button can be downloaded to the bookmarks bar of your browser. You can pin various posts to your pinboard and share it with others. You can also follow your friend's pinboards and share your views on their pins or posts.
Pinterest allows you to re-post or re-pin your earlier feeds on your personalized keyboard. You also have the flexibility to notify your friends on other social networking platforms like Facebook or Twitter to go through your pin feeds. So basically, engaging in cross-platform is also easy.
The social networking platform also provides you with a "Tastemakers" page, so as to access other users pinboard which has similar pin feeds like that of yours. Some of the most popular categories on Pinterest are Women's apparel, home décor, travel, food and beverages.
The most unique feature of Pinterest is that it draws information from the interest area, and helps you to compile them at ease. It allows you promote your businesses online by pin feeding relevant ideas, stories and images on your pinboard. Feeds or posts on the pinboard allows you to get an overview of other's thoughts. Pinterest also allows you to access lots of information on the web and acquire knowledge in the area of your interest.
Diaspora
Diaspora is the only non-profit social networking platform till date. It has a decentralized structure unlike Facebook, Google, Microsoft, such that it prevents the risk of leaks and hacking of user data and thus keeping your personal information and privacy intact.
If you have an account on Diaspora, then your data will never be stored on the centralized servers of the company. The user information and data is stored on pods i.e. user-created nodes. You have the flexibility to choose your preferred node and also erase your data from it completely. These nodes are open-source softwares, for example "Friendica", which enables you to create your own personal web-servers.
Diaspora thus provides you with the freedom to create your own web server and interact with others users through this window. You are the master of your own data and have the power to handle it. You can create a backup of your online shared data any time with the help of Diaspora.
With Diaspora, you can customize your whole experience of social networking. Diaspora helps you to set your profile public or private. You even have the authority to choose particular people from a group to view your posts exclusively. Diaspora provides different "Aspects" such as friends, family, work and acquaintances. You can create many more aspects apart from the default ones.
One of the most distinguishing features of Diaspora is that you can view public posts and feeds of other users, without having the need to add them as your friend. You can also use pseudonyms, alias name instead of your original name for creating a Diaspora account.
You can post images, texts and links on your Diaspora homepage and even connect them with other social media networking websites like, Facebook, Twitter and Tumblr. Diaspora also enables you to embed videos from YouTube and Vimeo, and post them on their homepage.