In order to make use of an uninterrupted internet connection, you need to use the Ethernet/LAN device on your computer. Like any other device on your PC, there must be a device driver installed to make use of the Ethernet adapter or network card on your system. Generally, these network card drivers come pre-installed on Windows PCs but at times they can be missing. In that case, you will not be able to access the Internet or any other internal network until you download and install these missing Ethernet drivers on your PC.
In this article, we will discuss the methods that you can try to download the Ethernet drivers for your Windows 11/10 PC. Before moving ahead, make sure you have an internet connection. If Ethernet is not working due to missing drivers, then connect to a wireless network and proceed.
Method 1 – Download Ethernet Driver Based on the Ethernet Adapter Manufacturer
Step 1. To identify your network adapter, open Run using Windows + R.
Step 2. Type devmgmt.msc and hit Enter to open Device Manager.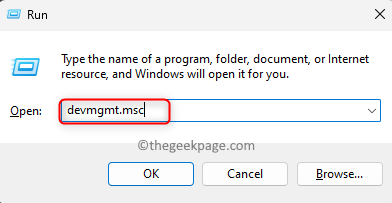 Step 3. In the Device Manager, expand the Network Adapters section by clicking on the arrow next to it.
Step 4. Identify the manufacturer of the Ethernet adapter on your PC.
It can either be Realtek or Intel Ethernet adapter. In our case, it is the Realtek PCIe GbE Family Controller.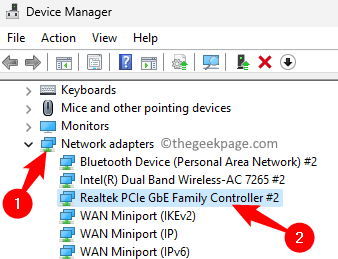 Step 5. Open any browser of your choice (Chrome or Edge).
Step 6. Open Google and search for realtek pcie gbe family controller.
Step 7. In the search results, click on the link that mentions Realtek pcie gbe to download the driver.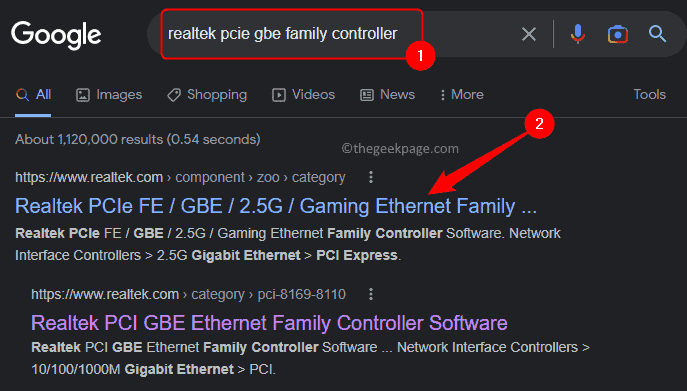 Step 8. Download the driver version suitable for your version of Windows (Windows 11/ Windows 10).
Step 9. After you have downloaded the executable for the driver, go to the download folder and run the file.
Step 10. Follow the instructions on the screen to complete the installation of the Ethernet driver.
Method 2 – Download Ethernet Driver Based on the System Manufacturer
Step 1. You will need to visit the website of your manufacturer using your browser.
Click on the manufacturer of your PC to be redirected to their website.
Step 2. You will either have the option to enter the serial number of your system or select from a list of devices.

On entering the product serial number, you will get a list of all the drivers that are suitable for your PC.
Step 3. From the list that is displayed, look for the Ethernet driver and click on Download to get it on your system.
Step 4. Install the driver and check if you are able to connect to the network.
That's it!
Thanks for reading.
We hope you are able to download and install the Ethernet drivers for your Windows 11/10 PC using the methods mentioned in this post. If you found this article informative, comment and let us know your thoughts and opinions on the same.