Alternatives to CCleaner 
Cleaning your hard drive every so often is always a great idea to ensure smooth functioning of your PC. It is especially important to keep your computer free of any trash items that's stored somewhere within the machine. We have always known CCleaner to be the undisputable hero and an extremely crucial software for sanitizing your PC of any irrelevant files or for clearing up the registry of any internal issues. While this eminent program by Piriform still rules the chart in its category of PC cleaning software that can rid your PC of any deep-seated virulent codes and programs and any unwarranted invasions from Windows Registry, there are many who still wish if there was an alternative. And today, exactly for this reason we have come up with a solution where we have compiled a list of some great alternatives for the CCleaner. Let's take a quick tour.
Recommended: How to clear all type of cache in Windows 10 PC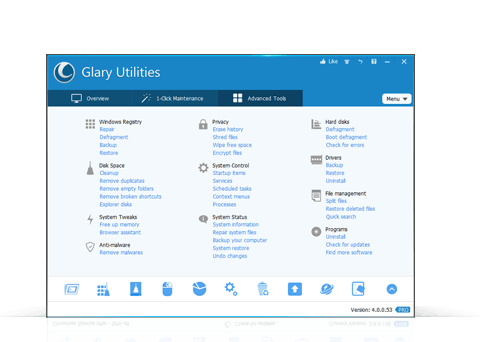 With a large number of user base, Glary Utilities has emerged as one of the biggest competitors of CCleaner in the recent times and has easily secured a spot for itself among the top PC cleaners. It is available to download for free for private use which can be upgraded to the pro version using a registration code which is easily available.
While it helps an individual to clean the registry of any junk files or malicious programs, it also maximizes the computer's potential to benefit the user. Glary comes with around 40 tools for optimization and security that boosts the performance of your machine. Its interface is extremely user-friendly and polished that does not require much learning curve.
Though it has adopted all the features of CCleaner, Glary Utilities offers several other advanced features that make it a class apart. Among the many other features is "1-Click Maintenance" that is perhaps the best offered by Glary Utility and that helps removing temp files, rectifying any errors in the registry, speeding up your computer startup, repairing shortcuts, boost RAM performance, permanently uninstalling an application, detect any potential faults in the hard drive and repair them and maintain the privacy of your files.
It also helps defragment files, repair disk issues, split and encrypt files and more. Apart from all these host of functionalities, it monitors the installed apps and notifies you as soon as there is an update available and also allows you to backup your data on the PC and the registry. Even though there are other paid tools that let you use these similar features, Glary Utilities offer these absolutely free of cost.
SlimCleaner Free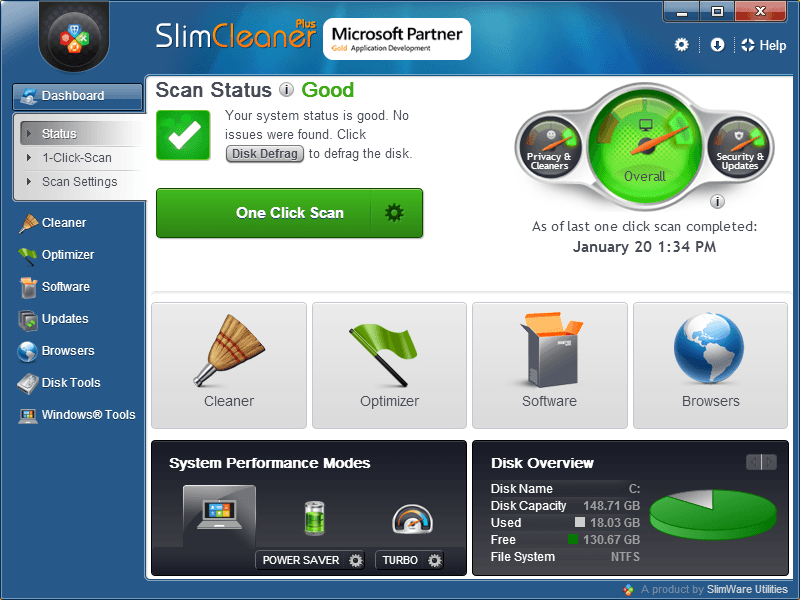 One of the strongest contenders for the second spot as the second choice to CCleaner is SlimCleaner Free that offers all the features of CCleaner absolutely free of cost. Among all the CCleaner functionalities that it offers includes cleaning registry, evaluating disk, searching for duplicate files, uninstalling apps, managing startup, and more.
Not just that, SlimCleaner also offers several other useful features such as fragmenting files using methods like scheduling the cleaning procedure, defragmentation of the hard drive and to be able to make use of Windows programs conveniently. It also allows you to check the real-time usage of your RAM and CPU and monitor any details about a tool that is utilizing the SlimCloud community.
Cleaner Utility is the most important tool of this program that scans your PC of junk files and deletes any temporary files jamming up your machine. The process is completely secure and removes all browsing history, cookies, or any threats that might be obstructing your PC privacy. Boost your machine's performance and speed by using the Optimize Utility which helps you to monitor the apps that run on the startup of your machine. Using Shredder Utility you can remove all files from the selected files or folders.
SlimCleaner Free is definitely a great choice over CCleaner for no charge while it efficiently cleans up your PC.
Baidu PC Faster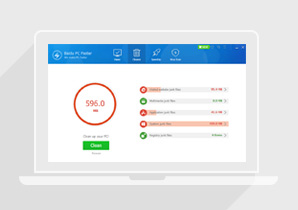 Baidu PC faster secures this spot among the best free alternatives to CCleaner since it is more than just a cleaner and an optimizer. What makes it stand apart is that it comes with an inbuilt antivirus protection. Though the antivirus available with Baidu PC Faster does not provide complete protection from malware, it still works as an added layer of protection in conjunction with a professional antivirus program.
Coming to its main features, Baidu literally cleans all possible traces of any trash that have been left behind after the installation or uninstallation any program. This frees up the hard disk slot and analyzes if your system is safe from the security options or the continuous updates thereby, enhancing the system running rate.
Moreover, in order to make sure that these trashes don't start adding up again Baidu arranges for a scan on a regular basis. It helps find any errors in your computer's registry, repairs them and also displays all the files that could be potentially infected. Also, if you want to analyze the speed of your internet connection and the startup time of your system you can use any of the options that is shown by Baidu.
Baidu PC Faster is undoubtedly one of the best alternatives to CCleaner in the recent times with advanced features available for free.
File Cleaner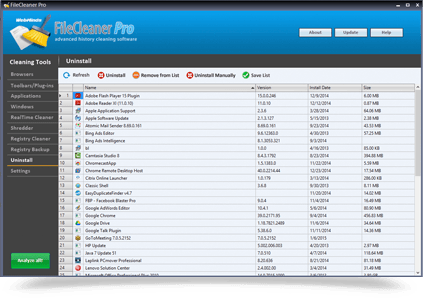 FileCleaner is one of the other best free PC cleaning tools in the category, which cleans the system from deep within and therefore, boosts its speed. This tool also concentrates on your browsing history, junk files and removal of temp files like others. It keeps an eye on all the websites that you browse through and builds a page consisting of your browsing history along with cookies and temp files. This helps accelerate the process of page loading, browsing and also deletes all or any files that are possibly unsafe for your system or appears suspicious at the same time.
The File Cleaner analyzes any errors in the Windows OS and repairs them while it automatically backs up any modification done in the system registry helping you to retrieve older editions at any time. However, what we love about this program is the fact that it provides real-time security to your system by allowing its cleaner to run in the background that helps remove any unnecessary files immediately.
Advanced SystemCare
One of the other great alternatives to CCleaner is Advanced SystemCare that comes with an antivirus protection and an optimizer for browsing speed in addition to all the features of the CCleaner absolutely free. It protects your PC with a brand new product called IObit Malware Fighter and an Anti-Virus Engine by Bitdefender. The program which is available only for Windows versions claims to track more than 100 million obscure malware and viruses.
The scan process offered by the software can be completely customized where you can set the configuration to either to enhance the security of the system or to reorganize the hard disk files during the analysis according to your comfort. The software is extremely user-friendly, the scan speed is notably fast and requires minimum usage of resources. Moreover, Advanced SystemCare works with all anti-spyware programs.
Among its other features are the options to automatically remove blocked files in the system, safety during browsing, parental filter, preventing the startup page of the browser from getting altered by advertisements that can harm your system and much more. Advanced SystemCare also comes in a pro version with advanced features.
Wise Care 365
Wise Care 365 is available both as a freeware that offers limited functionalities and as a paid version with advanced functionalities. It is again another wonderful alternative to CCleaner that has an equally wonderful interface. The interface is neatly organized into separate sections that feature all the tools required for system cleanup and optimization.
The program is compatible only with Windows and helps clean the system of any junk files, repair any errors tracked in the registry, modify and edit startup programs, maximize the system memory and to carry out many other tasks in order to enhance your PC speed. Moreover, Wise Care also defrags the hard disk and the registry, repairs any fragmentation to improve speed, remove files and information safely using disk eraser and file shredder, helps generate passwords, can be customized any time, establish complexity and much more.
Not just that, it also comes with the "System Tuneup" feature that helps improve the speed of the system, manage system startup and shut off time, and the speed of the network.
Privacy Eraser
The free version of Privacy Eraser offers a real-time scan of web browsers and deletes any unnecessary junk file in no time which is not available in the CCleaner free version. It helps remove any temporary data, Windows browsing history, cookies, browser cache data, useless desktop shortcuts, etc.
Not just, you can also shred any irrelevant files using this program and clean any system drive that also includes the free space. However, the only limited feature in the freeware is that you can clean the system using only the normal file removal procedure and can shred files using only the 1 Pass or the usual zero file procedure. The advanced features for deletion are available only in the paid version.
Moreover, Privacy Eraser also allows you to schedule the scan, add/remove items for cleaning and scanning, shred unnecessary files and folders, delete any sign of programs for enhanced safety, and control the add-ons of the Internet Explorer. What more? You can also manage startup programs, uninstall applications and even process a system restore to an earlier state. All these great features for free makes Privacy Eraser a good alternative to the CCleaner.
TweakNow RegCleaner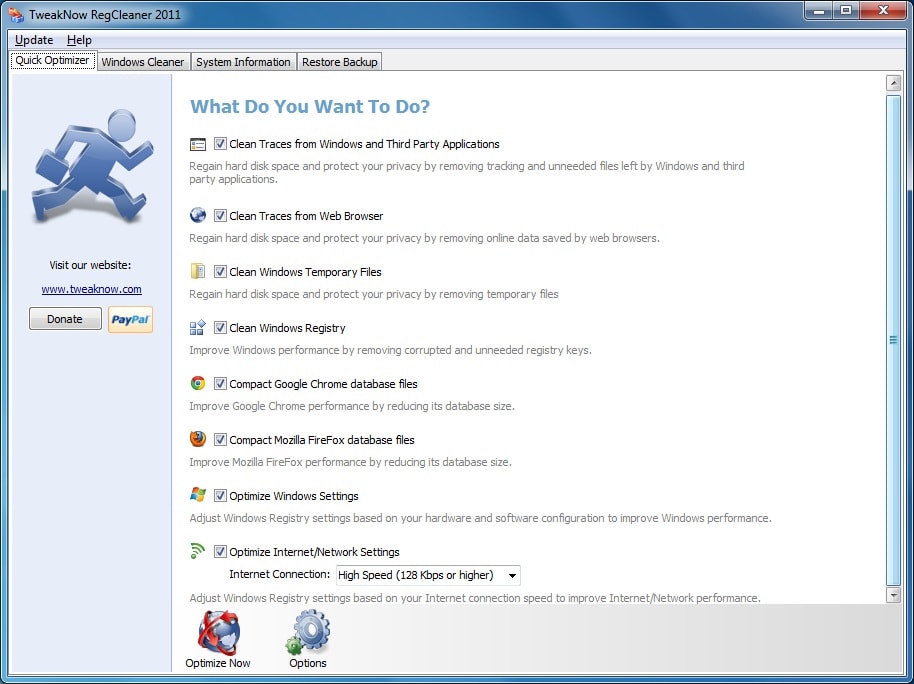 The free version of TweakNow RegCleaner is a great free PC cleaning software that offers many advanced features to optimize your PC performance and enhances speed. It is an apt alternative to CCleaner as it provides all the main features of CCleaner along with some of its own that includes, cleaning any traces of browsers, fragmenting files using several algorithms, display elaborate information and defragmenting the system registry.
Additionally, it also allows you to clean the Windows registry automatically, maximize the potential of your Windows settings, delete any temp files stored in Windows and more, using the feature named "Quick Optimizer". It has a speedy engine that scans your system registry like a flash.
TweakNow RegCleaner precisely identifies outmoded entries using elaborate algorithms and automatically generates backup files prior to erasing the outmoded entries from your system registry. Apart from the free version, TweakNow is also available as a shareware.
Wise Registry Cleaner
If you are looking for an option against the CCleaner, Wise Registry Cleaner can be just the right solution for you. It is an easy-to-use software that can not only help remove any unnecessary files from the system registry, but also speeds up your PC free of cost. It offers some classic visual components along with an interface that's as easy as a cakewalk to access.
Windows operating system can be loaded with all kind of outmoded entries on continuous usage that finally corrodes the system performance and may even lead to system crash someday. In order to avoid this situation, Wise Registry Cleaner (works only for Windows) scans and tracks any errors or unused elements in the system registry and eventually deletes them permanently to boost PC performance.
While you restore the registry to a previous point in case of any system issues using the automatically backed up Wise Registry program, you can also manually create a complete system backup using the software at any given time prior to making any vital modifications to the configuration of the machine or the PC network.
Additionally, you can also set up a registry cleaning process to run automatically on a daily, weekly or monthly basis and can also use the "Clean with 1-click" process by simply clicking on the icon for a direct access. It even maximizes the system settings using system tune-up to enhance the speed of both the internet and the machine and use cleanup options that can be customized such as, specifying whether to run the usual scan, safe scan or the deep scan.