Managing a school or an educational institution is no child's play. Maintaining records of hundreds of students, or their academic archives can be demanding. These are all manually controlled using paper documentation which makes it more challenging.
That's when you feel the need for automation. Using software that can help with paperless management of these records, lower the burden of the teacher's and the staff to a huge extent. Moreover, using dedicated tools can also help reduce the cost per student, significantly.
Here's a list of some of the best school administration software that helps you with all the mundane tasks in schools and institutions.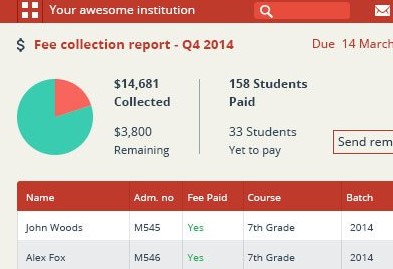 From creating in-depth reports to making quick and smart decisions or automating all tasks, it's a versatile school and college administration software.
Features:
Manages programs and batches generates certificates and helps create timetables.
Schedules examinations, control the finance of the administration, and student enrolment.
Provides support for news management, assistance to the human resource department, and helps create configurable dashboards.
Manages users, school's/college's event calendar, organizes student data, streamlines the staff/teacher login process.
A powerful messaging system, managing the custom student comments section, taking care of the report center, unifications of SMS or creation of ID cards are some of its other significant features.
Price: Pricing starts from $501 + taxes annually.
This is one of the most user-friendly programs to help your school manage student attendance and save time. From arranging a free demo session to custom designing your account or provide

training to the staff, they assure your school the best experience with world-class support.
Features:
Equipped with well-designed, responsive tools, and are easy to locate.
Helps you in managing class attendance, creating address labels, lunch reports, staff register, and more.
Offers assistance with scheduling holidays in advance, managing attendance roster, maintain class behavior, marking daily attendance, and more.
Providing support for communication with text alerts, voice messaging, email blast, etc., sending discipline alerts via email, sort student age by grade level, count heads by grade level, integration with different school software programs, maintenance of medical records are among its other major features.
Price: Pricing starts from $84 based on the number of students.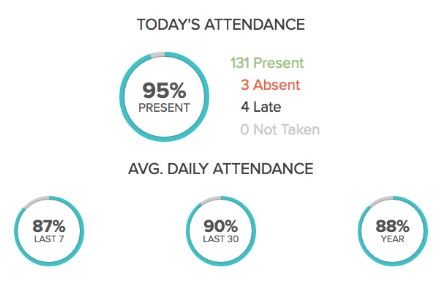 One of the leading school management software in the world, this program helps you make data-based choices using comprehensive analytics and images. This easy to use SIS platform focuses on increasing engagement among students, parents, and families.
Features:
Helps district management creates its own reports, calendars, bus directions, custom reports, and more.
Assists school management with early scheduling, assessment monitoring, editing in bulk, creating bus directions, managing calendars, and courses, and more.
Provides support for student management by keeping a check on attendance, creating biographical and demographical details, maintaining contacts, managing fees, and more.
Offers advanced support for teaching management by controlling assignments, designing backward modules, skill-based learning, etc.
Besides, it also saves your time and money with paperless documentation, keeps students and parents connected with different forms of communication, and get insights with detailed reports and analytics.
Price: Contact vendor for pricing.


This school administration program also serves as a web grade book and is highly popular among K-12 teachers, college professors, and educators. It comes with a wide range of useful features that offer support to all teachers, students, parents, and school management.
Features:
Cost-effective solution and extremely trustworthy.
User-friendly and responsive interface
Runs on cloud technology and hence can be accessed from any device with an active internet connection.
Works with all major browsers and OS platforms that include Internet Explorer, Firefox, Opera, Safari, and Chrome on Windows, Mac OS-X, and Linux.
Option to access your data from any location, anytime.
Extremely configurable and thus, suits instructors perfectly.
Complies to FERPA, offers a wide range of printing and data exporting options, provides detailed help guides, and offers effective customer support.
Secured data transfer using SSL, managing endless students using subscriptions, or tracking attendance are among its other important features.
Price: Free trial available; pricing starts at $4/user/year.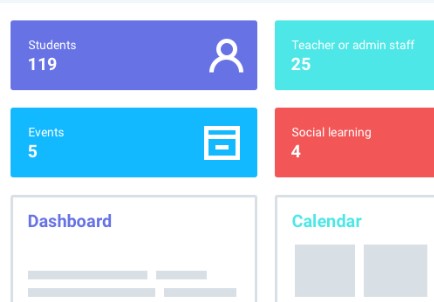 Managing your educational setup is a cakewalk with this advanced school management software. Perfect for operating any type of educational establishment, this software comes packed with all the advanced systems that help the institutes to think ahead of time. These systems help the institute manage student information, learning and course resources, and prospects, effortlessly.
Features:
It helps you with the pre-admission procedures like simplifying the process using the native software, offering online forms for easy application, option to pay fees online, and by completing the application to update SIS.
The CRM helps you to find out students inclined towards the courses, control your admissions channel, enter sales undertakings, access single click calls, email, or SMS potential lists, and to contact potential students using built-in email and SMS functions.
The SIS option helps you to control the courses easily, monitor the academic growth of each student, or by picking the electives online for students.
From streamlining the invoicing process or payment of fees online to managing your balance sheets, it also takes care of the finance and accounting.
Tracking student conduct, school's performance in numbers, watching trends in academic expertise, allowing students to take control of the speed of lectures in the classroom using LMS, or using specialist technologies like PayPal, Stripe, Google Apps, etc. are among its many other significant features.
Price: Pricing starts from $50/month.


If you are looking for a versatile software for managing your school, then your search may end here. It's a robust tool that can be easily customized and comes loaded with features. However, all this is available at a reasonable price especially for schools with budget constraints. It also saves your time (school, teachers, parents or students) by blending the important steps in its cloud-supported platform.
Features:
Provides the option to add scores, create a flag for lost projects, monitor student remarks, create digital report cards, and display Progress Report elements for teachers.
Sends emergency alerts via SMS, updates grade related info and filters it by date, offers calendars for teachers that can be customized, and helps school management and instructors to manage operations, and creates a powerful reporting module to generate makeshift report creator.
Offers advanced technology using the prospecting module, automatic tracking of attendance using a web-based attendance system, access to previous alumni details, and user-specified fields for monitoring any data related to students, teachers, and parents.
Moreover, it also offers the option to fit the exclusive scheduling procedure for each person, monitors students and their admission procedures individually, access to existing and previous details of parents takes care of lunch requests, and more.
Price: Pricing starts at $20/Year/student.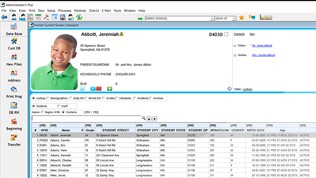 This cloud-based school management platform assists teachers and faculties with managing details of parents, students, and the school staff, optimizing student progress and connecting with parents and families.
Features:
User-friendly software helps you manage billing, attendance, report cards, etc. easily.
Smoothly unifies with the online grade book and the parents related website, allowing you to create an end-to-end, safe online software for school administration system.
Saves your time and money by simplifying the management tasks.
It helps you control student details throughout the school and publishes information online.
Besides, it also helps you to monitor student and employee data in a responsive format, track attendance (daily or for a period), create any type of schedule easily, offers the option to view and edit grades, and more.
Price: Contact vendor for a quote.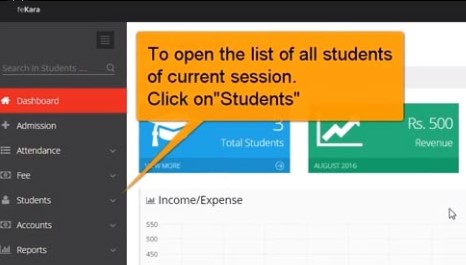 Those looking for a free school management software can rely on this completely. From the admission procedure to assessment results, this software helps you to manage your school in your way.
Features:
It allows you to enroll the students easily, offers the option of self-enrollment tracks student attendance, manages class timetable, and more.
Offers a general search tool that helps you access any student data, pre-set roles, option to add teachers and staff into the systems, import student details, export data in all major formats, and so on.
Provides customizable templates to create reports, the option to print reports, schedule the report generation, delivery of reports to parents, and more.
Helps you to manage monthly/quarterly/semi-yearly/yearly fees, offers instant fee function to facilitate temporary fees, option to import the fees, and monitor school expenses.
Focus on communication between parents, teachers, and the students, option to send multiple alerts and report synopsis, student portal for uploading projects, accessing study materials, and teacher portal to offer access to teacher course materials, or management of projects are some of its other major features.
Price: Free version available; Pricing starts from $39.5/month.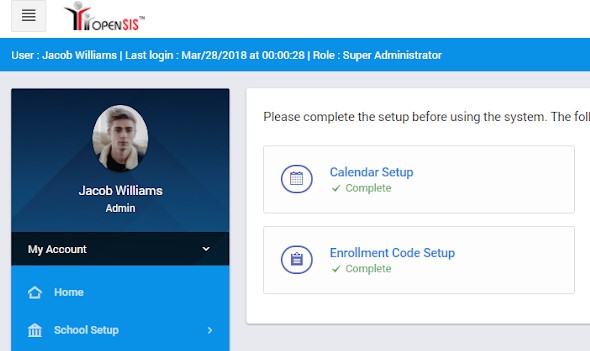 Maximize the performance of your teaching staff and the accomplishments of your students using this school management software. It's a secure system that's perfect for commercial use, is flexible and responsive.
Features:
Configured and expanded to meet certain industry aspects and comes with the source code delivery option.
Cloud-based platform that's well-suited to be used across the district, state, or nation.
Lightweight and effectively runs the management tasks using the web browser and integrated iOS and Android Apps for students, teachers, and parents.
Moreover, it offers dedicated portals for students and teachers allowing them exclusive access to their projects, data, etc., offers a private and safe environment for openSIS, complete security, option for multi-channel support, and more.
Price: Free trial available; Pricing starts from $0.25/year/user.
Those looking for an on-premise school management software for a non-K12 school can comfortably rely on this program. It's based on cloud computing and is known to support the school management by sending progress notifications for students, monitoring different courses, creating invoices, and more.


Features:
Easy to install, understand, and maintain as you feed it with current data.
Equipped with a built-in Report Writer and Forms Writer that configures accordingly to meet your needs for effectively managing your school.
It can be mounted within your office nexus or in a separately managed structure.
It provides smooth access to your data on the browsers for students, teachers, affiliates, and so on.
Effortlessly syncs with Moodle and Quickbooks.
Overall, it's a complete management software that offers assistance for students, classes, potential students, teachers, and more.
Price: Free trial available; Pricing starts from $4000.


This is a student management system serving K12 and offering an improved SIS experience. It's a perfect choice for any school to move beyond their comfort zone.
Features:
It helps you evaluate attendance developments and analyze progress across schools and districts against integrity.
It offers a range of useful classroom tools that focuses on increasing the teaching time, prioritizes digital knowledge, and offers a clearer method of managing a classroom.
It provides the option to meet up with parents.
Focuses on student's learning and safety, and offers assistance with additional activities and carrier planning.
Moreover, it also provides support for IT services in an educational environment and state reporting, focuses on professional progress, and facilitates smooth installation.
Price: Contact vendor for pricing.
It's a modular software that's used for the development of educational institutions. Used by people across the world to manage their institutions, this software manages all requirements of your establishment that includes managing everyday functions or taking care of the fees.
Features:
A user-friendly platform that encourages connecting students, parents, and teachers.
Always keeps you connected with SMS, emails, internal and push notifications.
Offers world-class security keeping your useful data safe.
Extremely adaptable to help you with any type of tasks related to school management.
Effectively handles a huge volume of data with no effect on the school's performance.
Collecting school information in graphical charts and converting them to valuable data, supporting unlimited users, or taking care of all their customer support needs are among its other main features.
Price: Contact vendor for a quote.
Conclusion
There are umpteen such free programs available online, however, not every tool may fit your needs. While some don't work with all operating systems, some have feature limitations. The above list comprises of some of the best school management software programs that offer you the best services. You can either choose from the free versions or go for the paid version for advanced features. Whichever software you may choose, at the end of the day, it should be efficient enough to save your time and money.