Having lots of orders is a great sign for any business, but it can also get challenging to manage so many orders. High volume sales are crucial these days for the company to grow, and, with that comes the need to manage your purchase and sales orders in minimum possible time. Needless to mention, this saves time and increases productivity.
That's when you need an order management software that manages the orders in an efficient manner, thus, saving a lot of your time. These programs pick up the orders from each sale done and arrange them neatly. Here's a quick list of some of the best order management software to try in 2020.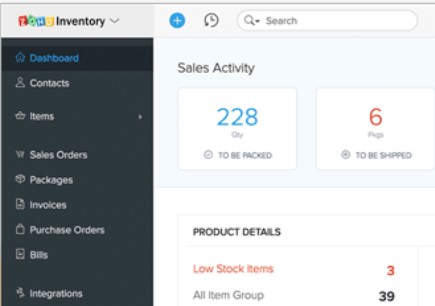 This software helps boost your sales and monitor each unit with its dynamic inventory management, order completion, and stock management techniques, thus, helping you to grow your business.
Features:
Automatically updates your order volumes throughout your sales channels.
Organizes your stocks sorted by important data like price, availability, etc. handy.
Gathers a bunch of products to sell them as individual items.
Ensures that you never run out of stock by setting re-order reminders, or chosen sellers.
Allows you to scan product barcodes and make the fields autofill each tome an invoice, purchase, or sales order is created.
Option to find out individual products in your stock using a code.
Lets you monitor a group of items along with the expiry dates.
Based on cloud technology, this order management software helps you build sales plans, control re-orders, and keep your customers happy.
Price: Free version available; Plans start from $140.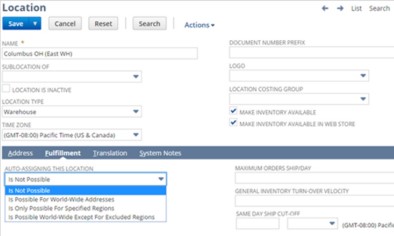 Industry's first integrated cloud-based software, it automates your order fulfillment process. It simplifies your order processing by getting rid of any manual invoicing or payments. It basically unifies all your teams (sales, finance, and fulfillment), thus, enhancing the preciseness of your quotes, minimizing bill errors, and more.
Features:
Increases revenue with integrated and multiple currency pricing administration throughout the system.
Speeds up your entire order fulfillment process and concentrate on irregularities.
It helps you to provide customer satisfaction with excellent support and communication throughout the entire process.
Its main objective is to streamline the order fulfillment process boosting your cash flow, improve timely delivery, minimize shipping expenses, and offer built-in CRM assistance for improved customer experience.
Price: Pricing starts from $99/month.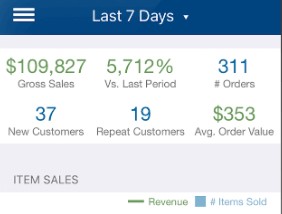 Managing your orders is a breeze when you have this program at your assistance. It offers an unmatched purchasing and shipping experience and is known to complete the order deliveries quickly and easily.
Features:
Offers all the essential tools and functions required to complete an online order.
It helps you to ship all your consignments in a minimum possible time.
Allows you to configure your consignments, effortlessly.
Apart from saving your time and money, the software also prioritizes your business growth.
Price: Free trial available; Upgrade starts from $9/month.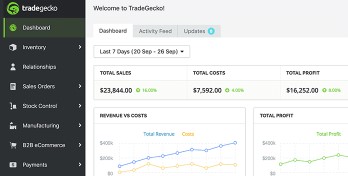 It's a dynamic order management software that provides an end-to-end solution for managing your business. From products or consignments to customers and detailed analytics, it presents all that is required for a complete order delivery process under one roof.
Features:
It helps you to monitor the items being sold, produced and reloaded in many different storage locations and agencies.
It allows you to connect the consignments from different sales agencies to stocks and accounting. This helps improve business productivity.
Maintains all the data regarding customers and dealers in a unified form on a single platform. It includes previous purchase details and customer-based insights.
Helps you to make exact sales, generate stocks, create business reports and predictions as per target. This helps in improved business decisions in the present time.
Overall, it helps you to manage inventory with in-depth details, offers essential tools for selling, saves time by automating tasks, and backs up all your stock related data in the cloud.
Price: 14-day free trial available; upgrade starts from $39/month.
This software allows you to sell from any location in the world and assists organizations with different brands, stock houses, stores, sites, and more offering a smooth experience while creating cross-channels.
Features:
Transforms your stores into small versions of the delivery channels.
It offers a single view of the consignments and stocks throughout all agencies.
Equips customers with adaptable cross-channel order completion choices.
It helps you to manage intricate consignment and delivery requirements.
Smartly automates procurement throughout all centers.
Unifies all brands in all different stores, order delivery channels, and sites.
Reduces the expenses related to proprietary rights, allows you to use and control all channels from a core administration point, combines distribution and requirements from all existing and new agencies, and more.
Price: Contact vendor for a quote.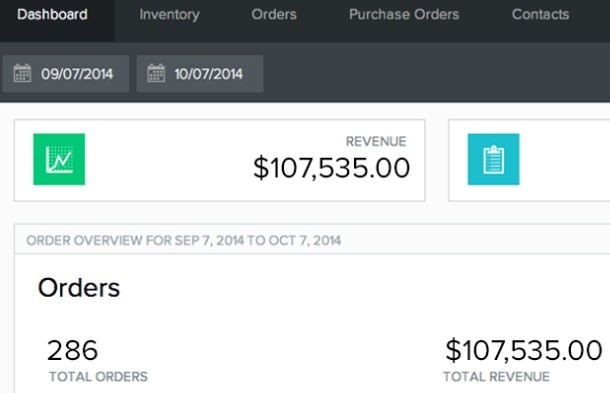 If you are looking for a state-of-the-art solution for managing your orders that helps grow your brands, then this can well be your perfect choice. It helps you sell in a flexible manner with quick and steady delivery with modern automation.
Features:
It helps you to have full control over stocks and visibility.
Automates and improves the entire order fulfillment process.
It allows you to rapidly extend your wholesale agencies using rep control programs.
It helps you to buy products swiftly using combined analytics, exact cost estimation, and simplified processes.
Simplifies the order completion workflow in all stockhouses and 3PLs.
Moreover, it also offers user-friendly retail reports to help you run quicker and intelligent operations.
Price: Pricing starts from $799/month.


This cloud-based order management system is specially designed for eCommerce setups. It helps the online stores to manage their stocks and consignments throughout all B2C and B2B centers.
Features:
From stocks or backorders to catalog, shipping, and returns, it manages all.
It works for fulfilling orders, manages agencies, tracks orders, and also controls the shopping cart.
Sync data across devices helps enter accurate order details, offers integration with the marketplace, and also provides eCommerce experience on mobile devices.
Overall, it focuses on higher sales growth, lower stock-keeping expenses, decreased workforce expenses, and lower rates of return requests.
Price: Free trial available; upgrade starts from $29 as a one-time payment.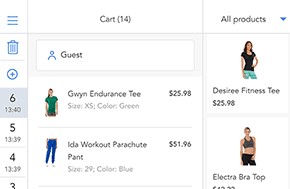 If you are seeking a cross-channel solution, then this software can be the right choice for you. An upgradable and easy to configure the POS program, it makes it easier for you to manage your cross-channel orders while boosting your profits and productivity.
Features:
It allows you to access customizable items, tax regulations, and marketing directives on your POS with no added arrangement.
Lets you connect the consignments or customers from your POS and view them as the products are in the sale or getting delivered.
It helps you to manage your cross-channel selling outlets, websites, and stock houses using Magento.
Runs POS on PWA technology, and integrates the payment system and with a range of hardware.
In addition, it also offers a loyalty program, can be installed and set up in minimum time, option to customize features, and offers tech support free for the first year.
Price: Contact vendor for a quote.
The program automates and simplifies your order management process, thus, saving your time and focus on boosting your business growth. It automates the tasks on your online store based on


different pre-fixed set offs, helps you manage the order completion process and more.
Features:
From order delivery and shipping to the buying and return process, it automates the entire workflow for an online store.
It allows you to manage your stocks while monitoring all your products in real-time.
Lets you accomplish targets with improved shipping costs and with automated shipping workflow.
Automates and controls the entire purchase process.
It offers a clear view of how the stocks move through detailed analytics and reporting.
Moreover, it also manages orders effectively, thus, reducing the expenses, the option to integrate with Amazon FBA and send inventory to storehouses, and also allows you to list your items on Amazon as a Seller Fulfilled Prime (SFP).
Price: Free trial available; upgrade starts from $44.99/month.


Another great cloud-based solution for order management, this software helps you manage huge quantities, omnichannel online stores, and stock houses.
Features:
Being cloud-based it gets updated in real-time and can be used from any device running on internet connection.
Smoothly integrates with 40 plus organization platforms including eCommerce setups and POS systems.
It helps you bring in data easily from MS Excel.
It allows you to monitor your stocks from multiple stock houses.
It provides support for a barcode camera.
It helps you to run a quick search, sort and evaluate sales record history.
It also automatically predicts restocks, offers a view of a comprehensive analysis of your stocks, and helps you to track stock using serial numbers.
Price: Free trial available; pricing starts from $99/month.
Shipedge


This software provides a complete solution to fulfill your orders and for supply. Apart from order management, it also supports warehouse and shipping management.
Features:
Unifies the sales agencies, automates the regulations, simplifies order completion process, and smartly routes the orders.
Manages stock at any location, syncs with distributors offers best prices for shipping, enhances prediction ability, and gets rid of any mistakes & over-selling.
Reduces functional costs, includes new centers for order delivery and features endless agencies, products, and users.
Best of all, it can easily unify with your tools, selling-partners, transporters, and stock channels.
Price: Contact vendor for a quote.


This program syncs and self-regulates all the sections of your selling process, individually. This helps save your time on order processing, creating spreadsheets, applying labels, etc.
Features:
Equipped with an elegant and intuitive user interface offering a more user-friendly, simplified, and state-of-the-art experience.
With an average reply time of 200ms, it's blazingly fast.
It allows you to connect, edit, update and complete all the orders across multiple agencies.
Updates the whole distribution channel and bulk list many products on the spot.
Removes almost all the mundane tasks related to order management.
Moreover, it also allows you to have complete control of stocks, streamlines the shipping process with the integrated platform, makes tracking metrics a cakewalk, and more.
Price: Pricing starts from $250/month.


Whether you are a retailer, a wholesaler, or a brand, this software helps you manage orders from multiple channels and your stocks, easily.
Features:
Automates the order delivery process, plans stock keeping and offers immediate access to trading expense related details.
Round the clock tech support that makes you go live in record time.
Caters to a single agency, fast-growing brands, and even intricate omnichannel owners.
Overall, it's a flexible and skilled software that offers an excellent back-end office solution for all your order management related workflows.
Price: 30-day free trial available; priced at $12/user/month.


From your orders to the stocks or shipping it takes care of all the workflows to help grow your business rapidly. In addition, it also focuses on an improved customer experience.
Features:
Integrates your online store, the marketplace, and physical sales agencies into a single platform.
Offers a view of your orders from any store you may have and then get bundles of shipping labels printed at one shot.
Offers access to its integrated templates that help you design chic invoices, etc.
Lets you lookup for orders in a matter of minutes using barcode scanners.
Provides your sales reports in detail in a jiffy.
The option of auto-printing on certain printers, facility to create annotations for internal orders, quick search option for orders, or set preferences for orders with modern filters are some of its other major features.
Conclusion
Fulfilling the orders is equally challenging as getting the orders. If you don't want to lose the orders and the customer's trust, it's better to organize your orders and then process them with complete efficiency. These order management software programs ensure exactly that and help you save time and minimize errors. So, find one of your choices from the list and stay on top of your orders at all times.