It can be frustrating when a file format you downloaded or received is not supported by your system. It can be a video file, image file, or a zip file. We may also receive However, there are different software available these days that help you to download specific files. These are targeted software, for instance, image editors for graphic and photo files, PDF software for PDF files, and more.
However, downloading a dedicated file viewing software for each type of file can be overwhelming, both for you and the system. Hence, it would be smarter to download a file viewer that supports as many files as possible. It should be something that can help you view office documents, images, multimedia files, and more, all in one place. Universal file openers are one such software class that supports multiple file types and formats.
Here, we will discuss some of the universal file openers that will help you open almost all types of files, easily.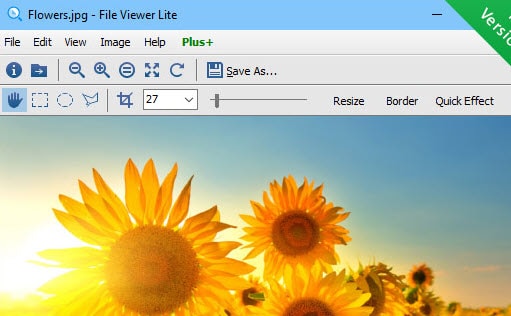 For those looking for a free file viewing software for Windows 10, you can try the File Viewer Lite. It supports over 150 types of files on your Windows system. Once you download it, you can simply drag and drop the file or folder you want to view on the interface, and it opens it up for you. It can open and read file formats like PDF, word documents, excel sheets, and more. to top it all, it can also play audio and video files of different formats.
Features:
Provides support for a wide range of audio and video file formats.
The info panel displays detailed information related to each file that includes the size, type, and location of the file.
You can also view hidden metadata saved in the file on the info panel.
It allows you to copy data (both text and image) from the files opened by the software. You can then paste this saved data in Windows into another program.
It comes in four different types of views such as Native View, Text View, Hex View, and Icon View.
Includes a File Identifier feature that detects unrecognized file types.
Price: free
If you are looking for a file viewer for Windows 10 that offers support for a wide range of file types (over 350 types), then Free Opener can be a great choice. It can open file formats like music and video files, Adobe, MS Office, and more. This sleek software that does not consume much space on your system compared to other similar programs.
Features:
It comes with a user-friendly interface with only File, Edit, and Help options on the menu.
It allows you to browse and view multiple files and view them in a bigger pane.
Lets you open all types of files including HTML, PDF, AVI, or XLS without any hassle.
Clearly lists the different supported file types under the Abut section for convenience.
Price: free
FreeFile Viewer is another great file viewing software that helps you to view several different file formats. It allows you to view MS documents, text and binary files, Audio and music files, PDF documents, videos and image files, and excel sheets.
Features:
Provides support for more than 200 file formats.
Works as a non-conventional and a simple file viewer that allows you to display PDF files and MS Office documents even in the absence of an Adobe Reader or the MS Office.
Includes all that you require so, it just needs to be downloaded and run.
No hidden costs and no software required.
You can view formats like DOC, DOCX, PDF, TXT, images like JPG, PNG, GIF, videos like FLV, MP4, MPG, audio files like FLAC, MP3, OGG, and various more.
Price: Free
As the name suggests, Universal Viewer supports most of the file types and formats for viewing. It's free software, yet advanced supporting text, RTF, audio, video, images, binary, and more. In fact, it also supports different formats for multimedia and documents, along with the ability to open large files.
Features:
Interface loaded with editing options and other universal functions.
Comes equipped with customisation settings that help you create shortcuts, configuration settings to help you find the available plugins.
Helps you view formats like Hex, Unicode, RTF/UTF-8, RTF, etc. and image formats like BMP, GIF, JPG, PNG, TIFF, and more.
Supports multimedia formats such as MP3, WMV, AVI and MPG, etc.
Option to zoom in and out, or expand the display window, and easy navigation around the navigation panel, are some of its other major features.
Price: free
File Viewer Plus 3 is one such file viewing program that helps you to not just view but also edits and convert more than 300 file formats. While it makes it easier for you to access files or folders in unknown formats, it also saves you a lot of time in finding the right decoder.
Features:
Reads over 300 types of files, accurately which includes media files, documents, and more.
Displays raw images and raster graphics in just one click.
Option to convert folders in batches that helps you save your time and effort.
It also displays archived files like zipping and Zipx archives, 7-Zip files, Android packages, and Windows cabinet files.
It comes with an easy to use interface for quick conversion of files, at the same time.
Price: Free trial available;
Ultra File Opener lives up to its name by providing support for more than 500 file types and formats. It works for all well-known text, image, and archive files, while also offering the facility to edit, convert, and get a print of them from your PC. It basically, does all of that a specialty software would do, so no need to download one separately.
Features:
From JPEG, PNG, or TIF, to GIF, or BMP, it provides support for most of the widely used photo and image formats.
It also provides support for RAW formats for over 150 digital cameras that include brands like Nikon, Sony, Canon, Olympus, and more.
It saves the maximum image information stored in the photos and images.
Options to zoom in, zoom out, fit to screen, and more.
Unzips content from a large variety of compressed file variants such as ZIP, GZ, TAR, 7Z, GZIP, etc.
Ability to open any text-based file formats such as text documents, HTML, XML files, settings files, configuration files, etc.
Offers cut, copy, and paste features to help you work inside text files.
It allows you to print with your home or office printers with a range of options.
Option to restart or resume partly downloaded files such as .CRDownload, .Partial, and .Part files, that are generated by web browsers to save the content of such files.
It also examines the contents of those partly downloaded files that are available.
It helps you to create beautiful prints, effortlessly, using its user-friendly print feature. Identifies your printer settings automatically and offers commonly used printing templates.
Price: priced at $54.
Also known as the Free Online File Converter, DocsPal supports the majority of the images, videos, documents, archives, ebooks, and more. It comes with a simple interface where you can drag and drop your files. You can then convert it to your desired file format by following step 2, and finally, get the download link in step 3 to your email address. Alternatively, you can also directly download and save the converted file.
Features:
It's a web-based file viewing program.
It does not require any software to be installed.
Apart from uploading files and converting them in the desired format, you can also simply view files in unrecognized formats.
Supports a large variety of formats including JPEG, Open Office Documents, PDF, PNG, PSD and Word files.
Price: free
While there most of the file formats that can be opened by a file viewing software, there are many files that do not include any extension. That can be a far trickier situation and that's when you need a program like TrIDNet file identifier. It does not just help you identify the file's extension, but also pulls up any more details related to the file.
Features:
Simply download the program and the definition of the filetype individually from the official website. It requires no installation.
Once unpacking is done, you need to run the program and load all the definitions from the TrIDDefList.
Once all the loading and parsing is completed, the program is ready to use.
Browse files to be identified, analyze, and once the scan is complete, you will see the file's format, type, and percentage match.
Double-clicking on the identified file types will display more details related to each match such as the file's name, author, email address, remarks, and more.
Price: free
Conclusion
These are some of the best viewers for Windows 10 that not only help you to view, open, edit and convert most of the file formats, but they are also equipped with additional tools and features. If you are unable to view any file extension on your Windows system or unable to identify the file extension, these programs can be the savior for you. So, simply select one of your choice, download, and no more frustration of not being able to view a text document, image file, or a video.