Being paranoid is the most important part of human nature. We can't sway away from it. Even when we cross roads there are chances that that may become your last journey. Its up to us,  how we see different things and what are our fears attached to it.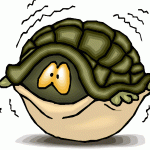 When you fully depend upon online income, there are many statements attached with "What if" that crosses your mind from time to time.
Below are some of the greatest fear and their solutions for you if you are solely dependent  upon online income like me.
Common Fears of Bloggers and Webmasters
1. What if your credit card account gets hacked and you can't pay your hosting fee on time and they discontinue your service? – Always pay 3-4 months of hosting fees in advance . In this way you will get the time to think and arrange another credit card in time.
2. Adsense accounts gets cancelled – Always blend different adsense alternatives in advance in your blog to feel safe.
3. What if you loose all your money earned and everything went down – Businesses have always got a risky nature. And Online business is also a business. Always save 50% of what you earn to save yourself when you loose it all.
4. Google goes down and ends – If search engine collapses, the only things which can make you safe are your subscribers, twitter followers and similar social media presence. So, don't take search engines for granted. Keep building other channels as well also.
5. Internet ends – Initially there was radio, then TV , Newspapers and now internet. What if internet get the same fate as transistors. I haven't thought about it yet. Any Idea ?  you are most welcome …
CASE – 1
WordPress Bloggers
This is the largest chunk of online money making crowd. Blogging on various topics on the world's most popular blogging platform.
1 . Your wordpress account gets hacked – Even if your wordpress account gets hacked or some malicious script is injected to your blogging script, you can always restore your blog from your hosting control panel. If you haven't taken a backup of your blog, go and take it. Better if you shedule your backup on a weekly basis.
2. Your hosting company becomes bankrupt or crashes overnight – Always backup your wordpress database with WordPress Database backup Plugin . In crisis all you have to do is to change your nameservers to a new hosting account and upload your database there through PHPMyAdmin. Don't worry for the wordpress files as they are available on wordpress.org website.
3. WordPress Platform fails – No one is perfect , even wordpress who have a great reputation of being the best blogging platform can become the buggiest product in the world. Many great hackers in the world may be trying to find a loophole in the wordpress system. My advice is to keep an XML file on your computer from time to time. You can download the xml backup from Tools>Export from inside your wordpress control panel. Once deprived from wordpress you can move to blogger blogspot service.
For moving your wordpress blog to blogspot all you need to do is to switch to a custom domain name and import blog from inside a created blog at blogger.com

4. Your wordpress Admin Account gets hacked – Try wordpress security plugins given below
Apart from these measures always upgrade your wordpress to the latest versions.
Blogspot Bloggers
1. What if Google plan to shut down their Free Blogger service. Initially Yahoo had done it by closing their yahoo 360 Blog service. Google may do it. What if they plan to do it.
Switch to custom domain name and then migrate your blog to wordpress. WordPress also have the ability to import blogs from inside their admin accounts in XML format. Download your blog from blogger and just go to Tools > Import and import your blog there.