The Best Four Alternative Weather Apps For Windows 10:- Weather is something that we always tend to look upon. So it's natural to get bored if we keep looking at the same interface and at the same detailing every single time. Also, if you feel like the classic weather app doesn't have the features that you are looking for, you might feel the need to switch to a different app altogether. So, here is an article exclusively written to get you familiarized with the 4 best alternative apps for your classic Microsoft weather app.
1. The Weather Channel
When it comes to hyper-precise weather forecasts, Weather Channel can never miss a list. It has a long list of features to offer. Here are some of the features provided by one of the best weather apps for Windows 10.
You can get hourly and 15 days forecasts from Weather Channel.
It has got weather maps feature.
It doesn't just give the temperatures in Celcius or Fahrenheit. It is capable of giving temperature descriptions like the humidity level, moon phases, sunrises, sunsets, wind speed etc.
You can get alerts when the weather gets severe and can stay safe. There are rain alerts and pollen alerts too, if you are looking for more alerts.
Get weather conditions of your favourite locations right from your Weather Channel app.
Beautiful and user-friendly interface that you can use with ease.
There is much more to the list. Get the app and explore through the wide possibilities of what would happen with the weather today.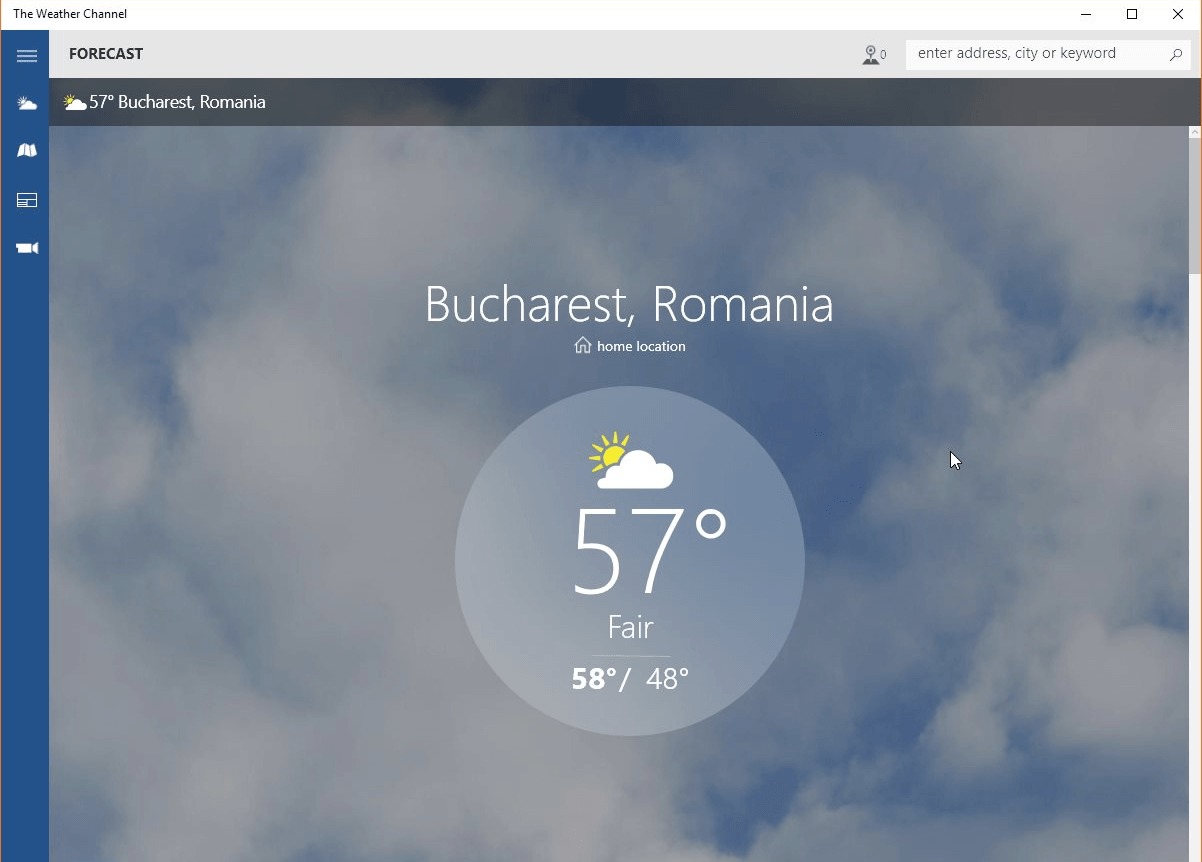 2. AccuWeather – Weather For Life
If you want to have the weather forecast of that corner across your street precisely, then you should go for the AccuWeather – Weather For Life app. Some of the features that AccuWeather – Weather For Life app offers are as follows:
It offers minute-by-minute precipitation weather forecasts for the next 2 hours for an exact location.
If notifies you about severe weather conditions that can help you stay safe.
A weather forecast summary, that can help you stay updated about what would happen to the place you are living at, for the next 3-5 days.
You can get AccuWeather – Weather For Life app from here.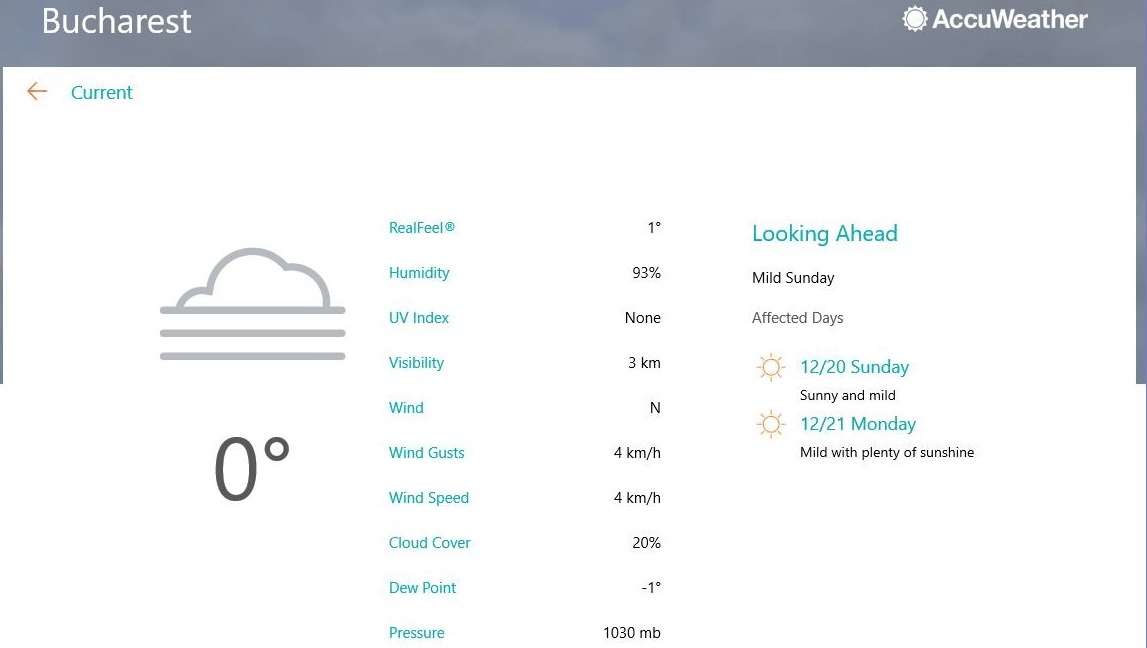 3. WeatherBug
WeatherBug is powered by the largest weather network, the WeatherBug network. WeatherBug app for Windows 10 is truly a blessing to those users who are looking for extended weather reports. Here are some of the features offered by the WeatherBug app.
Push technology is used in WeatherBug app and thus you get instantly notified about the weather changes.
There are extended weather forecasts.
You can save locations and the weather conditions at these saved locations will be shown to you.
Weather forecasts by very experienced WeatherBug meteorologists.
Wondering where you can get this super cool app from? Simply click here.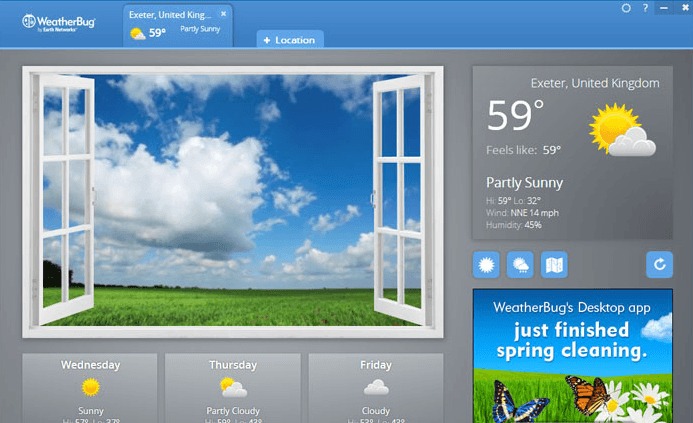 4. MyRadar
All in mood for an animated weather radar? Don't wait then, get the MyRadar app. There are many features that this super cool app offers and some of the features are listed below.
The animated weather radar lets you see what weather is in your location quickly.
High definition animated radar shows the weather details at the closest level.
There are weather warnings and alerts along with push notifications.
Local radar is displayed as a Live Tile which is updated every 15 minutes.
So thinking that this is the weather app that you have been looking out all your life for? Get it then!!!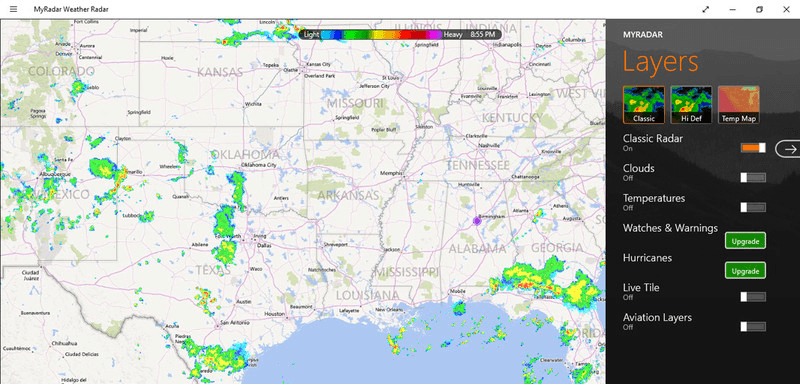 Try out all the 4 apps and find out which one suits you the best. Hope you found the article useful. Do come back for more, as there is always something new waiting.