When it's about content, plagiarism is one of the biggest ethical concerns these days. Plagiarism is basically copying other's work and representing it as your own. While there are incidences when it's unintentional, in most cases it's intentional. For instance, a new writer copying other's work in the bid to save time on the research. However, if you've adopted a certain writing style from someone, that can also lead to plagiarism, but unintentional.
Whether intentional or not, it's a big deal to get caught plagiarising because original content is extremely important for your online repute. So, if you are a professional writer who publishes content online, regularly, must pay added attention to avoid plagiarism. And, therefore, the best plagiarism checker tools can help you enhance your writing skills and produce original content.
Professional services like the plagiarism tools check the ingenuity of the content. Here are some of the best plagiarism checker tools we think can do justice to your content.

Plagiarisma is known to find out the copyright violations in your content, which can be an essay, web content, article, coursework, research paper, or dissertation. Basically, it makes your text content plagiarism proof. You can either upload the content from the drive, from a folder on your computer, or simply paste the URL or the content directly on the blank box, and click on the "check duplicate content" button. The software then takes only a couple of minutes to check the entire content.
It offers accurate plagiarism detection making it super easy to track any duplicate content. It supports all major text formats that include, TXT, HTML, RTF, MS Word DOC, DOCX, PPTX, XLSX, XLS, PDF, ODT, EPUB, FB2. It also provides support for Google, Yahoo, Bing, Scholar, and Books. It's compatible with major platforms like Windows, Android, BlackBerry, Moodle, and Web.
Price: free version available; starts from $5 per day for 100 searches.

For those looking for a free plagiarism checker tool, DupliChecker can be the best bet. It's a 100% free tool that offers accurate results, right away. Whether it's web content, blog, article, research paper, or coursework, all you need to do is to copy and paste the text content in the empty box, and it generates the results, immediately. You can also upload the doc or file from a folder and starts checking the plagiarism.
As a bonus, the tool also checks the grammar for you. You can choose from either of the options based on your requirement. The tool is known to offer the most authentic possible results. This online tool is available on any device, 24 by 7, anywhere you go making it easier for you to check content on the go. The search box takes up to a maximum of 1000 words per search at a time.
Price: free

PlagScan is one of the best plagiarism checker tools that check the credibility of the content in just a few clicks. The best part is, this easy to use software is compatible with most of the file formats. From printing a PDF file of the report to joining up with an interactive browser report, the plagiarism report by the software is flexible to your requirements.
It also pays importance to privacy and legal compliance by keeping your uploaded documents safe from unauthorized third parties. Whether you are a single user or an organization, PlagScan detects the authenticity of the text content accurately and effectively.
Price: free trial available; pro version starts from $5.99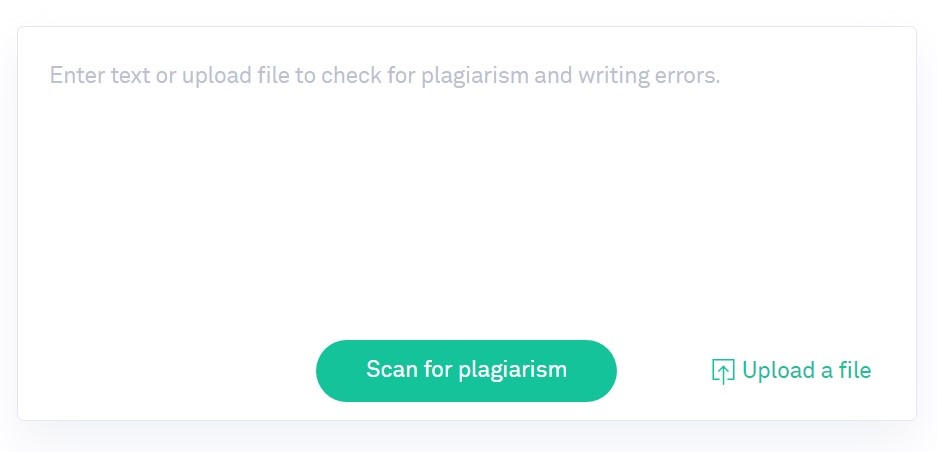 Grammarly is another well-known plagiarism checker tool that also emphasizes on error-free writing. It enhances your overall writing by helping you write clearly and without any mistakes using its AI-supported writing assistant. Whether you are writing MS Word or Gmail, or on social media platforms like Twitter or LinkedIn, it works in the background to correct any anomalies.
Apart from checking on plagiarism, it also focuses on your grammar, spelling, and the style of writing. It helps you find the right words and remove any possible mistakes. Best of all, you can add it to Chrome for free as an extension and write error-free at all times.