When it's about content, plagiarism is one of the biggest ethical concerns these days. Plagiarism is basically copying other's work and representing it as your own. While there are incidences when it's unintentional, in most cases it's intentional. For instance, a new writer copying other's work in the bid to save time on the research. However, if you've adopted a certain writing style from someone, that can also lead to plagiarism, but unintentional.
Whether intentional or not, it's a big deal to get caught plagiarising because original content is extremely important for your online repute. So, if you are a professional writer who publishes content online, regularly, must pay added attention to avoid plagiarism. And, therefore, the best plagiarism checker tools can help you enhance your writing skills and produce original content.
Professional services like the plagiarism tools check the ingenuity of the content. Here are some of the best plagiarism checker tools we think can do justice to your content.

Plagiarisma is known to find out the copyright violations in your content, which can be an essay, web content, article, coursework, research paper, or dissertation. Basically, it makes your text content plagiarism proof. You can either upload the content from the drive, from a folder on your computer, or simply paste the URL or the content directly on the blank box, and click on the "check duplicate content" button. The software then takes only a couple of minutes to check the entire content.
It offers accurate plagiarism detection making it super easy to track any duplicate content. It supports all major text formats that include, TXT, HTML, RTF, MS Word DOC, DOCX, PPTX, XLSX, XLS, PDF, ODT, EPUB, FB2. It also provides support for Google, Yahoo, Bing, Scholar, and Books. It's compatible with major platforms like Windows, Android, BlackBerry, Moodle, and Web.
Price: free version available; starts from $5 per day for 100 searches.

For those looking for a free plagiarism checker tool, DupliChecker can be the best bet. It's a 100% free tool that offers accurate results, right away. Whether it's web content, blog, article, research paper, or coursework, all you need to do is to copy and paste the text content in the empty box, and it generates the results, immediately. You can also upload the doc or file from a folder and starts checking the plagiarism.
As a bonus, the tool also checks the grammar for you. You can choose from either of the options based on your requirement. The tool is known to offer the most authentic possible results. This online tool is available on any device, 24 by 7, anywhere you go making it easier for you to check content on the go. The search box takes up to a maximum of 1000 words per search at a time.
Price: free

PlagScan is one of the best plagiarism checker tools that check the credibility of the content in just a few clicks. The best part is, this easy to use software is compatible with most of the file formats. From printing a PDF file of the report to joining up with an interactive browser report, the plagiarism report by the software is flexible to your requirements.
It also pays importance to privacy and legal compliance by keeping your uploaded documents safe from unauthorized third parties. Whether you are a single user or an organization, PlagScan detects the authenticity of the text content accurately and effectively.
Price: free trial available; pro version starts from $5.99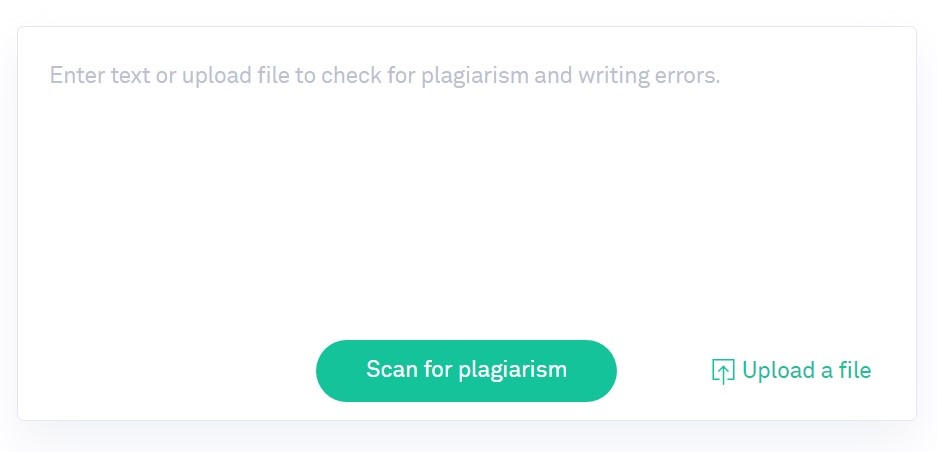 Grammarly is another well-known plagiarism checker tool that also emphasizes on error-free writing. It enhances your overall writing by helping you write clearly and without any mistakes using its AI-supported writing assistant. Whether you are writing MS Word or Gmail, or on social media platforms like Twitter or LinkedIn, it works in the background to correct any anomalies.
Apart from checking on plagiarism, it also focuses on your grammar, spelling, and the style of writing. It helps you find the right words and remove any possible mistakes. Best of all, you can add it to Chrome for free as an extension and write error-free at all times.
Price: free version available (limited); premium version starts from $29.95/month.


If you are looking for an advanced plagiarism checker that goes beyond the usual, Copyleaks is your answer. This tool not just detects plagiarized content, but also paraphrases the written content with the help of AI technology. It helps you check the authenticity of the content using refined algorithms that search and track the text content in all languages.
It can easily track any copies of the content online using cloud computing. It can check 60 trillion-plus internet pages and databases to establish the originality of the content. Moreover, it is compatible with all major file formats viz. txt, pdf, HTML, doc, etc. From students, universities, schools, or individuals to businesses, it's available for all.
Price: free trial available; pro version starts from $50.99/month.


Paperrater is a popular free plagiarism checker that proof-checks content along with grammar and spelling. You can use this online and do not need to download separately. It's a powerful grammar checking enables you to detect any annoying errors and rectify them in a matter of seconds. Besides, the proofreading feature indicates any possibilities of changing the style of writing, vocabulary, or the words thereby, enhancing your writing.
The tool compares your paper or written content with over 10 billion documents while checking its authenticity. It uses AI and data science to evaluate the submissions in real-time and generates results instantly. The software is cloud supported that dives deep into the structure and syntax of your content without signing up, logging, or downloading.
What's more? Apart from automated grammar checking and proofreading, it also offers automated scoring as one of its major features. As a bonus – the software also offers you feedback using Grendel (AI engine) that you can add to your text before the final submission.
Price: free version available; premium version priced at $14.95/mo or $95.40/yr


One of the best plagiarism checker tools around, Viper comes with a range of robust features that help you check the originality of the content. From individuals or students to lecturers, institutions, and businesses, the software is used by all. It comes with a user-friendly interface that performs a highly precise scanning process.
The tool reviews your document for plagiarism in just three simple steps and generates the complete report. You can use its online app and select the document that you want to check. Once you submit the document, it will be checked in minutes by comparing it with around 10 billion sources.
Moreover, the software compares your documents with several online sources like essays, journals, etc. Once the scan is complete, you receive a clear and compact plagiarism report with highlighted portions. The highlighted parts show where the plagiarized sections have been taken from. You do not need any subscription or monthly plans. You simply need to buy credits as and when you want to scan a copy.
Price: starts from $4.00 for 1 credit.


If you are looking for something quick, easy, and effective, Search Engine Reports can be the best bet for you. It's a simple tool where all you need to do is to either copy and paste the written content in the empty box (max 1000 words allowed per search), upload the file from the desktop folder in text or doc format, or upload it from the cloud (Dropbox).
What's interesting about this tool is that it lets you exclude a specific URL also. The tool keeps your privacy intact by automatically removing any content that's uploaded to the site. Apart from checking plagiarism, you can also check the grammar and correct it accordingly. Search Engine Reports also offers other tools like keyword search for SEO, paraphrasing, word counter, and reverse image search.
Price: free


Quetext intends to not just equip you with a powerful tool to track any duplicate content, but also empowers you with complete security. You can be rest assured that your content is safe from any unauthorized access. It's one of the leading plagiarism checking tools that's being used worldwide by over 2 million professionals, teachers, and students.
It gives you unlimited access for checking plagiarism, while it generates results automatically. The results get saved in a collective report which you can read, export, or remove within the account. Best of all, its pro version allows you to search up to 25000 words at one go, that is, up to 50 pages. You can also export the generated report in a PDF format in just one click and that's easy to read.
Moreover, it also allows you to exclude all those sources which you do not want to come up in the results. You can add any URL and the tool skips them for any future searches.


PlagTracker offers professional editing assistance using special tracking algorithms producing an easy and usable report. It's an online tool and so, does not need to be downloaded. The software comes with a big database of academic papers that helps you check the authenticity of your course papers.
It determines plagiarism, corrects grammar errors while proofreading the student papers before final submission. For teachers, it helps them detect issues with the student's papers. Publishers, on the other hand, can authenticate submitted content for originality before they send it for publication, while site owners can check if their content is not plagiarized before they upload.
Price: free


While Edubirdie is epically designed for academic papers, all other content types can also be checked on this site. One of its biggest advantages is that it's completely online and so, requires no download. It can check essays, website contents, resumes, and more with ease. You can either paste the URL you want to check or simply copy & paste the content in the empty box.
Alternatively, you can also upload a written content file from the desktop folders. It supports all major formats like doc, pdf, txt, docx, rtf, and odt. Then, simply check the box to agree with the terms, click on the "check my essay" button, and your results are generated in a matter of seconds. Apart from the free plagiarism check, the tool also offers assistance in editing and rewriting.
Price: free


Plagium is another great plagiarism checker that not just check the originality of written content, but also check the authenticity of the social media posts, such as for Facebook and Twitter. You simply need to copy and paste the content in the empty box (max up to 1000 characters at a time), and it generates results instantly. You can either choose to run a quick search or a deep search (under the paid version) as per the options provided.
While the free version does a pretty good job for the occasional searches, the paid versions offer advanced options like the deep search for added levels of plagiarism check. It also offers extra tools under the paid versions. You can also get the reports in visual format that are easy to understand and manage,
Price: free version available; pro version starts at $0.04 per page
Small SEO tools is a popular quick search alternative that does a good job in scanning content for plagiarism. In this case, also, you can either choose to copy & paste the written content, or upload a file from a desktop folder/Dropbox, exclude any specific URL that you do not want to be included, and simply click on the "Check Plagiarism" button for results.
Once the test is completed, it shows a percentage, that indicates how much of the content is unique or authentic. For more guidance, it even highlights the phrases or sentences in red that already exist online and that will not be approved by Google. You can download the report in PDF format and share it with whoever concerned. As a bonus, it can also check any grammatical errors in the content.
Price:  free
A refined plagiarism checker tool among the category, Unplug Checker blends technological excellence and responsive design to accomplish originality over similarity. This easy to use tool generates results instantly for whoever checking their content for plagiarism. It offers a wide range of toolset and clear design that helps verify their text content perfectly.
It supports almost all major formats, offers comprehensive reports to check possible plagiarism, and also a Google add-on to check similarity on the go. It offers assistance for all sectors including education and business.
Price:   14-days free trial available; pricing starts from $10 for 50 pages.
Checking originality of the written content is extremely important, especially if your major work is online or if you are submitting a research paper. Therefore, using any of these best plagiarism checker tools can help you stay away from plagiarism and get caught by Google. So, try these today for authenticity.