Love watching those funny GIFs on popular social media platforms like Twitter or Facebook? In fact, we find GIFs on almost every topic including festivals, special occasions, different emotions, and so on. You can either choose to use the built-in GIF feature on Facebook, WhatsApp, or Twitter, you can also download different GIF packages for Android, or iOS and use them as per your convenience.
What is GIF?
Introduced in the late 1980s by one of the prominent commercial online service in the United States (CompuServe), GIF (Graphics Interchange Format), was later taken over by AOL.
Advantages of Using a GIF Image
GIFs are a new revolution in the field of visuals that make it easier to express a situation just like the emojis. From funny expressions to marketing strategies, there's a GIF available for every emotion. GIFs offer that visual pleasure that you wouldn't otherwise get with normal pictures or even the emojis.
GIFs are perfect to draw the interest of those clients who are visiting and browsing your website. Therefore, these graphics are perfect to add to your web pages, chiefly where there is a lot of content. This helps break the monotony of the content with some visual addition.
These images also make a big impact on the branding of a business where it not only emphasizes on expressing emotions in association with emojis, but also to brand the business, products, or services.
Importance of Animated GIFs
Animated GIFs have gained a lot of traction in recent times since they can demonstrate the matter instantly. These are the type of GIFs that grab the most attention of the buyers and are capable of closing a sale.
While creating an animated GIF may sound a tough task, it, in fact, does not need to burn a hole in your pocket to insert this in your content. There are many GIF makers available online to help you create GIFs for your marketing strategy. We have shortlisted some of the GIF makers based on the range of tools they offer and your budget.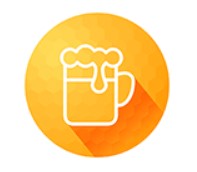 This app is specifically for the Mac users, where all they need to do is to buy and download the app on Mac OS, and then make use of it on the system as and when required. This app also allows the users to convert parts of videos to GIFs.
It comes with a responsive interface that offers easy to follow steps. It allows you to edit the memes with pictures, add image filters, overlay texts, and more. If you are planning to make preview animations for lengthy videos that can be used on platforms like blogs, Instagram, Pinterest, etc., this app is perfect for that purpose.
Price: $4.99

Giphy is especially known for its GIFs that are tailor-made for search engines. This leading GIF provider features promotional content from some of the prominent brands that include Pepsi and Calvin Klein. Moreover, you can also add your own GIFs to the library in the form of video clips.
The best part is, you can look up for GIFs from the wide range of categories that includes numerous emotions, and animations. It also allows you to create GIFs by either uploading images of your own, or by using videos picked up from different websites like YouTube, Vimeo, etc.