Whether it's about professional editing like for a movie, music, or a video team, or it's just for creating phone ringtones, an audio editor is what you essentially need to start with. While creating an audio piece, you must ensure that the soundtrack is perfect and clear. You do not want a screechy noise, or low pitch to spoil your hard work on the recording.
Hence, the audio editors come to your rescue. You can save a lot of your time and effort by using a reliable audio editing software. However, the intricate functionalities of some of the audio editors can be a bit intimidating for the first-timers.
But, if your job demands you to work with sound files regularly, it would be smarter to get used to audio editing software. While there many audio editors out there, all of them may not be pocket-friendly. But, with free alternatives available these days, there's little to worry on the budget. Here's a rundown of some of the best free audio editors.

Audacity is another very well-known free and open source audio editing software. This cross-platform audio tool is user-friendly and offers multi-track audio recording and editing for all the major platforms (Windows, Linux, etc.). It has the capability to record live audio using a microphone or mixer, and can even convert the recording from different other media into digital versions.
It also allows you to import, edit, and merge audio files. Moreover, it offers support for 16, 24, and 32-bit quality, offers effortless editing using cut, copy, paste, and delete function, provides support for LADSPA, LV2, Nyquist, VST and Audio Unit effect plug-ins, and can do a lot more for free.
Price: free and open source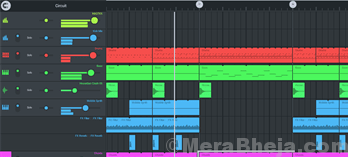 FL Studio is a well-known name in the audio industry and is hands down, one of the best audio editors around in recent times. Apart from offering high-quality performance in the DAW category, it also offers functionalities like pitch shifting, multi-track recording, etc. In addition, it's also equipped with a powerful mixer that offers automation, delay compensation, and so on.
Not just that, it also comes with more than 80 ready-to-use plug-ins that include compression, sample manipulation, and more. While it offers the option where the tracks can save notes, audio, and automation, it also provides support for all VST standards 1, 2, and 3. The vectorial interface that can be rescaled and rearranged, option to capture live control motions and edit, multi-touch support, or live DJ control are some of its other major features.
Price: free trial available; upgrade starts $99
It's a free audio editor and is perfect for those looking for a reliable and efficient audio editing software for free. This easy to use tool majorly focuses on removing unnecessary audio sections and split audio files. It comes with a simple yet responsive interface where it shows the waveform of the audio pieces. This feature helps you (whether you are a beginner or experienced) to edit the audio file, visually.
The software may also help you to convert audio to many different formats, tweak the audio volume, and/or allow you to use the tags or selections to relax the work. It offers support for a wide range of formats that include, MP2, MP3, WAV, AAC, and more. Best of all, it's free of spyware and adware and is totally safe to download and install.
Price: free
If you are into music production, you may as well like to give Ableton Live a try. It comes with an endless number of features that are totally worth a try. It now offers some brand-new devices like the Drum Buss, Pedal, and the Meet Wavetable offering a wide possibility of new amazing sounds with its wonderful range of instruments and effects.
It can be played immediately as installed. While it allows you to use MIDI to capture your ideas, you can also work with different MIDI clips at a time in a single view. It comes with an improved arrangement view that helps you to quickly edit with more efficient music creation. From browser collections that feature all your devices, plug-ins, and samples, close to you, or instant renaming to offering the volume automation, there's a lot more than it allows you to explore.
Price: free trial available; upgrade starts from $99
This is another free and fully featured professional editing software for audio and music. This is specially designed for Windows and Mac. With this software, you can capture and edit voice and other audio recordings. You can also cut, copy, and paste sections of recordings, and then implement the effects echo, noise reduction, etc. while editing the audio files.
While it automatically works as a wav or mp3 editor, it also supports a wide range of different file formats like vox, gsm, wma, real audio, au, aif, flac, ogg, and more.
Price: free download available; pro version starts from $39.95
It's one of the leading and most dynamic audio editing software across the globe that's better known for its capabilities in music creation. It comes packed with a range of an unparalleled set of adaptable tools that help you to create any type of music quickly. It features a host of effects, virtual instruments, and many other sounds that are useful for both beginner level, and an experienced composer.
It also comes with a unique feature called "plugin sentinel" that automatically scans any plugins to make sure that those are authentic and harmless to your system. The Audio-ins feature on the other hand, allows you to use filters and effects individually on your audio pieces. Frequency equalizer to carry out gentle edits is one of its other useful features.
Price: free trial available; upgrade starts €99
Ashampoo Music Studio 2018 is a dynamic and robust software that helps you burn, arrange, and edit music efficiently. It's a proven and skilled app that helps you edit your files and even burn. It enables fast audio disc ripping and fills in the missing track details automatically which relies on a wide online database. It also supports a wide range of formats so you can convert or burn files in all those formats.
The audio editor allows the users to change or delete separate passages while enabling them to divide tracks into separate sections. Arranging music collections, option to change metadata, mixing songs effortlessly with fading effects, facility to design covers easily using the integrated cover editor, or APE support are some of its other major features.
Price: free trial available; priced at $19.99
If you are looking for an audio editor that can help you edit your sound files right into the browser, then Audio Cutter is your best bet. You can simply install this app in your browser and it helps you to cut and edit audio, smoothly, from your browser. This free app offers support for 300 file formats and also comes equipped with presets of ringtone quality and features like fade in and fade out.
Some of its other features include getting an audio track out from a video, cutting an audio track in just a few clicks without any installation, secured process with file access only to you once uploaded which gets deleted automatically from the server as you are done, and creating a ringtone in just a single click.
Price: free
It's a free online program that can be used to assemble different audio tracks into one. While it provides support for crossfading and all other major file formats, the app can also merge different music online without installing anything on your system. Moreover, you can adjust the certain playback interval for individual tracks with the help of the blue sliders which can be moved using the arrow keys.
Using the crossfade feature you can join songs together for a seamless flow. The best part is, you can join unlimited tracks. This easy to use app is developed for a single purpose and it offers support for over 300 audio formats. Besides, protecting your privacy and keeping your data secured is its priority.
Price: free
This easy to use audio editing software smoothly merges the proven recording studio model with the beat and loop-based production process of modern times to generate musical ideas to reality much faster. It comes with a high-quality interface featuring a single screen. Embedded in this single-screen is an endless number of tracks, responsive editing tools, and high-quality virtual tools.
It now comes with a new and improved Impact XT drum module and offers 20 new features including beat quantization and real-time stretching. This enables you to add loops and beats in your song in a creative manner. Among its other major features are optimized multi-editing, different macro toolbars, and so on.
Price: free version available; upgrade starts from $99
Reaper is one of the other well-known audio editing tools that offers a complete digital audio production process for systems. Using this software, you can use its MIDI recording, editing, processing, mixing and mastering utilities. It offers support for an extensive range of hardware, digital formats, and plugins. This can also be widely lengthened, scripted, and changed.
It's a highly efficient program that loads fast and is strongly coded. It's a portable program and so, it can be installed and run from a movable or network drive. It offers robust audio and MIDI routing while offering multichannel support. With a capability of 64-bit internal audio processing, it allows you to import, record to, and convert to various media formats.
Moreover, it also offers support for a wide range of third-party plugin effects and virtual instruments such as, AU, VST, DX, etc. With hundreds of studio-quality effects to choose from and the option for automation, scripting, surround, custom skins, and more, it has a lot to offer.
Price: free trial available; upgrade starts from $60
if you are into beat-making, this is a perfect app for you. This collaborative online music production software can be used straight in your browser. It's very similar to the Apple Garageband app. It's a simple yet efficient app that comes with an attractive interface where you can easily create intricated audio pieces. Best of all, you can also add more than 14 effects to your pieces.
You can learn how to use the tool by following the instruction on its Wiki page, for instance, the way to set up your MIDI controller, and more. Once you are done making the beat, you can export the audio as an MP3 file.
Price: free
Conclusion
There are a many more such audio editing software available online, however, it can be challenging to find the one that's powerful, efficient, and helps you to generate best results in minimum time with minimum effort. The above list of the best free audio editors will not only help you to pick the most efficient and trusted tools for your audio task but will also ensure total security. So, go for one of your choices and transform your musical ideas into reality.