Google Analytics is undoubtedly the market leader in the category of "web analytics tool" used by numerous website owners to evaluate their web page traffic. This widely used software apparently provides an efficient solution to many online marketers and businesses across the world. According to the CBO (chief business officer) of Google, Nikesh Arora in 2012, Google Analytics is being used by over 10 million web sites to evaluate their web traffic and therefore, measure their online competency.
Read: Top 10 Adsense Alternatives for Bloggers
The number of websites using the GA tool has only increased with each year, with a huge boost of 57.3% by 2013 itself, which includes 10,000 websites from the top category based on rankings by Alexa and Quantcast. While this popular Google tool is available for free (of course with limited features), its paid version is also available, however, at a whopping price of $150,000 annually. Since the paid version is almost unreachable by most due to its exorbitant price tag, users rather choose to access the free version of Google Analytics.
Now, considering the possible disadvantages of the Google Analytics free version such as, limited custom report generation, restricted number of goals, or the regular need of training many of the users may be looking for an alternative that provides enhanced features, additional information or simply an affordable tool. While you can certainly install the free version of Google Analytics which is extremely useful, you can also choose from the many alternatives available online some of which are either entirely free of cost, offer free trial periods or available at reasonable costs.
So, today we have compiled the list of top 10 alternatives for Google Analytics (in details) that helps evaluate your website traffic and so that it's easier for you to select the one of your choice..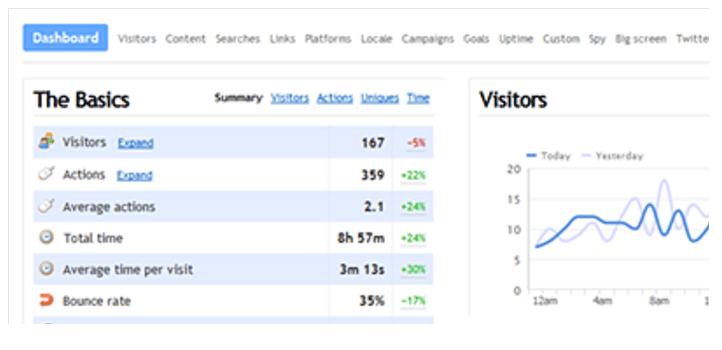 Clicky is one of the finest and powerful web analytics tool available on the internet today that enables you to evaluate and view your website traffic data in real-time. In addition to the features offered by the Google Analytics, it also offers some more beneficial features of its own which is difficult to find in any other tool in the category. Let's see the features on offer by Clicky..
The primary dashboard allows you to see a complete analysis of all the required website data such as, top content, visitors, top keywords via Sheer SEO , visitor behavior (video views or downloads), bounce rate, keyword ranking and more;
Extremely user friendly interface and easy to install in comparison to the Google Analytics tool and any other similar free tools in the category ;
Provides information on external web pages directing visitors to you via link reports;
Analyzing one website and with upto 3000 site views per day is absolutely free of cost;
Offers premium features like, merging with Twitter data, heatmaps, site uptime tracking in addition to monitoring page visitors, email alerts, etc;
Includes features like, split testing, A/B testing or ClickyTouch (an iPhone app) to help you stay updated real-time;
Helps you create conversion goals and campaigns effortlessly enabling you to gauge your site's performance and the profit generated;
Offers a 21 days free trial period on signing up post which their plans will cost you between $9.99 and $20 a month.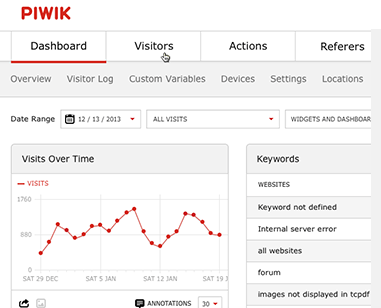 Piwik is a GPL licensed open-source web application that helps evaluate your website's online presence free of cost. It's most popular version is the self-hosted one which is completely free to use unlike the Google Analytics which is remotely hosted. Piwik's hosted option is offered at a starting price of $49 per month. While it is administered by MySQL and PHP, it lets you completely manage the data with the help of Piwik APIs. So, let's take a quick look at some of its important features:
User-friendly interface allowing you to configure the settings effortlessly with smooth viewing.
The integrated plugin feature helps you easily customize your website or it's interface;
You are in control of your website data as the server saves all the data which is not shared with any third force.
Delivers real-time reports on the count of visitors and lists all the top searched terms.
Entirely free of cost with no restrictions on the page views or on the number of web pages to be evaluated.
Available for both Android and iOS platforms.
Allows you to restrict web traffic, web pages and IP addresses;
Allows you to export the data in different file formats such as, Excel, PHP and XML, and can also import data from Google Analytics
Removes data history automatically.]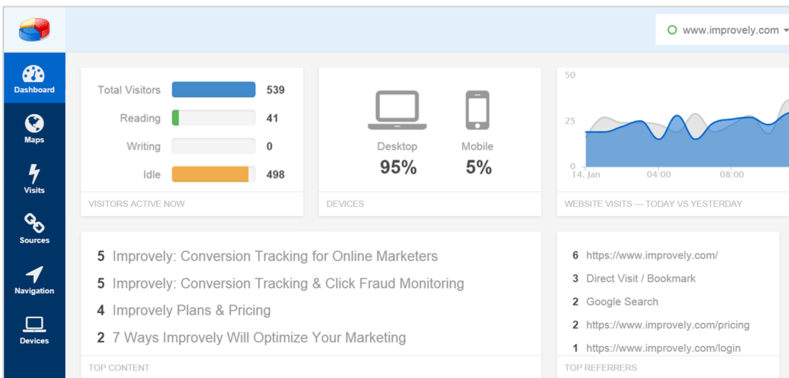 Available free of cost and more useful for beginners, W3Counter is a web analytics tool that offers an extremely user friendly and a well-constructed interface. It's an extremely useful tool which provides basic data for your web page for free and in an uncomplicated way. While there are premium options available for the tool that eliminates any advertisements or pop ups with addition of more features, the premium version is still not upto the par with other premium options in the category. Let's take a roundup of its additional features:
Displays real-time data in just a few clicks alongside the current location of the user and the visitors.
Helps you analyze your top contents, exit pages and more.
User-friendly interface which is easy to understand and easily accessible with well-arranged information.
Find the origin of the maximum clicks directly on your web page delegation using "click overlay".
However, there are a couple of disadvantages of W3Counter such as, your site needs a visible medallion to qualify for the free version of the tool and the tool comes filled with pop ups, ads while it provides you with limited website traffic data history.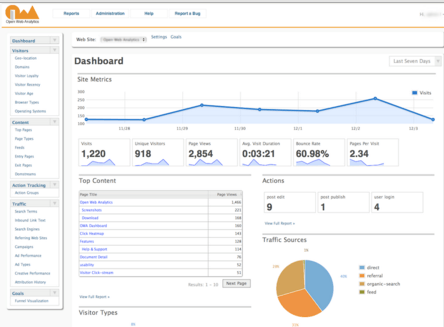 Open Web Analytics is again an open source web analytics tool used to gauge web traffic and visitor activities on your website free of cost and with no restrictions on pageviews. The application can be easily downloaded, self-hosted and offers a plug-in for the word press users.
While as a free software, Open Web Analytics offers many beneficial features and helps evaluate multiple web pages, it also has its downsides with considerable bounce-rate same as other web analytics applications. The tool does not even get a regular upgrade which is one of its major weaknesses.
Let's see what this software has to offer:
The user platform of "Open Web Analytics" is similar to one of the older versions of the Google Analytics in terms of its navigation and its colors.
Tracks goals easily while in the several steps process of the conversion funnel.
Provides detailed individual data refined with the help of almost any factor that you can imagine.
Allows you to have complete control on the evaluation statistics of your website and does not share stats with any third-party.
Offers special features like mouse tracking and heatmap.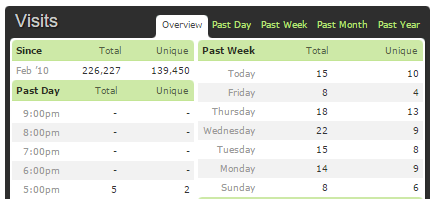 Mint is a classy alternative which focuses on collecting data for your website in lines with Google Analytics. It is a self-hosted tool and cost-effective option in the category. From tracking your mostly visited pages, count of visitors to popular search terms or referrals it tracks all basic data. Let's take a look at the other features that it has to offer.
In addition to the number of unique visitors on your website, the standard view also lets you see the total number of page views.
It provides you a bird's eye view of the recent referrals, the fresh ones and those who are return.
It also displays the most read content and the ones that have been mostly browsed.
Track the feed subscription progression using the bird feeder and click on them to get detailed information.
Track information for some of the Nifty users such as, the type of browser they use or the flash edition used by them via the "User agent 007".
Using a plugin named "Peppers" you can also add more to the just the basic functionalities.
Available for a one-time investment of $30 (per site) rather than a repeat subscription, which makes it an extremely viable alternative.
The fact that the tool can be customized is an added benefit if you are complacent with using different website software.
On the flip side, Mint does not offer data digging, does not display time on site or bounce rates. It lacks any instrument that can help a user to arrange stats in a way which can help him to make any smart modifications to his web page.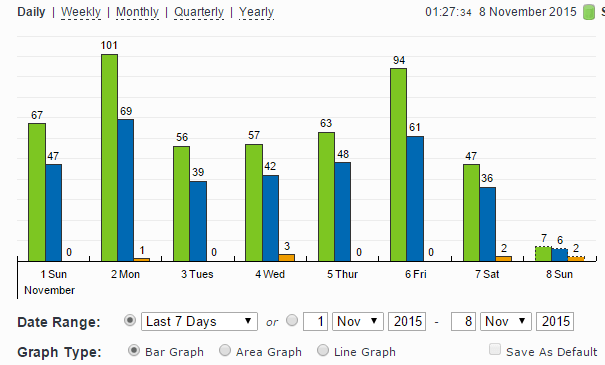 Available in the category for quite some time, StatCounter is a free alternative for the Google Analytics tool. It's a trusted and robust web tracking solution offering a customizable interface depending on the requirement of your data. It sets itself apart from other web trackers with the process where you need to simply add a special code in directly on your web page that helps collect visitor information.
It may not be a great alternative in comparison to others in the category, but it does a pretty good job in providing you the basic web traffic data, visitor routes, most visited pages, incoming search terms and more.
As far its disadvantages are concerned, StatCounter trails behind compared to other web traffic analyzing tools that also offer other features like, analysis, tracking or conversion goals, campaign tracking and more. Apart from offering an old-fashioned interface, it is also unable to provide detailed information that can help you make any fruitful changes to your web page.
Let's take a look at its other features in offer:
Offers real-time web traffic stats available immediately
Offers two different types of analysis such as, (i) Simple Aggregate – visitor data; (iii) exceptionally comprehensive analysis – tracks the last few visitors based upon your website log volume.
Provides information on the search engine that directed the traffic to your website.
Allows you to add a "Block cookie" on your web browser to avoid messing up the website stats on your visit each time.
You can track the IP addresses of the visitors in real-time.
No compulsion on placing ads on the site as they earn their share from the ads present within your personal account which can even be overlooked.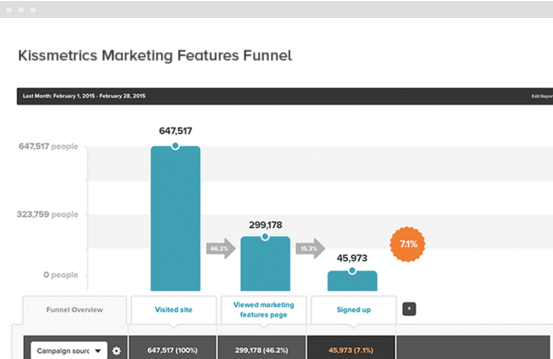 This is one of the web analytics tool which dares to differ completely with the most sought after application in the category, and that's the Google Analytics tool. Unlike other evaluation tools, this one does not consider page views, instead it analyses the behavioral pattern of the visitors on your website, which according to the Kissmetrics creators will help a business acquire new customers as well as retain them.
So, what else does Kissmetrics has to offer us?
Extremely significant to those who own an eCommerce site or to those who sell some kind of service or software and is a big plus over Google Analytics.
Offers real-time data with automatic update of the complete statistics.
Infinite A/B split analysis of various funnels and maps; limitless channel reports are some of the other special features of the tool.
Comes with a 14 days free trial period post which plans are offered from a starting range of $150 per month.
Easily adds analytical statistics into your web page using API integration.
Not only that you can check your earnings via the revenue tracker, but you can also track customer behavior post the purchase of your product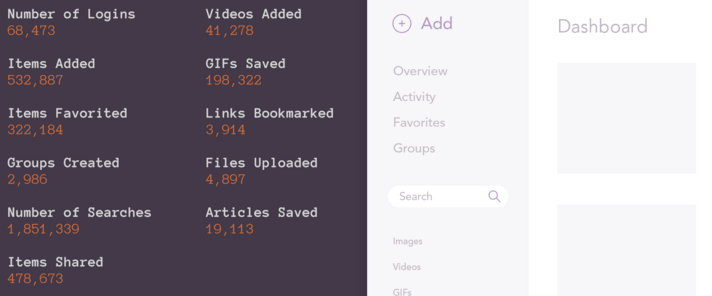 Perfect for beginners and experts alike, Heap is a web analytics tool that effortlessly tracks all the significant actions on your website with no technical expertise required. Even though it may not be a substitute for the widely popular Google Analytics, it does a pretty good job to equip you with a much easier method to evaluate the most important statistics on your website. So, what's in store for us with Heap?
In addition to embedding the tracking code on your web page, all the other actions are performed via "point and click" methods rather than puzzling setups and interfaces.
It also helps you customize events by directly clicking on the forms and buttons on your web page while you instruct Heap on what you want it to analyze.
The tool automatically collates any events on your site and displays the ones that have taken place quite often helping you to tag them and organize.
The uncomplicated nature of the tool makes Heap extremely easy to understand and install. It offers one of the most user-friendly interfaces for the regular user.
The entire set up of Heap is arranged in such a way that it strongly inspires you to build your own evaluation summary useful for your site.
This tool differs from Google Analytics in a major way, same as the Kissmetrics. Even this tool analyzes site traffic based on visitor behavior rather than on page views. It's a real-time web traffic evaluation tool that helps users track user behavior effortlessly. However, it's pricing is a bit perplexing due to their complex actions. Let's take a look at the features offered by Mixpanel:
Provides real-time stats on web page traffic and visitor behavior.
The analysis reports provided are especially useful for eCommerce businesses.
Mixpanel tool is free of cost for up to 25000 data points per month post which the pricing starts from $150 per month.
Provides an entirely new form of extracting solutions from the data distribution.
Stresses specifically on the mobile platform category.
Helps you understand customer better by efficiently tracking their behavioral pattern using features like, funnel evaluation, appropriate distribution of collected data, retention report and more.
Chartbeat has travelled a long way since and now it's a far improved web tracking solution than the older versions which offered just the live data interface. It equips you with real time stats and real time evaluation reports primarily. It boasts of a powerful interface, provides email notifications alerting you of any traffic boost or server crash, and offers a mobile friendly (iPhone) app. It can be great option for magazine sites or news portals that receives a huge number of visitors. Chartbeat comes with many other useful features which we will see now:
Offers you a live view of the website visitors and their behavioral pattern including the detailed information on the different plans they are using, or from where they originate.
If you have a web page backed by advertisements or that offers video contents, Chartbeat offers special in-built features.
It also provides detailed information on visitor actions such as, where exactly are they clicking, how far are they scrolling on the pages, how many times are they playing the videos and more.
With "Head-Up Display", the tool places the data directly on the website model.