10 Best Project Management Software – Large or small, every business needs an active communication system within. A thriving organization will be able to continue running efficiently only when the management has their ears open for its employees and are able to lead with example. The core strength of the organization lies in an efficient management/administration team and it's their responsibility to maintain peace in the organization by helping all employees work in collaboration. With tasks being assigned to individual teams, it becomes imperative for them to maintain sustain teamwork for the business to function successfully.
However, even with the planning in place, all your saved work can be ruined in minutes with just one blunder which means losing almost an entire empire for a small setup. Therefore, in order to get things done efficiently and get the best out of the employees, you need an institute a credible project management software. This should be able to help teams with sending emails to clients, sending documents across the vertical, managing to-do lists or even for the management to easily assign tasks to the right employee and more all on one single platform. We have listed the top 10 Project Management Software in this article which will help you to choose the one that suits you the best.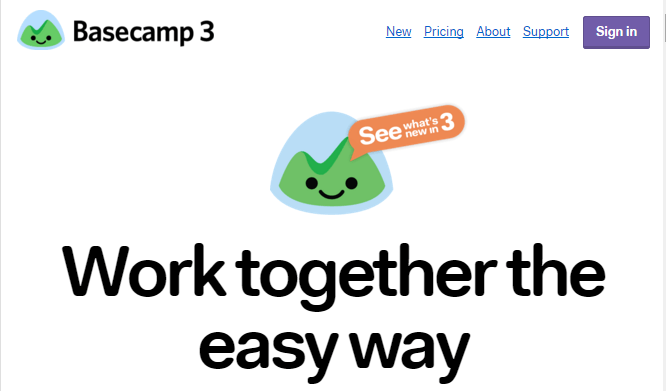 Being a patriarch in its category, Basecamp is contemplated as the most popular project management software available in the recent times. It is an exclusive tool that can help you to efficiently manage your team and implement teamwork. It boasts of all the functionalities that are required to complete a task right from the planning phase till execution.
Key features:
Offers an extremely user-friendly and easy to understand interface that assists you in communicating with your clients and teams.
Allows you to create fresh projects directly from the profile page while you can also send invitations through it to your team associates asking them to join the "Project" feature. You can even create more than one project at the same time.
Initiate "Discussion" forums with each of them assigned to their targeted category of issues.
Members can create projects/tasks under "To-Do lists" and once completed can check the list off.
"Progress" allows you to view your completed work on a specified date, in a timeline pattern.
It also offers features like due dates (deadlines), text notes, attachments, calendar and more.
One of the unique selling points of Basecamp is its "Project Window" feature which helps keep an eye on the completed tasks. This feature that helps lay a strong base for the upcoming projects is the winning point of Basecamp along with a flawless progress window layout. It comes with a free trial for the first 60 days, post which for 10 active users it costs $20 per month and for unlimited users it costs $150 per month which also offers an additional space of 100GB.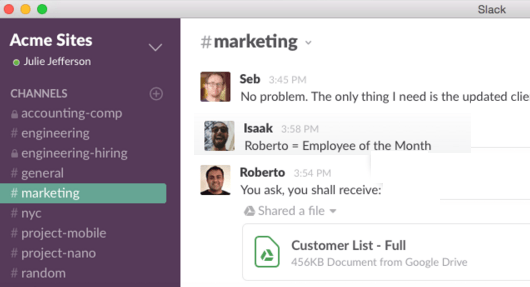 If you own a business and want to move over to a smarter alternative to e-mail or exclusive professional sessions, Slack is just the right option for you. It helps teams across the verticals to communicate and collaborate on a certain project smoothly and efficiently. It offers three main features that the tool basically works on.
Key Features:
Channels are signified with a Hashtag in front of the topic. All those who are in the team has access to these channels and they are classified based on respective team arrangements. One can easily search respective channel messages with the help of their hashtags.
Activate desktop alerts directly from the preferences option under Slacks;
Have one-to-one discussions through the "Direct Messages" option which is similar to the Instant Messenger function on social networking platforms like Facebook or Twitter. These conversations are private, completely protected and just within two people.
Drag and drop files and records directly into the conversations in Slack;
Sync files by connecting to saved documents in Google Drive or from the Dropbox;
The administrator can add only chosen members to closed groups via the 'Private Group" feature. It is quite close to "Channel" however, the only disparity is that Channels allow the admin to add all team members while Private Group allows only selected associates/members;
Offers a state-of-the-art search tool which is perhaps one of the best compared to that's available in the other project management tools. Allows you to use filters like approximate time period of the post, choosing the right person who posted or with the group hashtags to search;
Available for both the mobile platforms that is, OS and Android.
It is one of the best project management software available in the current scenario. Slack is extremely user-friendly that helps get anyone started instantly with its easy to use interface. You do not need to spend hours understanding the features as you can assimilate it in your daily life right away.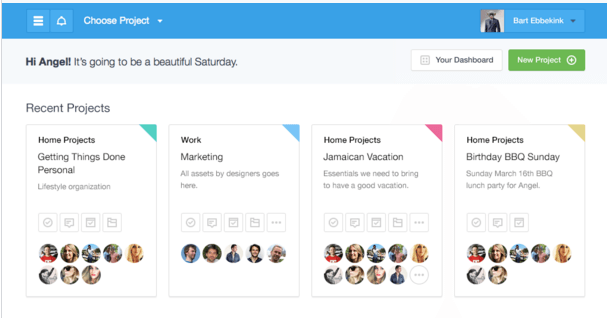 Strategize and co-ordinate online projects or even plan a wedding with the help of this project management tool, Freedcamp. It is a system flaunting an exquisite dashboard design, allows unlimited users and projects, offers countless functions and upgraded for the better communication process. As a new user, once you sign up, you are given access to their basic functions initially and can use their added features at a later stage.