10 Best Project Management Software – Large or small, every business needs an active communication system within. A thriving organization will be able to continue running efficiently only when the management has their ears open for its employees and are able to lead with example. The core strength of the organization lies in an efficient management/administration team and it's their responsibility to maintain peace in the organization by helping all employees work in collaboration. With tasks being assigned to individual teams, it becomes imperative for them to maintain sustain teamwork for the business to function successfully.
However, even with the planning in place, all your saved work can be ruined in minutes with just one blunder which means losing almost an entire empire for a small setup. Therefore, in order to get things done efficiently and get the best out of the employees, you need an institute a credible project management software. This should be able to help teams with sending emails to clients, sending documents across the vertical, managing to-do lists or even for the management to easily assign tasks to the right employee and more all on one single platform. We have listed the top 10 Project Management Software in this article which will help you to choose the one that suits you the best.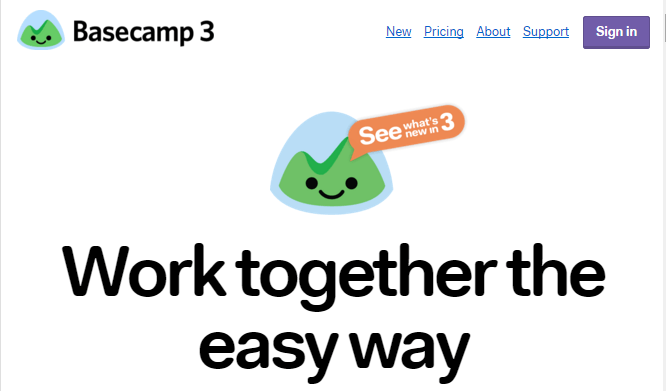 Being a patriarch in its category, Basecamp is contemplated as the most popular project management software available in the recent times. It is an exclusive tool that can help you to efficiently manage your team and implement teamwork. It boasts of all the functionalities that are required to complete a task right from the planning phase till execution.
Key features:
Offers an extremely user-friendly and easy to understand interface that assists you in communicating with your clients and teams.
Allows you to create fresh projects directly from the profile page while you can also send invitations through it to your team associates asking them to join the "Project" feature. You can even create more than one project at the same time.
Initiate "Discussion" forums with each of them assigned to their targeted category of issues.
Members can create projects/tasks under "To-Do lists" and once completed can check the list off.
"Progress" allows you to view your completed work on a specified date, in a timeline pattern.
It also offers features like due dates (deadlines), text notes, attachments, calendar and more.
One of the unique selling points of Basecamp is its "Project Window" feature which helps keep an eye on the completed tasks. This feature that helps lay a strong base for the upcoming projects is the winning point of Basecamp along with a flawless progress window layout. It comes with a free trial for the first 60 days, post which for 10 active users it costs $20 per month and for unlimited users it costs $150 per month which also offers an additional space of 100GB.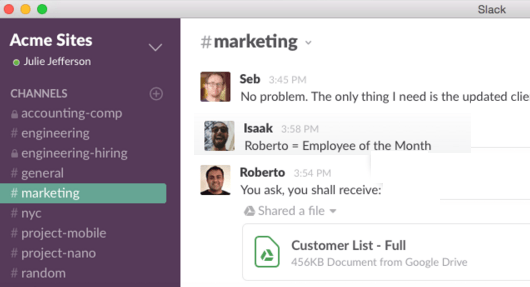 If you own a business and want to move over to a smarter alternative to e-mail or exclusive professional sessions, Slack is just the right option for you. It helps teams across the verticals to communicate and collaborate on a certain project smoothly and efficiently. It offers three main features that the tool basically works on.
Key Features:
Channels are signified with a Hashtag in front of the topic. All those who are in the team has access to these channels and they are classified based on respective team arrangements. One can easily search respective channel messages with the help of their hashtags.
Activate desktop alerts directly from the preferences option under Slacks;
Have one-to-one discussions through the "Direct Messages" option which is similar to the Instant Messenger function on social networking platforms like Facebook or Twitter. These conversations are private, completely protected and just within two people.
Drag and drop files and records directly into the conversations in Slack;
Sync files by connecting to saved documents in Google Drive or from the Dropbox;
The administrator can add only chosen members to closed groups via the 'Private Group" feature. It is quite close to "Channel" however, the only disparity is that Channels allow the admin to add all team members while Private Group allows only selected associates/members;
Offers a state-of-the-art search tool which is perhaps one of the best compared to that's available in the other project management tools. Allows you to use filters like approximate time period of the post, choosing the right person who posted or with the group hashtags to search;
Available for both the mobile platforms that is, OS and Android.
It is one of the best project management software available in the current scenario. Slack is extremely user-friendly that helps get anyone started instantly with its easy to use interface. You do not need to spend hours understanding the features as you can assimilate it in your daily life right away.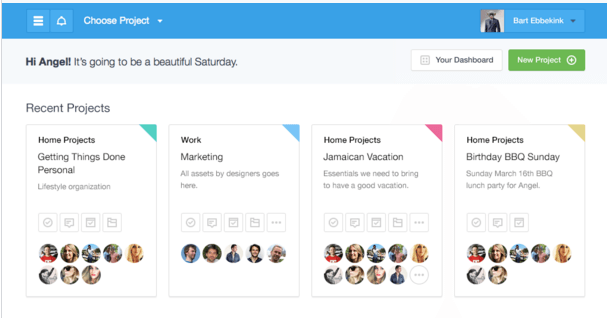 Strategize and co-ordinate online projects or even plan a wedding with the help of this project management tool, Freedcamp. It is a system flaunting an exquisite dashboard design, allows unlimited users and projects, offers countless functions and upgraded for the better communication process. As a new user, once you sign up, you are given access to their basic functions initially and can use their added features at a later stage.
Key Features:
Offers a cost-effective solution for businesses with a free version for infinite number of projects and users;
Has a well-arranged and user-friendly interface that allows you to go through the complete task at a glance;
Even adding an extension is extremely cheap such as the Google Drive add-on costs $2.99 or the CRM integration that costs $12.99;
Comes with storage space of 200MB which can be upgraded from a starting range of $2.49 for One GB storage space;
As an administrator, you have the ability to restrict the individual user authorizations to the client level;
It allows to create tasks, make tasks visible via sticky notes, and arrange them into a calendar;
It also provides features like templates, issue tracking and invoicing.
Though according to critics, the website navigation offers limited learning curve while according to a few others they faced difficulty saving milestones. Apart from lacking some of the functionalities like task support, frequency, subtasks or Gantt charts, they are yet not available on the mobile platforms. However, the mobile app options will be soon available.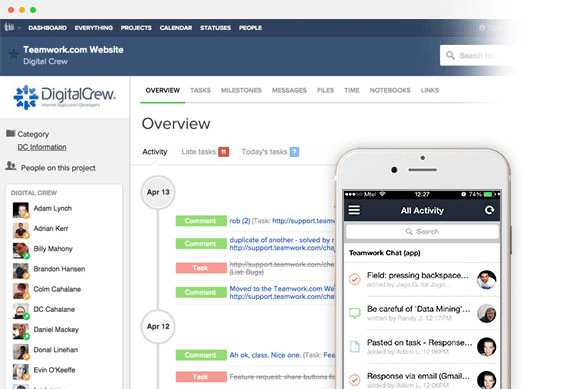 Teamwork Projects is one of the best project management software around that helps teams with collaboration and boost productivity by effectively managing team projects. It allows you to save all your files, tasks and projects in one single field so that you can conveniently work with the team in the alliance.
Key Features:
allows you to delegate tasks to contractors, employees or associates in no time;
It lets you view the entire assignment using gantt chart and the marked calendar and also enable you to arrange for detailed reports;
Keep all team members in the loop by notifying them on project deadlines and goals by adding Project Milestones;
Manage files and documents using apps like Dropbox, Google Drive and Box.com in addition to linking with customer support or software support applications by third-parties;
Keep a watch on the total time consumed on each project helping you to bill clients appropriately, therefore, keeping the assignment within its budget;
Pricing ranges from $12 for a Personal version to starting at $24 for Business, Corporate version tagged at $99 and Enterprise at $149, per month for unlimited users.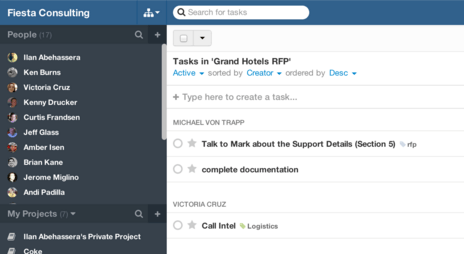 With Producteev you can expect a cost-effective solution to your Project Management needs, as it does not require you to upgrade to the Pro version unless your business needs premium services like individual support, outlook integration, or image customization. It offers project management solutions to its client free of cost and for unlimited users.
Key Features:
Provides faster Task Management solution with an extremely simple approach;
Allows you to control different teams and tasks with the help of its easy to use embedded functionalities;
Provides an option for real-time conversation between members;
You have the option to measure the results and track any developments while the user can convert emails into projects in just a few clicks;
Helps you to set up project reports and activities of team smoothly;
Using the features like timeline, activity information, and notifications you can keep an eye on the real-time analysis of the overall development and plan for the next step for individual teams and assignments accordingly;
Use Academy to transform the project management into a fun activity that helps you to analyze who can perform the best in the competition;
Allows you to filter projects by the name of the member, task/project assigned, deadline date, status and more;
Offers an easy process of file sharing with the help of Dropbox or attachments.
Though with so many explicit features and an easy to use platform, Producteev lacks a few functionalities like, assimilated billing tool or time tracking which can be useful for many users.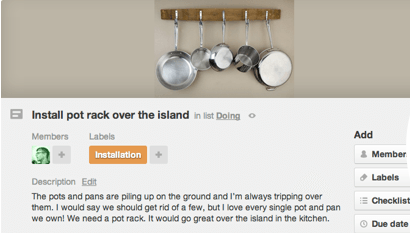 Using a process called Kanban, Trello offers a unique solution to your organization's project management needs. It is considered to be a much simpler team management tool, easy to comprehend and compelling in comparison to other software in the category. Created by Taichi Ohno, the Vice President of Toyota Trello is made of the below features.
Key features:
Lets you shift task representatives in form of cards on the interface which helps develop a visual imprint of the project development location. The cards are peruse the available tasks which include Article Heading under the option "Title Ideas List" related to the Editorial Team;
You can vote on the cards, add a comment or can even share any links for files/documents across the cards.
Integrate files and documents using Dropbox or Google Drive in Trello;
Use Labels to conveniently arrange projects based on the work category;
Offers a Calendar feature (new) to help all team members to work together on their assigned tasks in plain sight;
Manage an entire list of tasks or assignments using Boards which can be anything like, a redesigning idea for a website, or planning a wedding. Keep your task board isolated from the personal tasks by preparing new boards and arranging them under separate businesses within Trello;
Then follows the Lists which is a collection of identical tasks. An identical group of tasks are called Lists in Trello.
Though the software lacks a few features like, no technique available to analyze the assignment in detail such as the option to view list of tasks using due date or individual person, Trello is a straightforward project management app that allows you to use the tool for both personal and work purpose for your small or big organization alike.
Offers a free version for unlimited user boards, however, you can also buy the Gold version for $5 per month, Business edition for $3.75, and Enterprise version is available as Pay as you Go.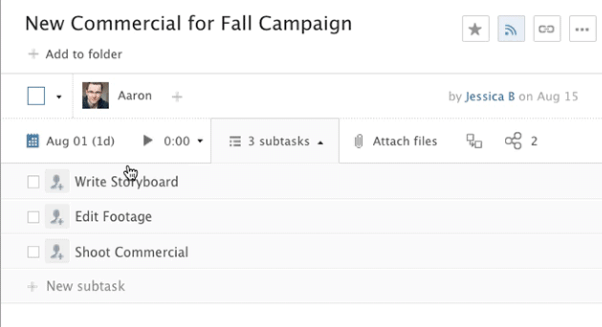 Wrike is one of the leading team management software aimed to assist you with all your needs for an efficient teamwork. It helps you to be on track always for which it offers all the helpful resources to complete the tasks on deadlines and on-cost.
Key Features:
You are allowed to manage and keep a track of all tasks, due dates, time and other roadmaps.
Allows users to work together on a project;
Available in diverse languages like English, German, Japanese, French, Portuguese, Russian, Spanish and Italian;
Helps create tasks easily, involve team members and connect with business apps like DropBox, Microsoft Excel, Google Drive and others;
With just one simple click, transform your emails into projects and make them productive.
Wrike's chief objective is to assist with a streamlined work process and allow organizations to concentrate on the main projects. For the first five users, it is free of cost post which the pricing starts at $49 per month for professional versions.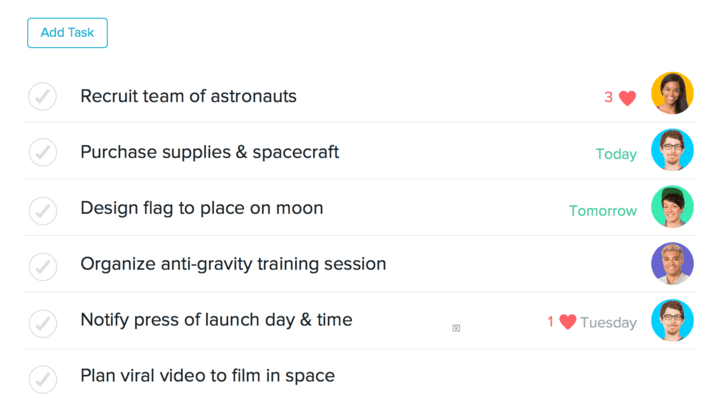 Asana is one of the most popular project management software available online that boasts a user base of 400,000 and around 40,000 clients across the world. And, the great news is that it is absolutely free of cost for up to 15 users. Designed by the Facebook co-founder, Dustin Moskovitz Asana helps take your team conversations to a different level with its highly advanced features and eliminates the use of emails completely.
Key Features:
Quite similar to the appearance of Facebook with a user-friendly interface, Asana helps teams to communicate in real-time;
Offers a dedicated category for Tasks, that helps a user create and assign projects, set deadlines, comment on them, add attachments, link to Dropbox or Google Drive, mark as favorite, mark off when completed and even delete if required;
Same as in Trello, tasks are assigned under a specific project and hence, Projects are higher in the hierarchy compared to the Tasks;
Engage in conversation with your team members by using the comments section;
Using the Inbox which is one of the most robust features of Asana, you can connect and communicate with any of the team members while it also keeps you informed with updates and alerts pertaining to the assigned projects you are working for;
The app is also available on iOS and Android mobile platforms so that you can be remained informed at all times about your projects;
In comparison to its competitors like Slack or Trello, it takes a while for the user to get used to the Asana interface. However, is still a powerful alternative for the mundane email process for team projects and communications with its Tasks and Inbox feature being highlighted as the strongest selling points. It is absolutely free unless you want to upgrade it to the premium version which starts from $21 per month for 5 users and goes up to $750 per month for 100 users.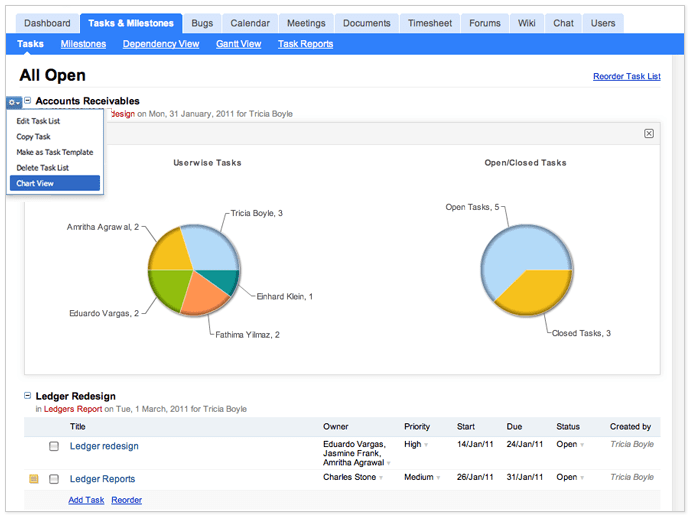 Zoho Projects is a complete solution to your organization's need for team management software that can help individual teams to collaborate efficiently. While it ensures that your task is completed on time, it also keeps an eye on the time spent completing each task for better observation. it offers 10MB storage space with access to unlimited users and there is no limits to any features in the free edition.
Key Features:
It gives you a close feel of the Facebook with its social aptitude;
Allows users to create intricate tasks and assignments using Gantt Charts right on the Dashboard. You can also add tasks, team members, deadlines and more under the to-do list. As an add-on functionality, you can attach a file to the Tasks.
Timesheets and comprehensive reports are some of the other features of Zoho, however, you can also generate reports using the 50 0dd pre-designed templates.
Keep an eye on the updates and status conveniently by creating milestones for finishing a project. Adding Milestones will also let you add more members, deadline for the task and a Milestone banner;
The bug tracker offers a neat interface that helps manage bugs using personalized workflows, company regulations that make the tracking process smooth and easy;
Help keep a record of your working time, export information and create reports in a jiffy using time-sheets;
Helps you generate files right on the browser with no additional tool to be installed. Also, you can label the files and keep a watch on any updates on the version history;
Available on iOS and Android mobile platforms keeping you updated on the go;
You can use it as a social networking tool and post your status visible on other podiums.
The only concern here is that if you are using the free version of Zoho will devoid you of the file management setup due to its limited storage space of 10MB, however you can avail of more space with an upgraded version that starts from $20 per month for 5GB storage to $80 per month for unlimited tasks and 30GB space.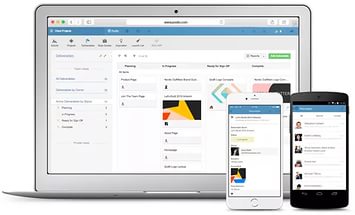 Podio is a smart project management software providing solutions for your business related to team management and other internal purposes. This provides a unique feature that lets you build your own tools and make it work the way you want for your project. It is an all round podium for controlling projects while you use it as a CRM tool and intranet.
Key Features:
It provides an extremely user-friendly and adjustable platform to operate your projects that help you complete tasks successfully;
Customize the interface according to your business requirements while it also helps you communicate to your team members, create task management, make use of it as document storage mechanism and more;
It works as an intranet for the internal departments where you can connect to departments within and also with your team mates;
Use it as a CRM system that lets you connect to your clients, know them better, hit more deals and therefore, efficiently manage your business association;
Arrange events skillfully with Event Management and conveniently keep a watch on your overheads, members, and your team projects.
Podio offers its free version to up to 10 users post which it starts at $9 per month.