Playing a YouTube video always comes along with scrolling through the YouTunbe comment section. But what if you have started to play YouTube and you are scrolling down and down, but can't find the comment section anywhere? YouTube without the comment section is as lame as the peanut butter sandwich without the butter. There is nothing to worry about. Just go through this list of solutions so that you can enjoy YouTube comments without any more worries.
Workarounds –
1. Before you proceed to the technical solutions, refresh the YouTue webpage once.
2. Check whether YouTube is down or not from Downdetector.
3 – Try to login in youtube if you are not logged in.
If it is down, you just have to wait for YouTube to go back to normal.
Fix 1 – Turn off the restricted mode
YouTube has a restricted mode that filters out all the matured videos. Sometimes, it can block comments on YouTube videos.
Step 1 – Open YouTube on your browser.
Step 2 – Do not play a video. Instead, tap the account icon on the left corner and click "Restricted Mode".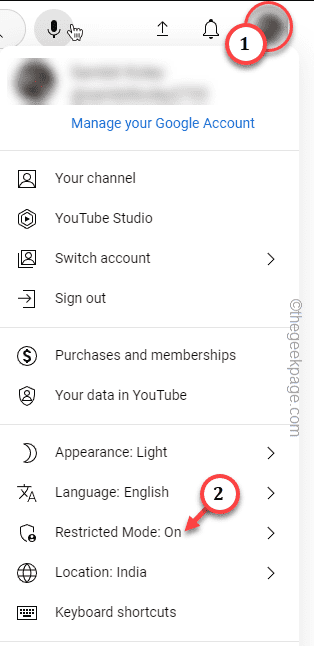 Step 3 – Turn the ACTIVATE RESTRICTED MODE option off.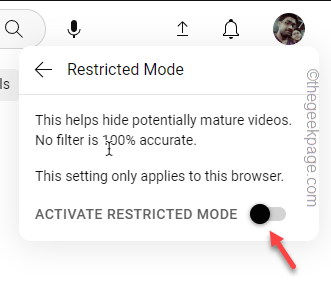 YouTube will automatically refresh the webpage. Now, open any video you want (except the videos for kids) and the comments will show up again.
Fix 2  – Make sure Comments are allowed
Getting no comments on your own videos? Well, you may have disabled users to comment on your own videos.
Step 1 – On the YouTube page, click on your profile photo and tap "YouTube Studio".

Step 2 – Then, tap "Settings" on the left pane.

Step 3 – Next, go to the "Community" from the left pane.
Step 4 – Go to the "Defaults" tab.
Step 5 – Now, choose "Allow all comments" and click "Save".

Reload the YouTube page once. Now, check your videos from other accounts. The comments will start to show up again.
Fix 3 – No comments for Kid's videos
YouTube Kids or any kind of Kid's video doesn't have a comment section. On those videos, you will get the "Comments are turned off" instead of the comments. Even in these videos for kids, if you have commented earlier, you can see any of them. So, check whether the video is meant for kids or not.
Fix 4 – Disable the Kids channel tag
YouTube has a certain policy where you can directly set the channel to a kid's channel, which then blocks the comments on all of your uploaded videos.
Step 1 – After opening YouTube, tap your image icon and tap "YouTube Studio".

Step 2 – Go to "Settings" once more.

Step 3 – There, click "Channel" on the left pane.
Step 4 – Go to the "Advanced settings" tab. Set the "No, set the channel as no made for kids, I never upload content that's made for kids".
Step 5 – Finally, tap "Save" to save the changes.

From now on, all the videos you upload further will have a comment section with viewers' comments.
Fix 5 – Disable or remove any YT extension
Have you started to use any adblocker or YT enhancement plugins? These plug-ins do have the power to block the YT comment section.
Step 1 – Open Chrome.
Step 2 – There, write this in the address bar and hit Enter.
chrome://extensions

Step 3 – Look for any ad-blockers or YouTube enhancement plug-ins. Disable all of those.
You can go one step further and remove them from the browser.

If you have an opened tab on YouTube, reload it.
Check if this works.
Fix 6 – Try another web browser
If nothing else has helped, consider trying another web browser. Like, if you are using Chrome currently, give MS Edge a try.
Step 1 – Close your main browser.
Step 2 – Just open another browser (like Edge or Brave) and launch YouTube there.

Step 3 – No need for you to sign in using your account. Stream a video and check whether you can see the comments or not.
Step 4 – If you can see the comments, log in and continue to use it there.
See if this helps.
Fix 7 – Uninstall and reinstall
If you are using the YouTube app on Android or iOS, uninstall it and reinstall the latest one.
Step 1 – Just launch PlayStore.

Step 2 – Type "YouTube" in the search box.
Step 3 – Then, click "Uninstall" to uninstall the YouTube app.

Step 4 – Install YouTube once again and test.
Check if this works.
Additional Tips –
1. If none of the above-mentioned solutions work, try simply signing out of YouTube and signing into your account.
2. If you are using the YouTube app, open YouTube on a browser. Sign in using your account and try to watch the same video.
Check whether the comments appear.