As a new Minecraft player, the first thing you check out is the Minecraft Marketplace. But, what if it says "We are unable to connect" while you try to open the Marketplace? You won't be able to trade anything or get into new realms without a marketplace. So, you have to manually fix the issue.
Workarounds –
1. Are you using a modded or an old Minecraft client? The marketplace isn't available to any third-party app. If you have an old Minecraft app, update it to the latest version to enjoy the marketplace.
2. After opening Minecraft wait for a few minutes before you go to the Minecraft marketplace. Usually, the marketplace needs some time to load up all the components from the server. So, it should operational after a few minutes of startup.
Fix 1 – Set to automatically update unlocked packs
Perhaps you have unlocked a pack but you have to set it to download and unpack only on WiFi. This may have caused this issue.
Step 1 – Launch Minecraft, if you have exited it already.
Step 2 – When it opens up, click "Settings".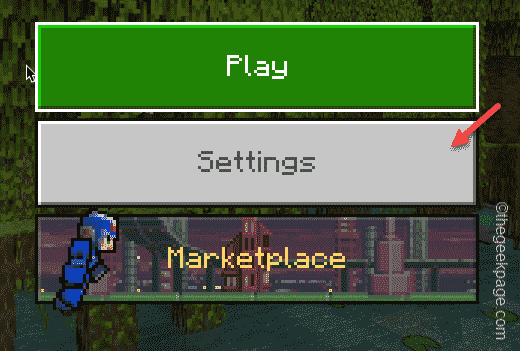 Step 3 – Now, head on to the "General" on the left-hand pane.
Step 4 – On the opposite side of the Settings page, you shall find the "Auto Update Unlocked Packs" in the Network Settings.
Step 5 – Just turn this feature On.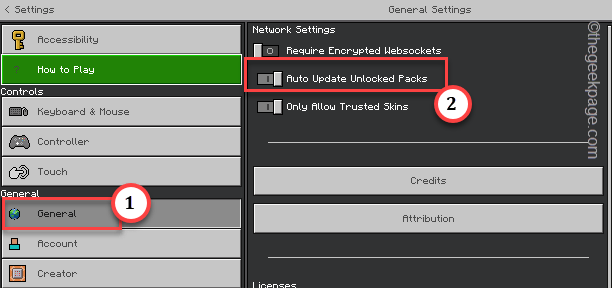 Close Minecraft Settings after doing this change.
Now, just wait for a few minutes until Minecraft Marketplace comes alive.
Check whether Minecraft Marketplace loads up after this. You will get back all your purchased Minecoins again.
Fix 2 – Close Minecraft on multiple devices
If you have Minecraft running on multiple devices simultaneously, you should close all of them and retry launching the app.
Step 1 – Close Minecraft. If you are using the Minecraft Launcher, close it also.
Step 2 – If you are playing Minecraft on any other device (such as mobile) these are your instructions.
a. Close Minecraft on mobile. Do not just minimize it in the background.
b. If you are playing Minecraft on PS5/PS4 or any version of Xbox, use the designated menu section to exit the game.
c.  For all the Nintendo Switch users, use the buttons to highlight Minecraft and press the X button to terminate it immediately.

Wait for a few minutes.
Step 3 – Then, relaunch Minecraft once again. Make sure you are opening it on a single device and not on any other device.
Step 4 – Wait for the game to load up. When it goes to the home page, wait for at least 15-30 seconds. The marketplace won't be available right away.

Step 5 – Usually, the marketplace takes up a few seconds to load up. This is completely normal.
(If you are using Nintendo Switch, this loading time can be around 120s.)

Now, you can easily get into the marketplace and trade the items once again.
Fix 3 – Try to open Marketplace
If you have multiple devices, do check whether the marketplace is accessible from other devices running Minecraft or not. Usually, if this is occurring on a single device, then it can be the fault of that particular device. In that case, we suggest you follow the steps of Fix 5 to uninstall and reinstall Minecraft following the next steps.
Fix 4 – Uninstall and reinstall Minecraft
The last solution is to uninstall everything related to Minecraft and reinstall the latest version of it.
Step 1 – Open Settings. Pressing the Win key and the I key should do that.
Step 2 – There, head on to the "Apps".
Step 3 – If you look at the other part of Settings, you will find "Installed apps". Open that.

Step 4 – Inside you will find a search box. Type "Minecraft" there.
Step 5 – You will notice Minecraft in the search result. So, click the button beside the app and tap "Uninstall".

Step 6 – To uninstall the Minecraft launcher, you have to click "Uninstall" once again to remove it.

Close the Installed Apps page.
Now, you can install Minecraft from anywhere.
If you are using Minecraft Launcher, you can get it from these locations –
Xbox  (It actually reverts you to Microsoft Store)
Otherwise, if you were using Minecraft Java and BedRock Edition, you can get those directly from MS Store. You won't face the marketplace issue again.