Trying to draw out your business ideas into a graphical structure? Gone are the days when you would write down the core idea on a piece of paper and create branches for the sub-ideas leading to the strategy. This is the time of technology, and therefore is the best time to leverage the benefits of a mind mapping software.
These tools not just ease the entire process of bringing your thoughts into diagrams, but they also help make the presentation effective and easy to understand. Moreover, you get an unlimited canvas for endless brainstorming and does not limit you to a confined space.
They also allow you to add attachments like images, links, or any other related files. While you can collaborate with multiple users using the mind mapping tools, you can also comment, share or sync across devices. Best of all, you can even save the maps and edit them again future if required. You are even allowed to share and export the maps online.
Here are some of the best mind mapping software that we handpicked specially for you.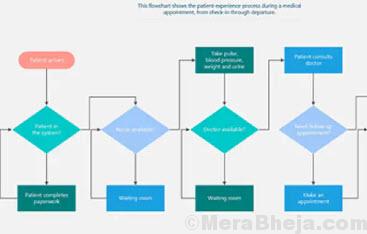 A Microsoft Office product, Visio offers a visual platform for all your ideas. Above all, it makes diagramming a cakewalk for all. Using this tool, you can easily design flowcharts, engineering charts, org charts, diagrams, and more. This responsive tool offers modern shapes and templates to work with, making easier for you to create the diagrams.
Moreover, it makes even better for those who want to collaborate on the Visio flowcharts. It offers them an in-depth view of all those involved. Best of all, multiple teams can work on the flowcharts concurrently. It also allows you to gain real-world understanding by helping you connect flowcharts and diagrams.
Applied shape formatting is another feature that updates the flowcharts automatically to apply any modifications in the hidden data. It's also available in form of web version that helps you work on diagrams using your browser.
Price: start from CAD $6.40 per user/month

The tool allows you to make attractive boards, structured documents, and professional-looking webpages. The best part is, these creations are easy to read and fun. While it allows you to choose a pre-designed template from their collection or you can create your own on the blank canvas.
It also allows you to invite team members to add comments, content, and make live edits. Among its other significant features are, option to add photos, videos, music, web links, and documents, and also the option to share your creation with your friends, fellow students, colleagues, and with anyone you wish.
Price: 30-days free trial available; plan starts from $12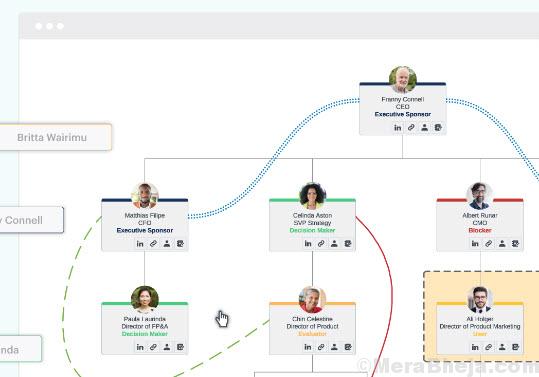 If you are looking for a mind mapping tool that also keeps your data secure, then there's no better alternative to Lucidchart. This is a complete web-based tool that helps you create attractive diagrams on a visual workplace that's also perfect for data visualization and collaboration.
Whether you want to increase your network, optimize productivity, quickly make big sales, maintain the projects on time, or identify employee needs, it helps you to manage all your business-related data visualization requirement with ease.
Price: Free version available; pro version priced at $9.95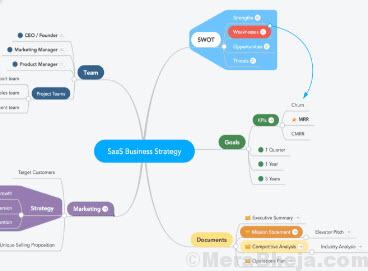 This web-based mind mapping tool allows you to record, create, and share ideas in a visual format. The best part is, being an online tool, it does not need to be downloaded and updated. It allows you to share your mind map diagrams with friends or co-workers in real-time. This helps people view your ideas across the world immediately. In fact, collaborators can even comment on topics, vote, and even discuss any modifications on the built-in chat system, quickly.
The integrated presentation mode helps you transform your mind maps into attractive and powerful slideshows instantly. You can even export the finished ideas in PNG format, embed the presentation, or even go for a live broadcast for your collaborators.
Price: Free version available; pro version starts from $4.99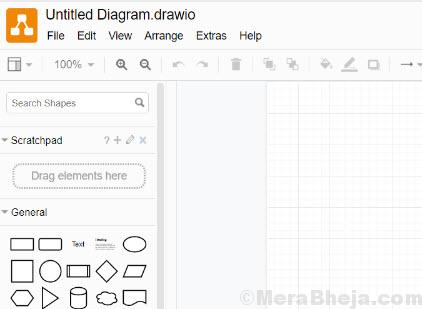 This is one of the leading software that offers you a platform for unlimited creativity for free. Creating mind maps is one of them. It features an extremely simple interface that offers the to drag-and-drop your ideas from your Google Drive, One Drive, Dropbox, GitHub, GitLab, or Device easily. You can also import your already saved ideas from other platforms like Lucidchart, Gliffy, and more.
It allows you to insert text, links, images, colors, and shapes, and connect them with lines. The best part is, it's completely web-based and requires no login. You can also take advantage of one of its other integrated apps named – Samepage that offers real-time collaboration and comments from co-workers.
Price: free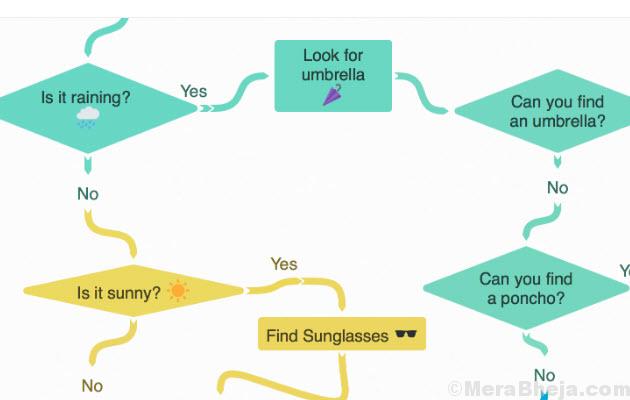 Let loose your creativity with Coggle that helps you to generate notes fast and easy. It also allows you to share your work with friends and co-workers in real-time while helping you to work in collaboration. You can even review all the changes to a map and then create a copy from any point to go back to an older version.
Option to upload unlimited images using drag-and-drop, feature to insert text labels and images to explain sections of your map, option to connect branches and make loops for dynamic and flexible maps, ability to add multiple starting points, or facility to create unlimited private diagrams are some its major features.
Price: Free version available; upgrade starts from $5/month.
This online-based mind mapping tool lets you design flowcharts and diagrams, and then share and publish, all for free. You can create endless maps, and even save them in the cloud. This allows you to access your mind map creations from any device, anywhere. It offers dynamic keyboard shortcuts that help accelerate your work.
You experience increased focus with the friction-less interface. Best of all, it also allows you to save your creation in Google Drive and help you manage via Google Apps effortlessly. You can also convert the maps into different formats like PDF, PowerPoint, and more, effortlessly.
Price: Free version available; upgrade starts from USD $25/year or USD $2.99/month
Mindomo helps you to create mind maps that are collaborative, based on concepts, outlines ad Gannt charts, for all your requirement. It does not just focus on improving the overall productivity, it also allows you to come up with more ideas and improve the learning success.
From helping you to connect dots and get the big picture, to designing your plan for success, it assists you with all that and more with concept mapping.
Price: free version available; upgrade starts from €6/month
Scapple allows scribbling your ideas on a virtual paper environment instead of putting it down on a real paper and join lines with related ideas. The best part is, the tool does not push you to create connections and rather keeps every note equal. It allows you to have total control on the notes and accordingly decide which one will have connections.
All you need to do is to double click on any section of the page and simply drag-and-drop to connect between ideas. What's more? You can even move notes all over the space, but still, never run out of it. It also offers full-screen mode, option to export or print the ideas, and also the facility to drag notes into Scrivener.
Price: license starts from Rs. 1122/-
MindManager is just the right mind mapping tool you need to arrange all scattered concepts in one place and connect the related information. It basically allows you to structure the project plan into communicative visual maps making it easy to understand, adjust, work on, and share.
It's a virtual whiteboard that allows you to record ideas and data, fast. It then arranges the data and review them then and there. You can also drag topics around, join connections between ideas, and arrange notes, links, and files accordingly. It also allows you to keep a check on due dates, resources, deliverable, priorities, etc. in a shared visual environment.
The tool is also adept in finding solution for problems related to missing data, wrong communication, and surplus. It solves the problems by gathering all the data from different people, places, and platforms into one single dashboard.
Price: starts from Rs. 20, 563.12/-
This effortless and dynamic mind mapping software comes in both desktop and online edition for user convenience. Also, if you are looking for a Visio alternative, this is definitely a great buy. It's compatible with Mac, available online, and works even on Windows. It comes with the finest capability in import and export and is much easier to understand in comparison.
It's a much powerful tool and is convenient to use compared to others in the category such as the ones that come with the MS Office and G Suite. You can also add any of the drawing made in the SmartDraw tool to other platforms like Word, Excel, Google Docs, PowerPoint, etc. Best of all, it's compatible with all makes of tablets and computers. From flowchart to floor plans, it features a wide range of quick-start diagram templates in over 70 different styles.
Price:
Bubbl.us lets you unleash your creativity by letting you map team hierarchy, design a process, make a book synopsis, and more. It allows you to present your ideas into a graphical pattern that's easy to understand and visually attractive at the same time.
Some of its advantages are, it's completely online based and so, there's nothing to download, lets you create presentations in one-click, allows you to save your ideas into image format, helps you to create colorful and attractive images, and allows you to share and work in tandem with others.
Price: Free version available; upgrade starts from $4.91
Mindly is designed to record, arrange, and create your ideas by helping you stay focused. It basically helps you get done with too much of typing, formatting, or adapting. It allows you to summarize the main points using associations. It is a perfect tool to shorten your entire idea into an effective visual map making it easier for you to understand in lesser words in a structured manner.
The tool is known to use a natural way to arrange your thoughts in a logical sequence. Best of all, you can even share the final project plan with friends and co-workers from any device.
Price: Starts from $6.99
MindGenius is especially good for project management, where it helps with brainstorming the required actions for your project. It basically converts your ideas into a full-fledged project plan complete with planning, scheduling, and reviewing small to mid-sized business projects.
It's also useful for students and educators by boosting their creativity. It helps them create online courses, outline lessons, and also create meeting agendas. You can also capture and arrange concepts and details, visually that helps you think and communicate clearly and effectively. It also allows you to review the details using filters and categories.
Price: free trial available; subscription starts from $188.80
If you are looking for Java written mind mapping software, there could be no better option than FreeMind. The best part is, it's a premier free tool. This productivity tool operates and navigates much faster compared to the competition by operating it's "fold/unfold", and the "follow link" features in a single click.
Among its other significant features are, quick single-click navigation, smart options like copying and pasting into/from, drag-and-drop, option to export maps to HTML, support for folding, following HTML links, and more.
Price: free
Conclusion
Having ideas is one thing, and bringing them to reality in another. These mind map tools help you create the most professional and easily understandable maps with ease. Whether you download software or simply design your diagrams online, these best mind mapping software programs ensure that you get the best output and can collaborate comfortably with all your team members. So, get on to any of these platforms, and start creating mind maps today!