Generally, when you delete a file from the system, it is stored in the recycle bin. Based on the recycle bin settings, the file will be automatically deleted from the system after some time. Meanwhile, if you want to restore the file, you can do so. Mostly, when you try to delete a large file from the system, you see a Dialog popping up stating –
This file is too big to recyle. Do you want to permanently delete it?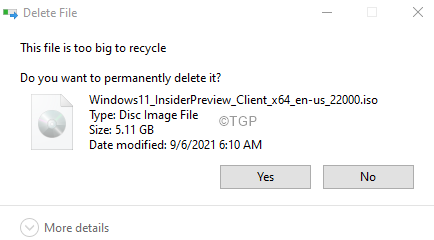 You can opt for Yes or No based on your preference. If you click on Yes, the file will be permanently deleted from the system. It won't be stored in the recycle bin.
Reasons to see the above message :
The allocated size for Recycle Bin is lesser than the size of the file to be deleted.
There is no free space to accommodate the file in the recycle bin.
If you see this message while deleting and you are OK with deleting the files permanently from the system, try the following
Click on the Yes button from the above Confirmation Dialog.
Click on the file that is to be deleted. Press the keys Shift+ Delete at the same time.
If you do not want the files to be deleted from the system permanently and want to store them in Recycle bin for some time, try the following fixes:
Fix 1: Free up some space in Recycle Bin
The error message is shown when the recycle bin does not have enough free space to store the file. Clearing up some space would help.
Step 1: Open Recycle Bin.
Step 2: Select the files that are no longer required.
Step 3: Right-click and Delete the files.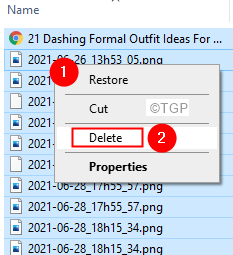 Step 4: If you want to delete all the files from the bin, from the top menu, click on Recycle Bin Tools
Step 5: Click on the Empty Recycle Bin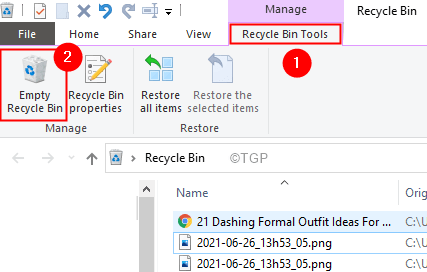 Step 6: Now, try deleting the file again.
In case this does not help, try the next fix.
Fix 2: Alter the size allocated for Recycle Bin
Step 1: Open Recycle Bin App.
Step 2: Click on the Properties icon as shown in the below screenshot.


Step 3: Choose the Recycle Bin Location
Step 4: In the Properties window, under Settings for the selected location section, click on Custom Size
Step 5: Enter the size you want to allocate in MBs.
NOTE: The size should be more than the size of the file you want to delete.
Step 6: Click on Apply and then click on OK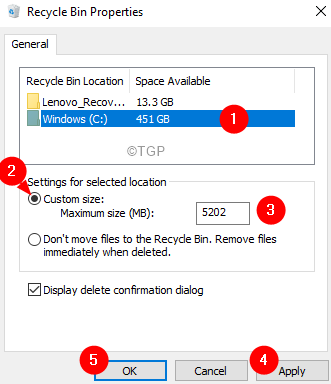 Step 7: Now, try to delete the file.
That's All
We hope this article has been informative. Thank you for Reading.
Kindly comment and let us know if you have found this helpful.
Stay tuned for more tips and tricks.