As of May 1, 2015, RSS Graffiti will no longer be available on either a free, or paid, basis to power Facebook automation for you.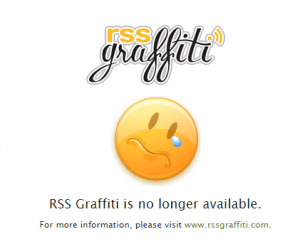 This was the message which was posted on Rssgraffiti website from 01 May 2015.  Rssgraffiti powered facebook pages for years, but unfortunately it could not sustain its business model with its inability to force users to pay for its services. As of now it was powering 3 lac+ pages on facebook. It was free and hassle free way for bloggers or webmasters to post updates to facebook based on their rss feed.
Now if you are a blogger or webmaster, you must be searching for alternate ways to auto post to facebook, as it seemed to be only app or service available of its kind. Now, here is an article trying to find alternatives to this amazing service.
RSS Graffiti  Alternatives
1) Twitterfeed –  Twitterfeed still does it. And the favourite thing about this service is thats its completely free. It was used for feeding posts to twitter. But you can use it to auto post to facebook.
2) HootSuite – Hootsuite also allows you for message management for ypto three social networks. It also allows you to schedule your posts.
2 ) IFTTT– IFTTT serves recipes for automation on web. You can create recipes for anything. For example , if twitter then flickr, or if wordpress then facebook etc.
Here is IFTTT recipe for if wordpress then facebook.
The only thing which concern several users is that they are skeptic to activate wordpress or facebook through IFTTTT as they may think how secure is the service.
3) Plugin – You can also use wordpress plugins to auto post to social networks like facebook, twitter etc. One of the most used plugins for auto posting to facebook is Social Network Auto Poster. Its rated 4.3 out of 5 and is downloaded more than 1 lac times from wordpress plugin repository. Other good alternative plugins are –
4) If you are a PHP geek, you can try a painful but foolproof method and fully independent method  .Here is a tutorial to do auto posting via PHP. Although it requires programming skills, but its ok to take the pain in the start rather than being dependent on external services and feeling the heat once they shutdown.
5) Buffer – The Middle Path – You can choose a middle path  also in which you have to do a single click after posting your article. What you have to do is to sign up at buffer and install their chrome extension. Then just after you finish posting, just click on share post by buffer to share automatically to multiple social netwoks like facebook, twitter, Linkedin and Google+.

Paid Alternative
6) Divr is an service which checks your feed for updates every few minutes and then post to various social networks including facebook. The basic service is free and you can choose to upgrade to premium service when needed.