Whether it's a small or a big organization, every business needs to build upon the audience. The more the audience, the more the chances of increasing your memberships, and thus, the possibilities of your business growing. For a consistently growing member list, you must focus on managing the memberships, and engage the members.
However, managing so much manually can be challenging and so, using a membership management software is a better idea. This will help you to easily manage the membership-related tasks such as enrolling, adding, upgrading subscriptions, and more. The primary aim of this software is to provide support, on-time service, timely renewals, and customer service.
Here's a list of some of the best free and open-source association management software for those companies looking for a cost-effective option.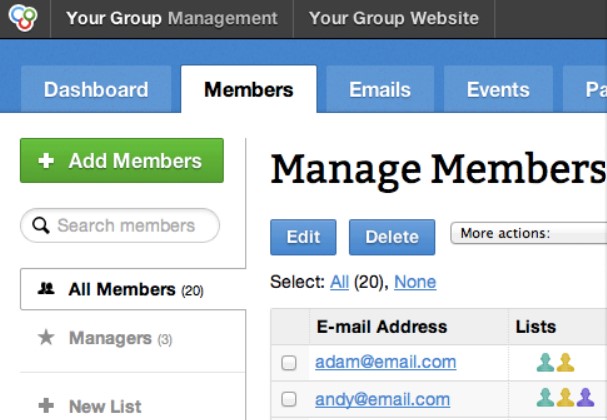 With this software, it's all about running a group efficiently. The main aim of this program is to remove any stress from managing your groups while adding some fun to the entire management task. It features a solid member database, offers web membership forms, helps you accumulate membership fees and pending bills, and controls the member lists, outstandingly.
Features:
It allows you to receive new member registrations by filling a form online.
Option to create several email lists for teams, subclasses, etc.
Lets you share expert email newsletters and monitor prices.
It helps you to gather outstanding payments with no follow-ups with cash/checks.
Assists you to arrange events, send invitations and sell tickets.
Maintains all your member data in a single platform.
It allows the management team to access the group admin.
Offers a web shelter for your group.
Best of all, it offers direct access to the platform for its members and so, they do not need to create any accounts. It helps you create attractive email letters, features extremely easy email lists, takes care of memberships, monitors site opening and clicks, and stores all activities online.
Price: Free and open-source; Premium version starts from $14.99.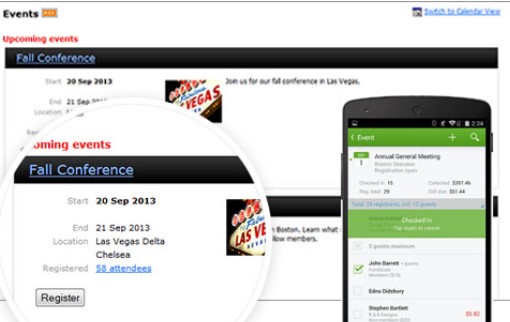 This is another great membership management software that helps you automate and streamline the process of subscription for everyone involved. The best part about this software is that all your data is safely stored in the cloud helping several users to get their hands on it from any device.
Features:
It streamlines the membership registration by automating the process.
It helps you create an online and mobile-compatible form.
It allows you to customize the rules related to the application processing based on your needs.
Lets you offer memberships for teams, members, and families.
It offers the option to customize confirmation emails for applications.
It allows you to accept credit card payments online thereby, eliminating the need for check or cash payments.
It also unifies with WordPress websites.
Automates the renewal process by sending automatic alerts and bills.
It allows you to establish recurring payments for subscription charges, quickly and effortlessly.
You are also allowed to arrange for multiple rates, renewal strategies, and set up directives for access to individual membership plans.
It allows you to customize your member details by sharing and updating their details live.
Helps the members to securely update their contact details on their own, enroll for events, pay for and renew memberships, even on the move.
Option establish several and forever updated member database for your enterprise.
It allows you to build a mobile-compatible website or embed subscription features to the current website.
Overall, from being able to look up easily or share your database or option to customize subscription levels to automatic renewals and live database updates, it offers a wide range of features.
Price: Free and open source.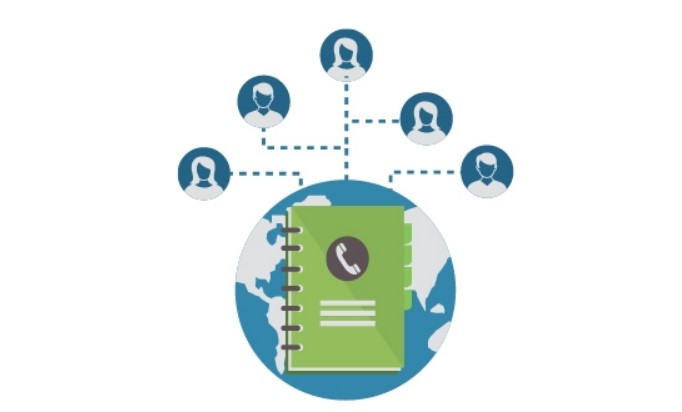 Those looking for a cloud-based membership management program can find this software useful. This open-source software is specially designed to meet the needs of charitable organizations, public sectors, and subscription-based companies. It lets you manage your data, unifies with applications like WordPress, Backdrop, Drupal, and Joomla, supports non-governmental setups and businesses, and can be easily customized and extended.
Features:
Easy to use, superior-quality, and trustworthy software that's compatible with all major platforms and devices.
Automatically saves all data for individual contacts in a single location.
It offers the freedom to look for an efficient programmer who can customize your installation based on your requirements.
Allows members to register and pay for their subscriptions on the web, individually.
It allows you to add your gifts to the application and export them in the desired accounting format of your system.
Enables companies to design, control, and monitor easy or refined management processes.
Offers a complete range of tools that help run the events and capture member's attendance.
Creates and takes control of email lists in bulk.
It also allows you to categorize your lists, perform A/B analysis, and track data.
Executes and manages donations, sends gratitude emails for contributions, and creates a data report.
Creates recommendation promotions by connecting and monitoring the performance of the promotional events, donations, mailings, etc.
Moreover, it allows your subscribers and contributors to raise funds in support of your enterprise, offers the option to select from the 40 usual reports and design a report of your own, and unifies the software straight into the CMS.
Price: Free and open-source; Pro version starts at $0.01 as a one-time payment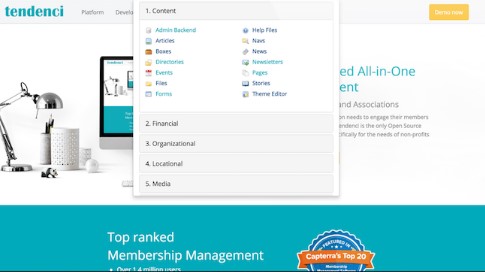 This is one of the most popular association management tools in the category that helps you to keep your members involved and expand your business. The software is specifically developed for charitable organizations and unions. It features an easy to use interface, profit-making apps, and integrated communication utilities for the growth of the business. Best of all, it does not require any admin fees or long-term agreements.
Features:
Helps you to manage member registrations, different types of members and associations, member database, renewals, and custom graded approvals.
It allows you to create a fresh even instantly right from the program website using the built-in events calendar component.
It provides the option for online donations and streamlines the entire process especially for professional or charitable companies.
Equipped with a simple interface that offers you access to a range of resources that help you to control and arrange the content on your website without any HTML knowledge or skills in programming.
Comes loaded with a digital media administration bundle that helps you systematize, accumulate, and share media content (images, videos, and files) on your website in a secure manner.
The web business database allows you to display your fundraisers or the associates of your choice, on your website.
It allows the members to raise queries and get replies from counterparts on its community forums.
It provides the option to members to sign up and pay online for job listings that make for a revenue source for you.
Freedom to add blogs, articles, and press releases related to the industry.
Offering reports that cover invoices, memberships, events, etc., newsletter builder that picks up content on its own like latest posts or events, integrated SEO facility for organic listings, intuitive design that's mobile-compatible, effortless assimilation or a range of pre-designed themes are among its many other significant features.
Price: Free and open-source; Pro version starts from $199/month.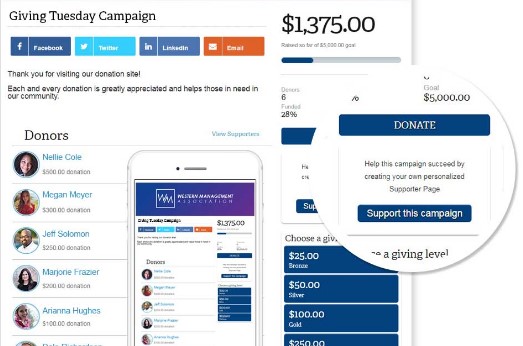 This application makes it seamless for you to add your association, monitor activities, helps you to view the reports, and make the renewal process automatic, all under one place. This helps you to save time that you spend on admin related chores and use that time for extending your group.
Features:
Automates the process of membership, allows to bring the group easily, offers a range of tools to increase productivity, and streamlines the company's everyday functions.
It allows you to convert your event into an interesting experience and widen the base of your purpose.
It helps you to raise funds by building your own contribution page and allowing your followers and their counterparts to support your cause.
Enables you to communicate with members using any medium of your choice, for instance, emails, texts, social media, or websites.
Lets you create a smooth user experience and acknowledge payments from subscribers based on their preferred methods, location, and time.
Moreover, it also allows you to design an engaging website supported with all the essential API alliances, brand, and CMS functions and offers a mobile app from where you can share the latest updates, gather dues, and use the membership cards on the move.
Price: Free and open source. Pro version starts from $50/month.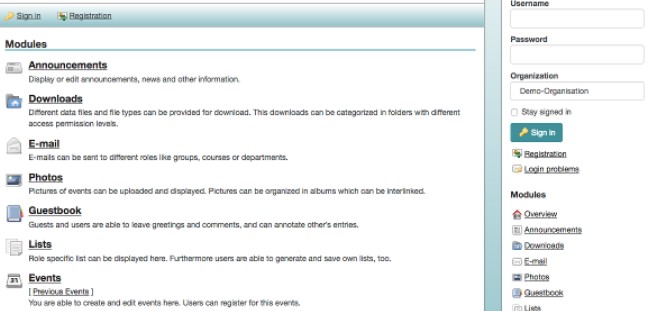 This program offers a set of free tools critical for your business. It helps you to manage a wide range of features essential for your partner, group, and company easily and in just a couple of clicks. It features a range of modules that can be placed and modified on a fresh running homepage.
Features:
Keeps the member date secured from unauthorized access.
Facilitates easy configuration of membership lists.
Option to export all lists to Excel, CSV, or OpenOffice.
Manages appointments and declarations with iCal export.
It offers free customization of groups, divisions, and functions.
Assigns individual rights to groups, divisions, and functions.
It allows you to upload images, and even view and manage them in the image gallery.
It offers the option to import fresh members from a CSV file and customizable profile fields.
Option to modify the layout using multiple plugins, access to member and organization directories or guestbook with the option to add remarks are some of its other major features.
Price: Free and open source.
This program is specifically developed to offer a central location from where the enterprises and businesses can run their tasks and even automate them.
Features:
Manages a personalized set of contact directories and manages accounts of a cluster of members and contacts.
Assists you with managing membership by automating online enrolments, payments, invoicing processes, recovery of lost passwords, renewals, sending reminders, and more.
Unifies with a number of payment gateways such as PayPal, Stripe, etc.
Supports several product types in the shopping cart.
Offers flexibility in billing by applying fees in a routine manner.
It allows the members and users both to manage their memberships straight from the website.
Different types of pricing options while creating invoices and effortless invoice creation are some of its other important features.
Price: Free and open source.
ClubMaster
This free and open-source software is written in PHP and its entire aim is to develop an end-to-end subscription that is completely free of cost and yet features all the essential functions for a business.
Features:
It offers the entire history of the members and their account profile.
It allows you to manage a number of outstanding payments and billings.
Easy to use admin and user interface.
Powers court bookings, team memberships, manage events, position lists, and more.
It also integrates with Quickpay, E-conomic, enters user activity, manages clients at the kiosk, and so on.
Price: Free and open source.
MembersGear
It helps you manage your membership-based website with all the essential tools. Coded in PHP, the software allows easy unification and customization with your custom design. It offers single and recurring memberships and is added right into the affiliate market for increased visibility.
Features:
Offers member database, helps with payment processing, manages websites, and accommodates different types of members.
Provides support for member affiliate plans, helps with selling different products, manages endless groups.
It comes with a user-friendly interface, integrates with Excel, offers widgets and plugins, sends member email alerts and more.
Price; Free and open source.
Conclusion
So, if you want to save most of your time in managing membership tasks easily, improve member engagement, and make your services stand out, these programs can be of great help. These software programs automate the process saving your time, save and maintain the data in the safest manner and focus on increasing business efficiency. However, before you choose one, make sure of its popularity, if it offers all the required features, look for its user count, if it provides any update, a number of years in business, and verify the terms and conditions. Once you are done with your research, you can rest assured that you have the right membership management software at your service.