Many iPhone users have started expressing their frustration about an issue with their iPhones. They are experiencing the white screen of death on their iPhones. The white screen of death means no matter what you do or how many times you tap on your iPhone screen, it turns white all of a sudden and remains like that.
It does not even show any icons or background images set on the screen but a plain white screen. This is making users quite disappointed and not sure how to resolve this issue. This problem could be mainly caused due to the internal parts damage done by the user because of negligence, minor software glitches, etc.
However, don't worry if you have the white screen of death issue on your iPhone too. We have listed out and explained a few fixes in detail in the article below.
Workaround
When the battery percentage is very less to start the iPhone and running, it might get stuck at the white screen at the beginning and remains like that. Well, in this case, you need to connect your iPhone to the charger and place it for charging till it reaches a sufficient level to start your iPhone.
If any user has recently dropped their iPhone on a hard surface/rough ground or immersed in a water pool by mistake for a quite long time (though it is water resistant, a long time can cause damage), the internal parts of the iPhone may have been broken or spoilt which lead to this problem. If this is the case, go to your nearest Apple Store and get it repaired.
Fix 1 – Force Restart your iPhone
Several iPhone users have claimed to resolve this issue by force restarting their iPhones when it is stuck at the white screen of death.
Step 1: You first have to press and release the volume up button on the side of the iPhone.
Step 2: Next, press the volume down button and then immediately release the button.
Step 3: After doing so, you now need to press the power button of your iPhone and hold it until you find the Apple sign that appears on the screen. It will take some time.
Step 4: This force restarts your iPhone and it will be able to fix this issue.
Fix 2 – Disable the Triple Finger Tap settings
Sometimes, the problem is not exactly the white screen of death instead it is just because of the triple finger tap settings enabled by the user on their iPhones. Here are the steps on how to disable it.
Step 1: Go to the Settings app on your iPhone first.
Step 2: Then select the Accessibility option from the menu list.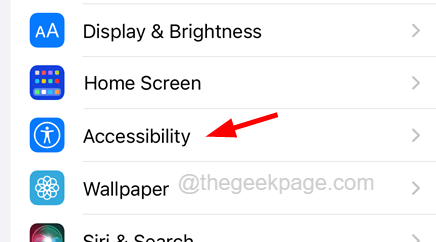 Step 3: After that, tap on the Zoom option at the top.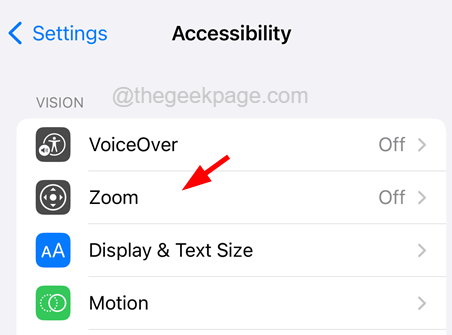 Step 4: Now turn off the Zoom feature by clicking on its toggle switch to grey as shown in the below image.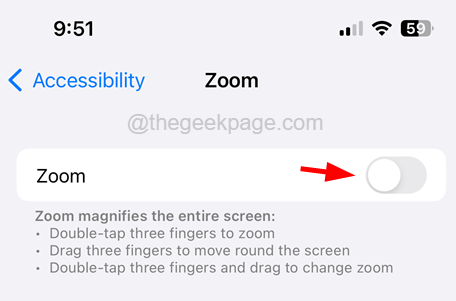 Fix 3 – Update or Restore iPhone using Recovery Mode
Step 1: To start with, you need to connect your iPhone to a PC/Mac using a lightning cable.
Step 2: Once connected, put your iPhone into recovery mode.
Step 3: To do so, you first have to press the volume up button and release it quickly.
Step 4: After that, you need to do the same with the volume down button.
Step 5: Now press and hold the power button till you see the recovery screen appears on your iPhone screen.
Step 6: This makes your iPhone go into recovery mode.
Step 7: Now launch the iTunes app on your PC/Mac.
Step 8: This app will automatically detect your iPhone being in recovery mode and it will pop up a context menu window on the PC/Mac screen.
Step 9: Here you should now click on the Restore option.
NOTE – You can also try updating your iPhone here by clicking the Update option if your iPhone was not updated to the latest version.