As of a recent interesting turn of events, Microsoft launched a new extension for onedrive and Microsoft office users, browsing on Google Chrome, called the Office Online. It is interesting because Google on its part, is mostly ignoring the new Microsoft Windows 10 operating system, and is yet to update many of its applications for the new installment of Windows.
Microsoft on the other hand, decided to launch Office online, a Google Chrome extension, targeted to make access to Microsoft Office documents and onedrive documents easier and more seamless. This is not a recent change in Microsoft's strategy, as we have seen many non Windows based applications released by the company in the past. Microsoft has brought some new changes into its market strategy too, it seems.
Office online looks and aims to improve how Microsoft Office files are viewed , edited and created when in Google Chrome and using Onedrive. It can work with both Onedrive and Onedrive for Business , and only requires you to sign in, using your Microsoft Account credentials. You can use any Microsoft Account, as long as it is a Microsoft Account. Office online is Microsoft's take on integrating onedrive, Microsoft office into your web browser as its extension/add on.
Once added, the extension will appear as a tiny icon in the top left corner of the browser, just beside the menu hamburger of Google Chrome. Everything the extension features, can be executed from options embedded in this icon .
After installing this extension you can open , save or edit any Word (DOC, DOCX), Excel (XLS, XLSX) and PowerPoint (PPT, PPTX, PPS) files online with just a single click.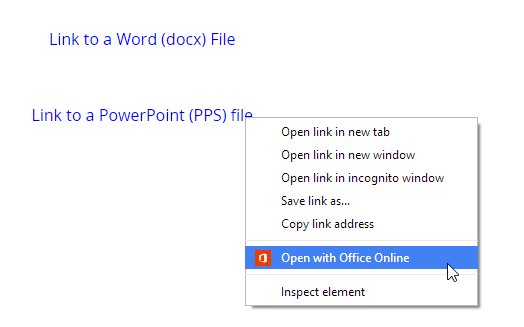 When you click on the icon, it will show you a list of your most recent Microsoft Office documents and show you four tabs, each with various different options.
1- New
New ,allows you to create new documents and gives you a choice of which type of document you want to create with Office online. You can choose from excel, powerpoint , word etc.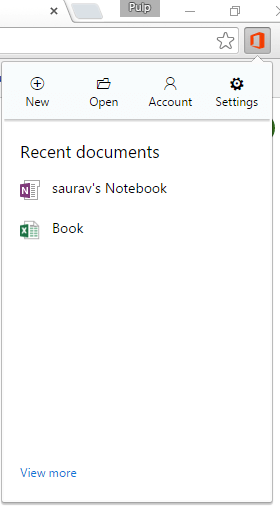 2- Open
Open allows you to open documents locally or the ones located on your one drive to edit, view according to your preference.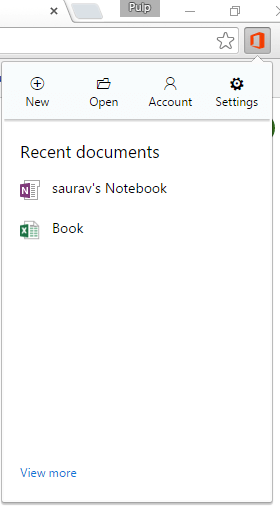 3- Account
Manage your Microsoft Account credentials and log in/ sign out of your account. Change/ Sign in using a different account.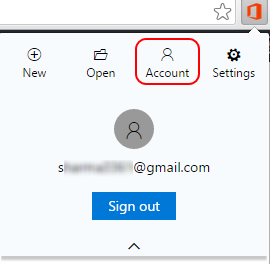 4- Settings
Various options for office Online to tweak it to your preference and usefulness.
Note: You can uncheck the option that says Automatically Send Data to help us improve our product, in order to stop sending data to Microsoft if you are concerned about privacy.
The extension is made up of quick access buttons to various different Onedrive links and office online feature that save you a lot of navigating and mouse clicks. It is a nifty little extension that can help people that create and deal with documents and Microsoft Office in general.
One peculiar thing to notice is that, Office Online, is a Google Chrome exclusive extension. It does not support Mozilla Firefox of even Microsoft's own new, Edge browser. Though Microsoft, on record plans to make it compatible with the Edge browser, but for now it is a Google Chrome exclusive.