Synaptics Touchpad, the touchpad solution provider releases regular driver updates for their various touchpad devices like laptops, Notebooks, etc. So, if you are in search of the right Synaptics Touchpad driver for your new laptop or Notebook, you have just come to the right place. It is quite easy and won't even take more than a couple of minutes to update the touchpad driver.
Way 1 – Manually download the driver
The quickest way to update the Synaptics Touchpad driver is to download and install the latest driver directly from your device manufacturer's website.
Step 1 – Based on your laptop/notebook manufacturer, use these links –
Synaptics Touchpad for Lenovo devices
Synaptics Touchpad for Dell devices 
Step 2 – After this, click on the subordinate link to download the driver package on your system.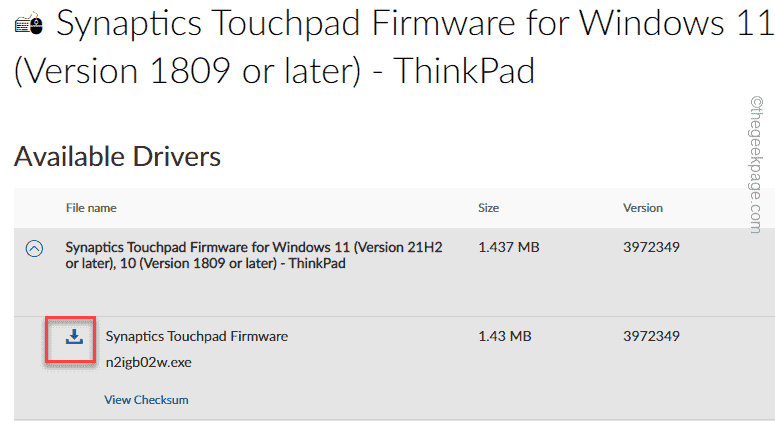 Step 3 – Now, just run the downloaded setup file and follow the on-screen steps to install the Synaptics Touchpad.
This way, you can manually download and install the update for the touchpad device.
Way 2 – Let Windows Update download it
Synaptics provides the latest update for their intricate touchpad devices through the Windows Update channels. So, make sure to connect your new device to WiFi and install all the updates.
Step 1 – Open Settings on your Windows device. You can do it using the Win key+I keys together.
Step 2 – Then, click on the "Windows Update" on your left-hand side.
Now, take a look at the right-hand pane. Just check whether any updates are downloading. If not, then click "Check for updates".

Immediately, Windows will enlist all the pending updates (along with the update for the Synaptics Touchpad) and install those.
When all the updates are downloaded and installed, the last part is to restart your system. So, click "Restart now" to restart the system and complete the process.
Fix 3 – Use the Optional Updates
If you can't see the Synaptics Touchpad driver update in the regular Windows Update stream, you may find that in Optional Update.
Step 1 – Just right-click the Windows icon and tap "Settings".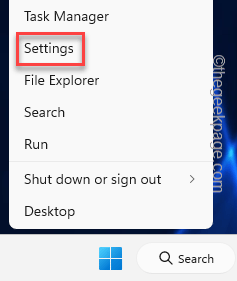 Step 2 – Head on to "Windows Update".
Step 3 – On the right-hand pane, click "Advanced options" to open that.

Step 4 – Here, you can expand the "Optional updates".

There you can see the update for the Synaptics Touchpad. So, download and install that update on your system.
CAUTION – If you search 'Synaptics Touchpad', you will find several third-party file sharing website hosting various Synaptics drivers. DO NOT download or install these drivers as if you mistakenly install the wrong touchpad driver, it can easily brick the touchpad. It is better to download and install the driver from the device manufacturer's website or Windows Update channels.