Gmail is Google's email service that is being widely used every day all around the world by people for communication. But lately, it has been reported by many users that they are able to send mails but are not receiving any emails in their Gmail account.
Possible causes for this issue of Gmail not receiving emails are as below:
Backend Gmail server issues
The message stuck in the Sender's outbox
Full Storage in Google Account
Email filter being used that diverts  specific messages to a different folder
If this error of not receiving emails in Gmail is troubling you, then read this article. Here, we have listed some fixes that can help you resolve this error with your Gmail account.
Fix 1 – Check Your Gmail Storage
If you have been using a Google account for a long time then there are chances that your Google account storage has reached its maximum limit or is full.
We know that you get 15 GB of free storage with Google which is shared among the devices and services like Google Drive, Contacts, Calendar, Photos, and so on.  In case this storage is full you will not be able to receive any emails. The only option you have is to delete some items from your Google Drive or upgrade to a new storage plan.
To delete emails follow the steps below :
1. Open your Gmail account with your emails.
2. Check the boxes next to the email messages that you wish to delete.
3. Tap on the trash icon at the top.

4. In the left pane, scroll down to the folder named Bin.
5. On the right side, click on Empty Bin now to clear all the email items from your Bin.

If you want to upgrade with more storage then perform the steps below :
1. Open Google Drive.
2. In the left pane, click on the Buy Storage button under the Storage heading.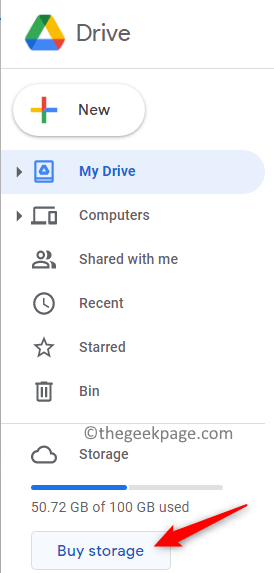 3. Choose the plan as per your requirement.
4. Complete the payment process to increase your Google account's storage capacity.
Check if you are able to receive emails after either deleting emails or upgrading your Google storage.
Fix 2 – Disable Email Forwarding
If you have enabled email forwarding to receive the same copy of emails into different accounts, it can cause this error with your primary Gmail account where you will not be able to receive any email messages.
1. Open your Gmail account.
2. Click on the Settings (gear-shaped) icon in Gmail.
3. Then, click on the See all settings button.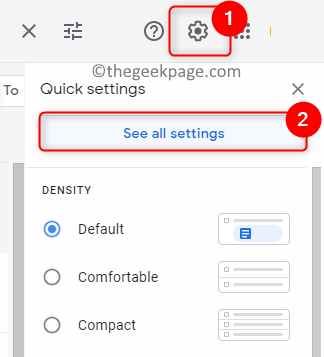 4. Select the Forwarding and POP/IMAP tab here.
5. In the Forwarding section, select the option Disable forwarding.


6. Now, click on the Save Changes button to apply these settings.


7. Check if this has helped resolve the issue with receiving emails.
Fix 3 – Clear All Email Filters
Gmail users make use of filters to protect their accounts from receiving unnecessary spam emails. Applying many filters can also block some important emails from being received.
1. Go to your Gmail account.
2. Tap the Settings icon and then click on the See all settings button.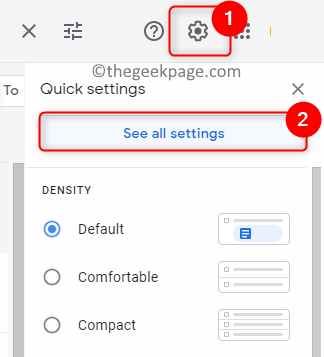 3. Go to the Filters and blocked addresses tab.
4. Select the filters here by checking the box next to them.
5. Then, click on the Delete button to remove these filters.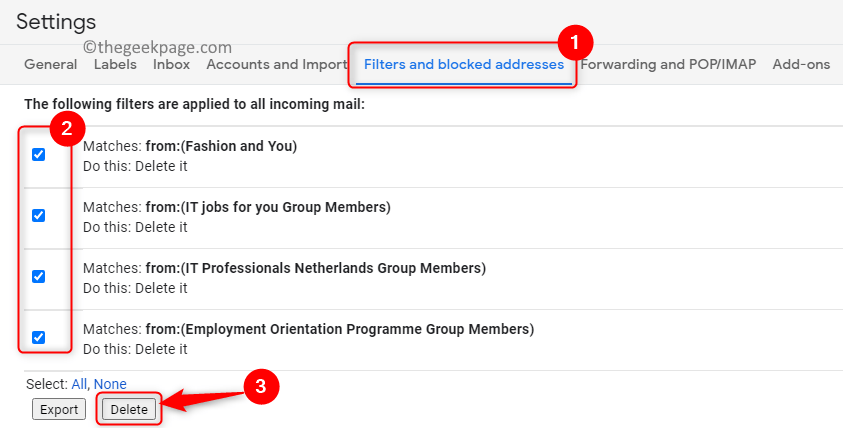 6. Check if you are able to receive emails.
Fix 4 – Switch to a Different Web Browser
If the fixes above did not help in resolving the Gmail not receiving emails issue, then try to open your Gmail account using a different browser than the one currently being used. Check if the problem is still there or not.
Google recommends using Google Chrome for the best experience while using its different services. In case you are using Gmail in any other browser, try switching over to Google Chrome and check if you are able to receive emails in your Gmail account.
Thanks for reading.
We assume that this article has been informative enough in helping you fix the issue of not receiving email in your Gmail account. Comment and let us know the fix that worked in your case.