How to Forget a Known Network in Windows 10: – When you connect your Windows 10 device to a Wi-Fi network, you've to enter the password if the network is secured. The next time you login, you're exempted from entering the credentials. This  is because the device saves the credentials of the network. The second time you try to login to a previously accessed network, the credentials you've entered before are fetched to verify your identity. You are exempted from entering the credentials for further accesses too! Such a network which you've joined before is a known network. It makes your task easier. You don't have to spend time entering password every time you're accessing that network. It is pretty useful if you are a frequent user of a particular Wi-Fi network. But this feature has a downside. If someone  is using your device without permission, they can still connect to the known network without being aware of the credentials. This can be prevented using the Forget button. How do we do it? Well, keep reading!
The image shown below is an example of a known network. You've to simply click on Connect to access the network. The password won't be asked.
Read also: 5 best Free wifi Hotspot software in windows 10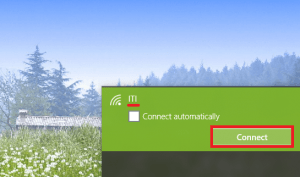 Now to Forget  this network, follow the steps below:
How to Forget a Known Network in Windows 10
Press Windows+I to open Settings. In Settings, click Network & Internet.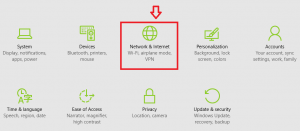 In the left side, click on Wi-Fi.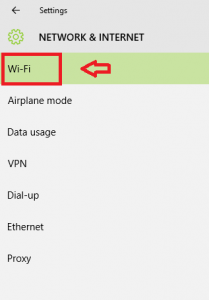 Some options will pop up. Among these, choose Manage Wi-Fi settings.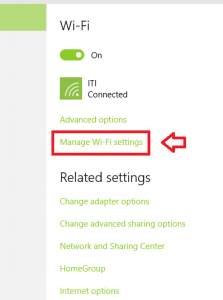 In Manage Wi-Fi settings, scroll down to find Manage known networks option. Click on the network you want to forget. It expands and you can spot a Forget button. Click on the Forget button.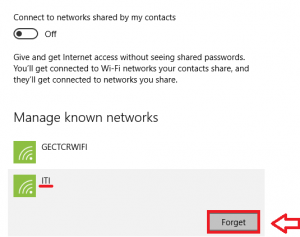 The forget button erases the saved credentials. Next time you choose to access the same network, you'll be asked to enter the credentials again. This way you can make sure that nobody gets to use your device without your consent.