If you have recently upgraded your Windows 7 or 8 to Windows 10, then you may receive this error message "You don't currently have permission to access this folder." trying to access folders on your computer. Don't worry, follow these solutions and the problem will go away just in no time.
Fix-1 Modify the Permission of the problematic folder-
Modifying permissions of the problematic folder will surely fix this problem.
1. At first, what you need to do is to right-click on the folder you are unable to modify.
2. Now, click on "Properties".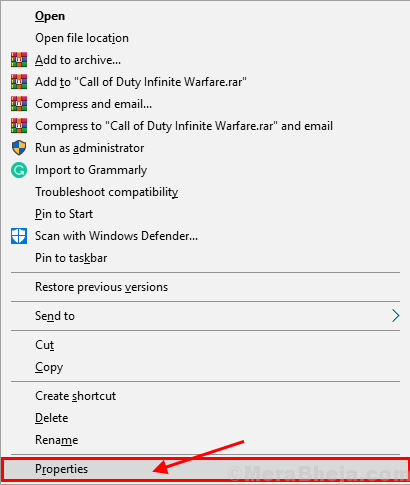 3. In the Properties window, go to the "Security" tab.
4. In the Security tab, click on "Add…" to modify permissions.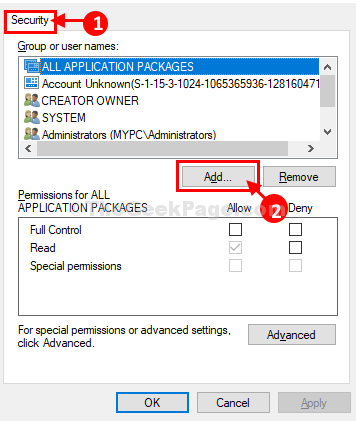 5. In Select Users or Groups window, you need to type "Everyone" in 'Enter the object names to select:' box.
6. Then, simply click on "Check Names" to check the authenticity of the parameter.
7. Finally, click on "OK" to add Everyone as a new user group.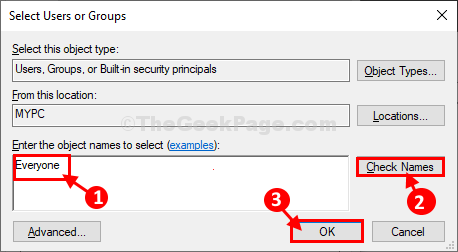 8.  Coming back to the Security window, click on "Everyone" to select it.
9. In Permissions for Everyone tab, check the "Allow" option under "Full Control" to give full control of this folder to everyone.
10. Now, sequentially click on "Apply" and "OK".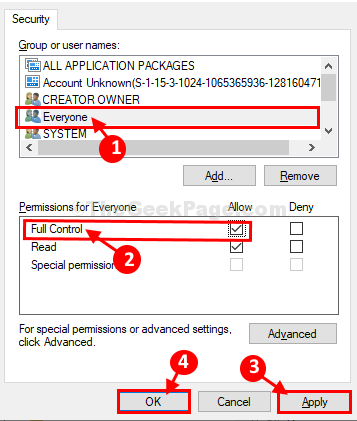 Now, try to open the folder again on your computer. You should be able to open the folder without further such issue.
Fix-2 Modify Ownership from Command Prompt-
Simply by passing a command through an elevated Command Prompt window you will be able to modify the ownership of the directories you are trying to open.
1. After pressing Windows key+R to launch Run, what you need to type is "cmd" and then press Ctrl+Shift+Enter.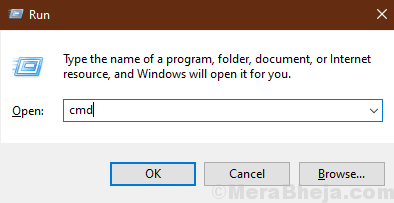 This will open the Command Prompt will be opened with admin rights.
2.  Now, copy-paste this command in Command Prompt window and hit Enter to execute it.
TAKEOWN /F <DIRECTORY> /R /D Y

Close Command Prompt window once you have executed the command.
You should be easily able to open the folder on your computer. The error will be solved.

Sambit is a Mechanical Engineer By qualification who loves to write about Windows 10 and solutions to weirdest possible problems.