Windows updates help resolve many issues with the system, but unfortunately, the service faces many issues itself. Thankfully, most of the errors are signified by error codes which help is identify the root of the problem and troubleshoot then accordingly.
One not so common error with Windows updates is:
Windows Update Error 80240016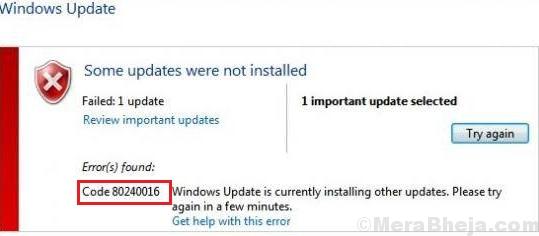 However, the difficult part is that we do not have many options to troubleshoot it. However, we could try whatever we can.
The following troubleshooting steps could be helpful:
Solution 1] Use the Windows Update troubleshooter
The Windows update troubleshooter can ideally identify and troubleshoot issues with the Windows update service that have already been figured out during previous updates. In case you have been updating your system regularly and this is one recently missed update, the Windows update troubleshooter could be very helpful.
Here's the procedure to run the Windows update troubleshooter:
1] Click on the Start button and then the gear-like symbol to open the Settings page.
2] Go to Updates and security and then to the Troubleshoot tab.
3] Select the Hardware and Devices troubleshooter and run it.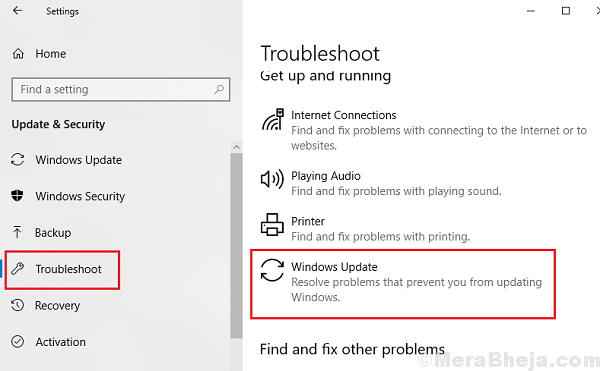 4] Restart the system.
Solution 2] Reset Windows update components
Resetting Windows update components would be another good step we could try for fixing this issue. Though it is a complex procedure, proceeding step by step would make it easy. The procedure to reset Windows update components is mentioned in Solution 5 here.
This is it. There's nothing else we could do with Windows update to fix this issue, though we could check the system for malware just in case it was caused by the same.
Solution 3] Run a full anti-virus scan on the system
The issue could have been caused by a virus or malware in the system. Running a full anti-virus scan on the system to isolate this possibility is a good idea. You could also use Windows Defender or Microsoft Security Essentials which are provided by Microsoft for free.
Solution 4] Check for suspicious programs on the system
Whenever any cyber-criminal wishes to push malware into a system, he/she is aware of the fact that whenever Microsoft discovers the attack type, it would launch a fix in the form of a Windows update. Thus, these hackers try to block Windows updates before anything else.
A good way of pushing the script to prevent Windows updates and other security features is through freeware. This makes it important to check and delete any suspicious freeware from the system. Thee procedure is as follows:
1] Press Win + R to open the Run window and then type control panel. Press Enter to open the Control Panel window.
2] Go to Programs and features and arrange the list of programs in the order of their date of installation.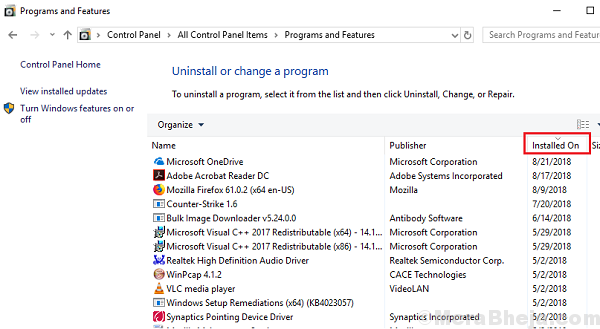 3] Right-click and uninstall any suspicious third-party apps which were recently installed, especially freeware.