Microsoft recently launched its new operating system, Windows 10 offering a free upgrade to all existing Windows 7 and 8.1 users.
To help users easily upgrade, Microsoft released a tool in their windows updates, for the users to initiate the upgrade whenever required.
Unlike some users, many people are unaware that Microsoft included various security checks in order to initiate a safe and valid upgrade and prevent piracy.
Thus many users attempting a clean install of Windows 10 on their machine may have been greeted with the error 0xC003C004 while activating their Windows 10 ,upon its installation.
If by any chance you are seeing this error despite of not trying a clean install on your PC, method 1 is recommended to you.
I will now show you two ways in which you can resolve this issue.
Please Note: Both the methods work, considering you have a genuine copy of windows. Method 2 is recommended for users getting the error code "0xC003C004" after attempting a clean install on your PC.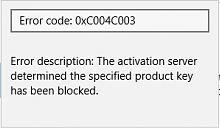 Method 1 – Downgrade to previous Windows and then Upgrade.
In case you attempted a clean installation of Windows 10 , you probably have ended up here searching for the solution to error "0xC003C004".
You will now have to downgrade your previous Windows, activate it, install updates, and then upgrade to Windows 10.
Read: How to downgrade to your previous version of windows
Reinstalling previous Windows
Since you ended up trying a clean install , as a learned user you should be able to get your hands on the installation files for the previous Windows.
1- once you have the installation files, create a bootable USB or burn a cd/dvd.
2- connect the device you have , Disk or USB to the machine you want to upgrade.
2- reboot your computer
3- enter Windows installation by pressing any key when the BIOS prompts.
4- follow the instructions, install Windows and activate using your previous Product Key.
Please Note: if you don't have your Activation Code or are unable to locate it, do not attempt Method 2 and go to Method 1 and contact Microsoft Support.
5- Once your fresh version of the previous Windows is installed (Windows 7/8.1) , install all the latest Windows update for your operating System.
Note: This may take a while.
6- Once the updates complete downloading, install them and restart your PC.
7- You should now see an Icon for the Windows upgrade tool near the time in your task bar. Run it.
8- The Windows tool will now run, click on the hamburger and open the left pane.
9- Select the upgrade to Windows 10 option. Note: you can also check your PC's compatibility.
10- Windows will now start upgrading to Windows 10.
wait till the upgrade completely finishes.
11- Now that the upgrade is complete and your PC is running Windows 10, go to computer properties and check Activation status.
Your copy of Windows 10 should be activated.
If not, it will activate using your Product Key / Activation Code.
This will solve your issue of "Error 0xC003C004" 🙂
Method 2 – Contact Microsoft Customer Care Support.
There are many ways in which you can contact the customer support, depending on your preference ranging from telephone call to a online chat.
Microsoft has really upped its game in terms of Customer support lately, addressing to various issues, pushing user specific updates and also taking remote access of the computer in case of major issues.
If you did not attempt a clean installation of Windows 10 and are still seeing the error code "0xC004C003" despite of having a genuine copy of windows, your best bet is to contact Microsoft support.
Before making the contact
Make sure you have your Product Key handy.
Make sure your Pc/Notebook is charged and ready for prolonged use ( if the need arises).
Caution: If you don't have your Windows key, or your notebook/ machine came bundled with a copy of Windows, make sure to at least have the invoice/ bill / box handy.
As far as various User experiences with the support go, you should be okay once you contact them and tell them your issue and the error code you see.
Support technician will most probably take Remote Access and help you generate a new key, in the rare case your own has expired/ banned.
In the rare case this does not help, you can always try Method 2.