Most iPhone users prefer communication through FaceTime because of the data privacy which is promised by Apple. Lately, several users have reported that FaceTime stopped working on their iPhones and it is creating a big problem.
This issue could have caused because of the following factors mentioned below.
Internal technical glitches within iPhone.
Outdated iPhone software.
Poor Internet Connection.
The wrong date and time were set on iPhone.
Problem with the Facetime number or email address.
This post explains how you can fix FaceTime not working problem on your iPhone with the help of the below-given troubleshooting tips.
Fix 1 – Sign Out of FaceTime and Sign in again
Step 1: You need to launch the Settings app by tapping on the gear-shaped settings icon.
Step 2: Scroll the settings menu list down and select the FaceTime option from it as shown below.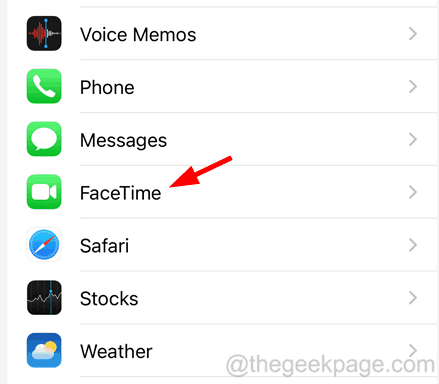 Step 3: On this page, you need to make sure the FaceTime option is enabled by clicking on its toggle button.
Step 4: Also, check whether you have signed in to FaceTime using the right Apple ID and phone number if any.
Step 5: Now tap on the Apple ID.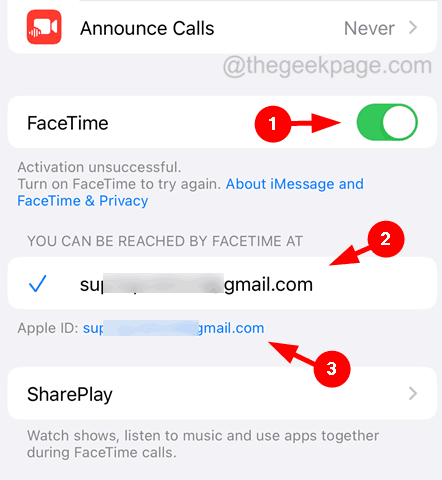 Step 6:  This pops up a context menu window on your iPhone screen.
Step 7: Click Sign Out from the menu list as shown in the below image.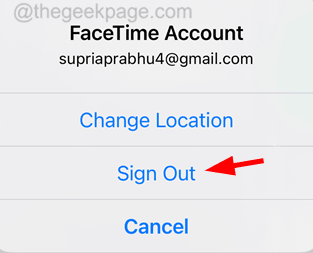 Step 8: After that, you have to click on Use your Apple ID for FaceTime.

Step 9: Then tap on Sign In if you want to sign in using your same Apple ID.
NOTE – If you want to sign in using another Apple ID, click Use Other Apple ID.

Fix 2 – Check the Date and Time Settings
Step 1: Head toward the Settings app on your iPhone.
Step 2: After the settings page appears, select the General option.
Step 3: Later, go to the Date & Time option by clicking on it.

Step 4: Next, you have to make sure the Set Automatically option is enabled by tapping on its toggle button.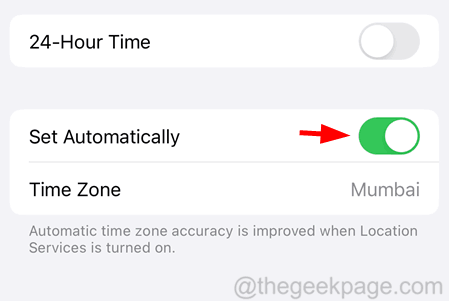 Fix 3 – Disable Facetime and enable it back again
Step 1: First, you have to tap on the settings icon.
Step 2: This launches the settings page on your iPhone and you have to search for FaceTime from the list.
Step 3: Afterwards, click on it.
Step 4: Then tap on FaceTime's toggle switch to disable it.

Step 5: Once it gets disabled, wait for some time.
Step 6: Later, turn it back on by clicking on FaceTime's toggle button as shown below.

Fix 4 – Check your iPhone model compatibility
Even though most iPhone models do support FaceTime calling one-on-one but some iPhone device models are not meant for FaceTime group calling. All iPhone models that support FaceTime should be iPhone 6S and above.
Therefore, please check your iPhone model number by going to Settings > General > About.
Additional Fixes
Restarting the iPhone has always been able to clear any internal glitches within the iPhone and fix most issues. So we request our users to try restarting their iPhones and check whether they are able to use Facetime after restarting.
Upon receiving feedback and reports from users, they build a new update for iPhone software for enhancements and bug fixes. So not installing those updates might also be the reason behind it. Therefore, try updating your iPhone once and see if this works.
Test your internet connection. For FaceTime to work smoothly on your iPhone, there has to be a strong internet signal. To refresh the Wi-Fi signal, try restarting the Wi-Fi router and if it still does not work, enable Mobile Data on your iPhone. Once the internet is strong enough, check whether FaceTime is working or not.
FaceTime is free internationally but it is still not available in some specific countries. So check whether FaceTime is available in your country or not.