Customization always gives immense pleasure to those who want to have a bit of themselves in everything surrounding them. Yes, you have made the right choice when it comes to the selection of your operating system. Windows is the right place where you get to add or remove tiny details and make a computer system actually look the way how you want it to look like.
This article tries to make you aware of a new possibility in customizing your Windows. One can change the text font colour of Title bars on Windows 10 with the help of regedit program. How your system looks like, tells others a great deal about your personality and hence spending some time on that front is definitely worth every bit. Read on, to learn how to hack this simple trick.
Also read: – How to change start Menu and Takbar Color in Windows 10
STEP 1
Open any window to see the font text colour of the title bar. In the screenshot given below, I have opened Notepad. As it can be seen, the font text colour of the title bar is black. We are going to change it to red, with the help of a program named regedit.
Open the start menu and type in regedit. From the search results, select the regedit program and when the User Account Control asks for permission, allow it to be run.
Now, In the left pane of Registry Editor window, find HKEY_CURRENT_USER and click on it.
HKEY_CURRENT_USER expands to a navigation list to give you a number of options. You need to find the one named Control Panel and click on it.
The next step is to click on Colors, which is an option listed under Control Panel.
Once you click on Colors, in the right window pane of Registry Editor, you will be able to see several entries. From these entries, under the tab Name, find the one named TitleText. Give it a double click to get to the next step.
Now a small window named Edit String pops up. There will be a box named Value Data and this is where you should give the rgb value of the colour that you want your title bars to appear in. Since we want our title bars to be red in colour, I have given the rgb values as 255 0 0. You can change this as per your choice of colour.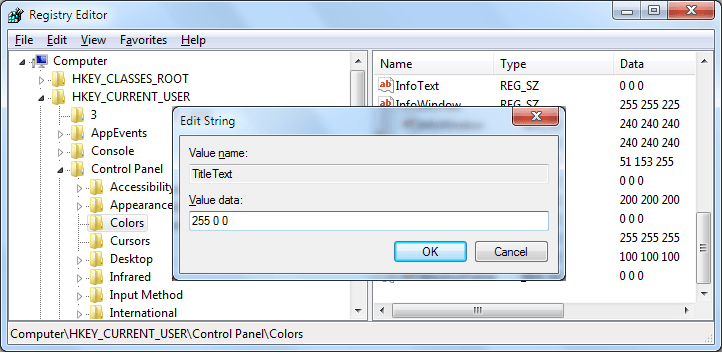 That's it. Now you have succesfully changed the colour of your title bar text from black to red. To see the changes, simply log off and then log in. Now open any window to see the changes. I have opened Notepad again and it can be seen that the text colour of the title bar has changed from black to red. Inorder to revert the changes, simply perform the above steps and in the Edit String, give the original values, which was 0 0 0 (for black).