Those who have been already using Google Forms would know how easy it is to create forms for surveys, questionnaires or presentations. Many companies begin hiring candidates by asking them to fill up a Google form which has a set of questions, while others use it to gauge how many people are using a product, and so on.
However, in terms of functionalities, Google Forms doesn't go beyond the expected like not being able to close the form automatically after the form is filled, nor does it publish the form. However, you can expand its capabilities to work smartly and boost productivity by using add-ons. We have listed some of the best add-ons for Google Forms that let you do more with this free and amazing Google app.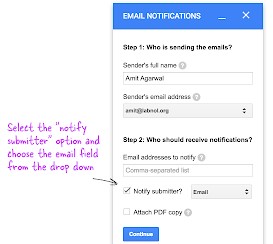 Wouldn't you like to be notified when you are supposed to fill a form or when you have already filled one? This add-on does just that. It allows you to keep yourself informed, or any respondent whom the form has been assigned to, by sending an email.
Features:
It also allows you to set rules for any new responses and notifies you via email as soon as someone submits the form.
It helps you to write emails in the usual text format or in HTML format with images.
Best of all, this add-on works with all the major platforms, and browsers.
Price: Plans start from $29/Year.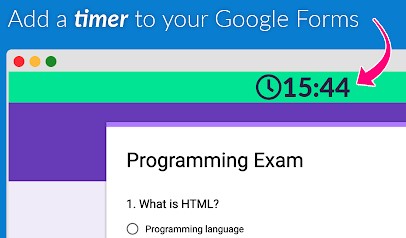 This add-on helps you to create forms with a set time limit using an embedded timer. Whether you are creating a quiz, exam, or a skill test, it allows you to close the form automatically as soon as the set time is over.
Features:
Specifically designed for educational setups, schools, universities, etc.
It allows you to add a timer with your own set time.
Lets you monitor the time as the respondent starts the exam and as they finish it.
It offers the option to capture video shots of your respondents.
Automatically shuts down the forms as soon as the time is over.
It allows you to brand your form and personalize it based on your requirements.
Moreover, it allows you to export all the details for added analysis and sync with the business app you own, through the interface.
Price: Free version available; Plans start from $6.51/month.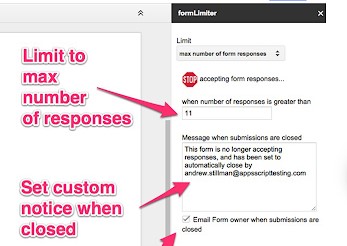 This add-on closes the form automatically after the form is filled up or the responses reach its maximum limit, at a specified date and time. This is especially suited for time-restricted projects, job registrations with a certain number of openings, etc.
Features:
It can be set up easily. Simply start the add-on, define the type of limit, and save.
Analyses the maximum number of responses and stops accepting further submissions once the maximum limit is achieved.
Closes down based on the timer (on the specific time and date).
Moreover, it also automatically analyses the shutting down of a spreadsheet when a cell receives a certain value.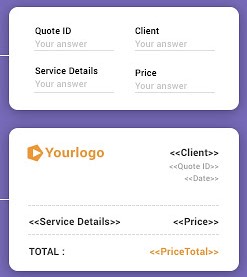 PDF is one of the most preferred readings or print formats in the corporate world, and this app helps you with exactly that. It automatically converts your form responses into PDF formats, and also to Google or Microsoft documents. You can then share them for approval and to be signed on the web.
Features:
Smoothly syncs with Google forms send authorization alerts automatically to the reviewers and share documents by-default with a wide number of users or reviewers.
Allows reviewers to sign and authorize documents online.
Facilitates saving, handling, and associating using all your documents from Google Drive.
Whether it's related to form submission or file locations, it documents all the details from all these sources along with authorizations details.
A user-friendly app that does not require any prior experience in coding.
Moreover, it allows you to create custom templates and the option to save the forms as PDFs, Word, Sheets, and more.
Price: Free version available; Premium version starts from $50/year.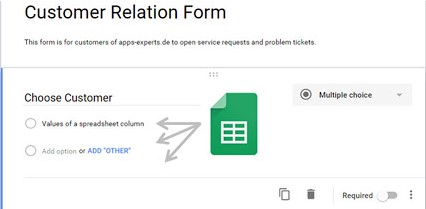 This add-on is known to fill up the specified fields in the form with the related values automatically, based on the data sources. For instance, any data saved on the spreadsheets or in the contacts list gets updated automatically in the checkboxes, grids, or in the drop-downs of a question in the forms.