We have been relying on Microsoft Word for years, and now Google Docs is slowly gaining traction. Why? Because you can save the files online (in the Google cloud storage) and not just save it on desktop, you can allow other users to edit the documents, and even change the permissions based on your requirements.
While MS Word with its wide range of built-in tools or add-ins still has its own charm, there are plenty of add-ons with hundreds of tools under them for Google Docs as well. These tools not just help you to finish a document faster, but it also helps you to enhance your documents with graphics, signatures, and even proofreads your content, and more.
Here's a quick list of some of the best Google Slide Add-Ons which we think are the most crucial ones to create a perfect Google Doc.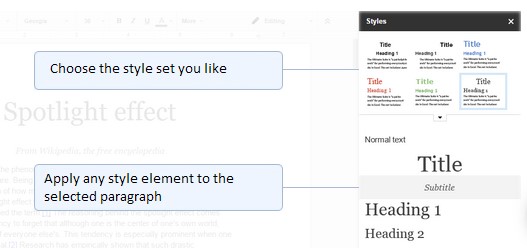 This add-on helps you to change the visual appeal of your app as per your requirements. From setting your favorite theme to creating customized patterns or selecting from the range of widgets, you can do a lot with the add-on.
Features:
It helps you build a look for the tools in your app using the theme selector (offers "material design" and "plain theme").
Offers the option to style the tools as per your choice by writing your own CSS.
Enhances your experience when you access the app from different types of devices by adding an intuitive design that modifies the format based on the display size.
It allows you to manually rescale the canvas or implement a certain screen resolution and even manage it.
It helps you to style a widget using theme picker, adjust the style of a certain widget, and more.
Moreover, it also allows you to make your style types, and insert styles to tools from external sources.
Price: Free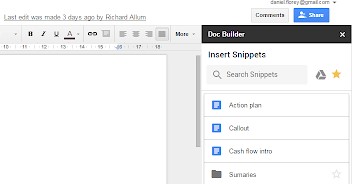 This dual-purpose add-on, not just allows you to add snippets of the most commonly used texts to your docs, but also allows you to add your own style and save it using spreadsheets.
Features:
Saves your typing time when writing any reports, creating legal documents, etc.
It provides the option to add smart snippets to the sidebar, auto-formats snippets, and creates folders for your most-used snippets.
Moreover, it also allows you to create your own document styles using the Apply Formatting option.
Price: Free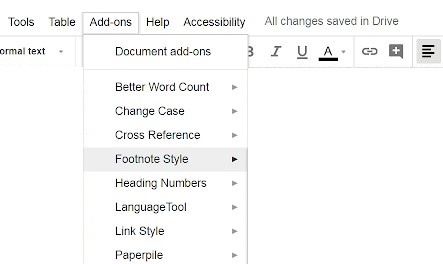 If you are looking to style the footnotes of your Google Docs content, this can be of great help to you. Google Docs does not come with an option to style your footnotes, and this app streamlines all of that.
Features:
It allows you to format a single footnote in the beginning in your preferred style.
Then you must press the option – Update footnote style to match from the add-on list while selecting the footnote at the same time.
Pressing "Refresh Footnotes" after you are done inserting all the footnotes makes your footnotes match.
Price: Free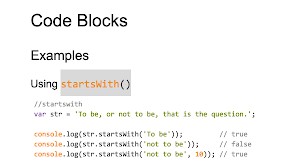 This app makes it easier for you to write codes in styled theme on Google Docs. From C or HTML to JavaScript or Python, it supports a range of coding languages for the code writers.
Features:
It offers support for syntax highlighting that is, the option to highlight text which you wish to convert to code block and configure.
It allows you to make your choice from a wide range of themes as per your needs.
Best of all, once installed and added to the Add-ons list, the app automatically identifies the code, allows you to view the changes before you format the text, and also allows you to manage the app through the "manage add-ons" option.
Price: Free